Reports of sexual harassment on public transport have more than doubled with Uber's background checks raising eyebrows. Teacher assistant Amélé Sossavi and student Victoria De Angelis share their traumatic experience riding with the ride-hailing company.
"I just felt like… What is going on? Is he going to try and find me? Is he going to kill me? Is he going to rape me?" As I listen to Amélé sharing her traumatising experience with the Uber driver that harassed and stalked her, I get goosebumps. Partly because the confidence in her voice doesn't manage to hide the fear of that traumatising night, but mostly because it scares me how relatable her story sounds to me as a woman living in London.
With an increase of 61% reports of sexual harassment on public transport over the summer, Uber often sounds like the least dangerous option. It is in fact safe to say that London is Uber's most important market in Europe. What is not safe on the other hand is how women feel when using Uber. Amélé Sossavi and Victoria De Angelis are just two of the multitude of negative experiences that highlight an issue in Uber's hiring process.
Amélé is a teaching assistant in South London. She decided to use Uber XL to move a few boxes into her new place that she was going to share with a friend. "I never give my precise address but I had to move many boxes so I did this time" she clarifies. After being helped by a friend to put her belongings on the back of the car she was left alone with the Uber driver.
"He kept staring at me from the mirror and that made me feel uncomfortable" She recalls. "Are you married? Why isn't your partner helping you? Can I get your number?" While lying to most of the questions hoping he'd lose interest, the last request was one he wasn't willing to give up.
"Can I get your number?"
By the time she arrived at her destination he had become so insisting she decided to do what most women would have done, she left a fake phone number to escape the uncomfortable situation and opened the door to her house trying to shake off the past conversation.
The same door which just a few days after her Uber driver stuck a note to "Hey it's Habib, your number didn't work. Call me on *******". Amélé decided to ignore the note, but just a few days later, while she was at work, trouble came knocking again.
Amélé was working in a school near where Sabina Nessa was killed, when she received a text from one of her flatmates "Amélé your Uber driver just came to the house".
"It was the scariest experience ever. At that moment I broke down at work. I was on my break and I couldn't return back to work. Emotions were really hyped and I just wondered: What is going on? Is he going to try and find me? Is he going to kill me? Is he going to rape me?" The young woman explains.
Amélé had already contacted Uber asking for their help which they didn't provide. She decided to go to the police and contact Uber again who didn't give her any reassuring information and only said they would have started an investigation. While Uber never got in touch with her after that, the company informed the police that the driver had been fired.
"What is going on? Is he going to try and find me? Is he going to kill me? Is he going to rape me?"
Amélé felt forced to rethink her habits. "I am trying not to live my life in fear. I have started taking self-defence classes and also started driving lessons so I can get my own vehicle, until then I don't think I will feel safe getting into somebody else's car" She shares.
After this traumatic experience Amélé took to Instagram to share her story to which she unexpectedly received so much support by many women who had gone through scarily similar situations with the ride-hailing company.
One of which is Victoria De Angelis. The 21 year-old student was on her uber ride home from her boyfriend's house. Having lived in London for some time Victoria was very aware of the dangers that public transport comports for a woman.
A brief small talk later and the Uber driver was asking her out and making inappropriate comments about how they would get along. Once she arrived at her destination,  after politely turning him down, she exited the car and opened the back to get the box she had put there before.
"He tried to help me carrying it but it was a light box and all I wanted was to get out of that situation so I told him I could handle it" Victoria explains. She made sure to include the fact that her flatmate was waiting upstairs hoping that would discourage him to try anything more reckless but he accused her of lying saying she was only saying that because she did not want him to come up to her flat. His tone was aggressive, he now knew where she lived and was not accepting any rejection.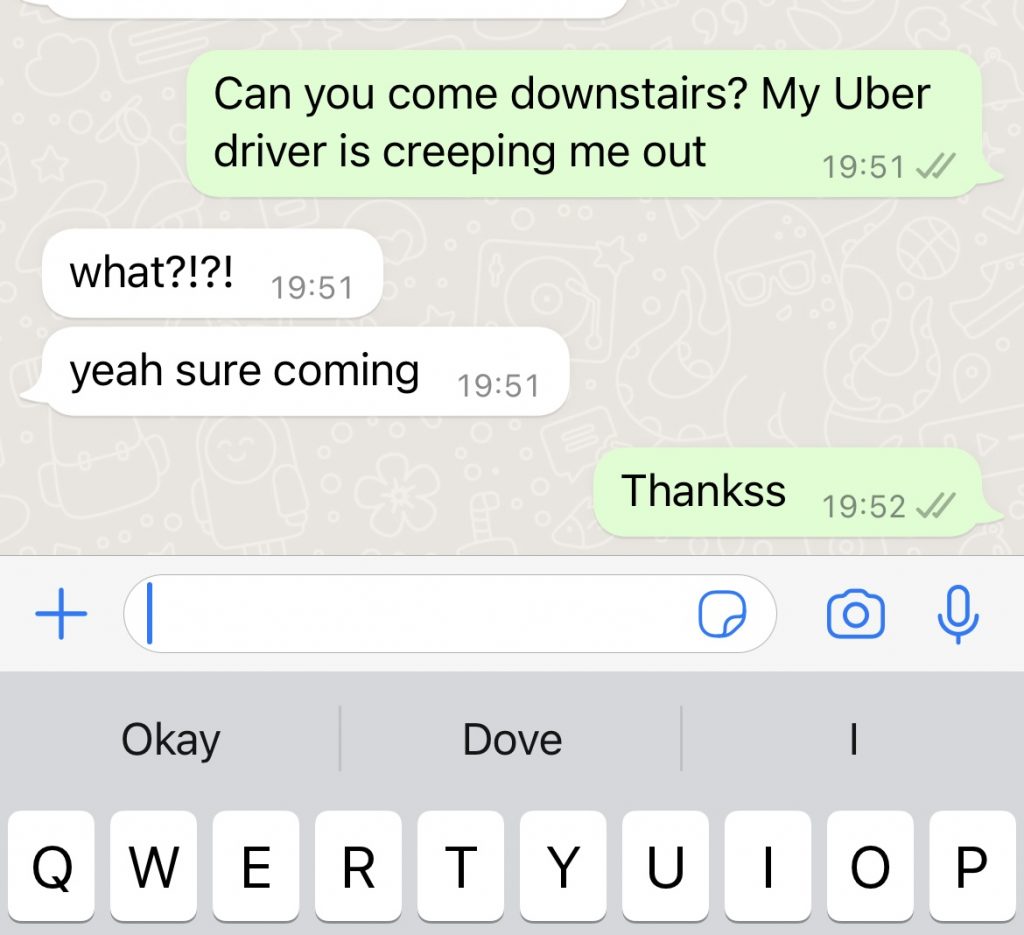 Luckily Victoria texted her flatmate and asked her to come downstairs, which ended the uncomfortable situation. Victoria hasn't taken an Uber by herself ever since: "Uber is supposed to be a safer option when trying to get around London but the fact that experiences like this one keep happening to us women is highlighting an issue and it is compromising women's independence. I can't go around London by myself and I don't think that is fair. What am I to blame for? Being a woman?"
"What am I to blame for? Being a woman?"
When asked about the background checks run on their drivers Uber told Voice of London they do not run any background checks other than the ones run by TFL. So what are Uber's future plans to assure safer journeys for women using their services ? When asked Uber was unable to answer.
So in the words of Amélé Sossavi: "If transport is not safe for women, where are we supposed to feel safe? How are we supposed to go places ?"
Want to read more? You might like…
London's Uber prices are rising
'Everything has changed": the story behind why Taylor Swift is re-recording her albums
UN campaigns for elimination of violence against women
Words: Nina Marangon|Subbing: Tia Janowski