Even though it's half a month before Christmas, the Christmas lights on Oxford street has already turned on as in previous years. And apart from the Christmas markets and fairs, what other Christmas events can you get involved with in advance? Here's what you can do in London this Christmas season!
Alexandra Palace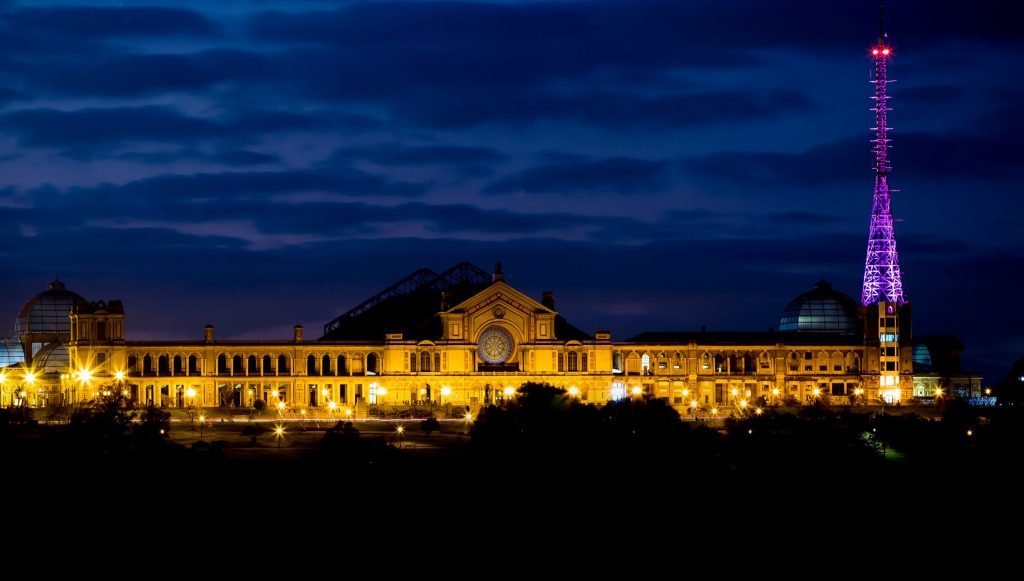 The Alexandra Palace is all set to welcome the London Christmas season! From Friday 26 November to Sunday 9 January, Mark Gatiss leads a full cast in a retelling of Dickens' classic winter ghost story, A Christmas Carol, by 19th century British author Dickens. The venue's spectacular East Courtyard has also been transformed with Christmas festive lights, decorations and carols and Santa's Grotto (open Friday 3 to Thursday 23 December) and the famous ice rink will be back, so you can book a Christmas skating session in advance or enjoy skating to Christmas songs with plenty of atmosphere!
Address: Alexandra Palace, Alexandra Palace Way, London N22 7AY
Website: alexandrapalace.co.uk
St Paul's Christmas Carol Service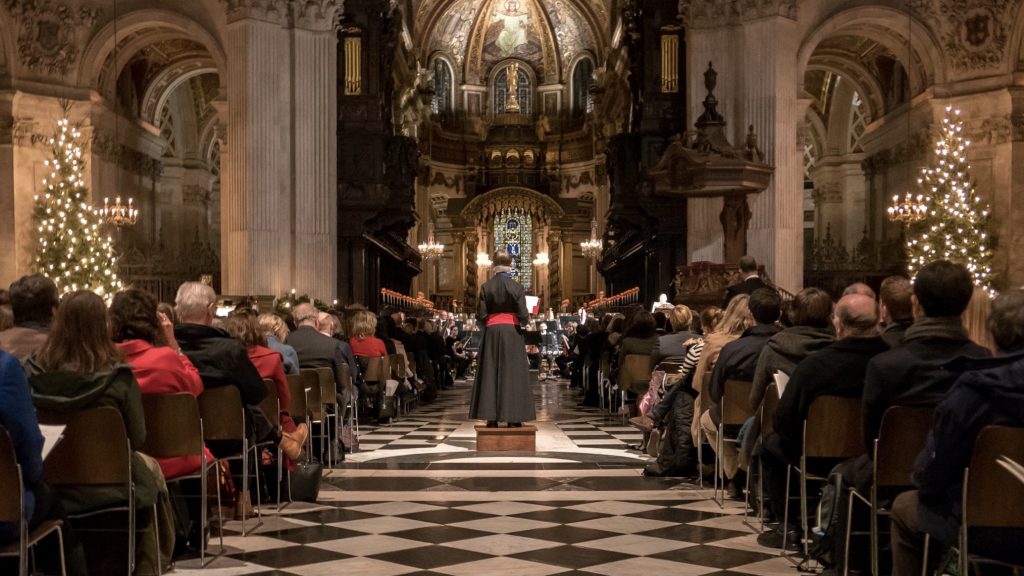 Christmas carol is one of the most traditional and festive events at Christmas, add the backdrop of St Paul's Cathedral and you can get a truly atmospheric European Christmas experience. This classic landmark hosts a series of free carol concerts each year during the London Christmas season, including a family-friendly service and an evening of organ carols curated by French composer Olivier Messiaen. The event runs from Wednesday 1 December to Friday 24 December
Address: St Paul's Cathedral, St Paul's Churchyard, London EC4M 8AD
Website: stpauls.co.uk
Deck the Halls at Pergola Paddington
From November until the last day of 2021 Pergola Paddington celebrates the festive season with "Deck the Halls". The flashmob will transform the space into a winter wonderland forest with 350 Christmas trees, over a million twinkling lights, private alpine huts (complete with blankets and fondue kits) and a restaurant with a private bar, fireplace and five new alpine hut-style restaurants. As well as hosting merrymakers, the residency will include a range of winter events, from a Christmas gospel choir single to a winter bottomless brunch and wreath-making workshops.
Address: Pergola Paddington, 4 Kingdom St, London W2 6PY
Website: pergolapaddington.com
The final year of the NHM Ice Rink
This is the 17th and final year you can enjoy the Christmas Ice Rink in front of London's Natural History Museum.
Every year during the London Christmas season it becomes one of the most magical and joyful spaces in London. This year is bittersweet, however, as the NHM has announced that this is the last ice rink event before transforming their five-acre garden into an urban nature project as part of a national campaign to encourage people to help nature. So friends it's time to lace up your skates and say goodbye to a London Christmas classic together.
Address: The Natural History Museum, Cromwell Road, London SW7 5BD Website: nhm.ac.uk
Watch the classic films at Backyard Cinema
Backyard Cinema, the backyard cinema you can also be known for its immersive events, is transforming three spaces around London into a winter wonderland. The iconic East London Troxy and Capital Studios in Wandsworth are both getting a complete makeover, hosting some nights of song and dance for the whole of December, with a list of Christmas classic films ready to go!
Address: The Troxy, 490 Commercial Rd, London E1 0HX and Capital Studios, Ram Quarter, 13 Wands worth Plain, London SW18 1ET
Website: backyardcinema.co.uk
1970s-style Christmas tipple at Miracle Bar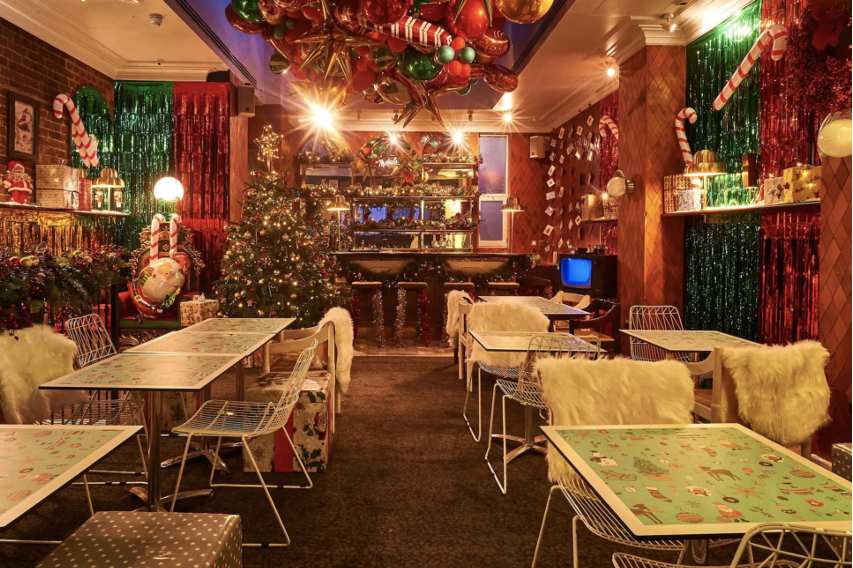 The Festive Flash Shop has reopened for the fourth year at the Henrietta Hotel in Covent Garden. Tucked away on the mezzanine floor of the hotel, the bar is a nostalgic, vintage family living room, complete with as many Christmas decorations as you can imagine. Come and walk around Covent Garden and have a festive themed cocktail such as Bad Santa, mulled wine, port and orange liqueur. The event runs until 23rd December.
Address: The Miracle Bar, Henrietta Hotel, 14-15 Henrietta Street, WC2E 8QH
Website: henriettahotel.com
Christmas vibe at Kew Gardens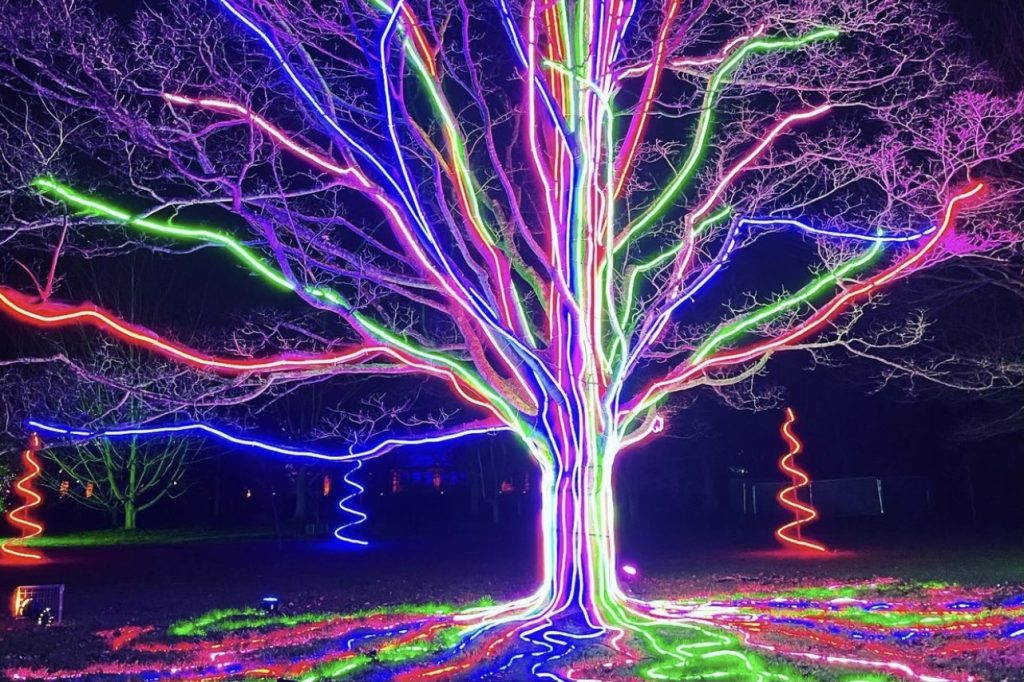 Kew Gardens is worth a visit all year round as it looks more enchanting than ever when dressed up for the annual winter celebrations. The illuminated evening paths through the Botanic Gardens feel more dreamy than ever, with their glittering tunnels of light, dancing waterside reflections and colourful trees. Wrap up warm and take a gentle stroll along the atmospheric winter paths with a glass of cider, mulled wine or hot chocolate. The festive atmosphere is guaranteed to be full. The event will end on January 9 next year.
Address: Kew Gardens, Richmond, London TW9 3AB
Website: kew.org
Apres ski chalet at Flat Iron Square
This fancy place at London Bridge has got a Christmas makeover this winter. There will be a wooden ski chalet bar, whisky cocktails at the Talisker Cabin in the woods and fine street food, cocktail making workshops and festive drinks and snacks at Baileys Treat Lodge.
Address: Flat Iron Square, 64 Southwark Street, London SE1 1RU
Website: flatironsquare.co.uk
The much-anticipated Winter wonderland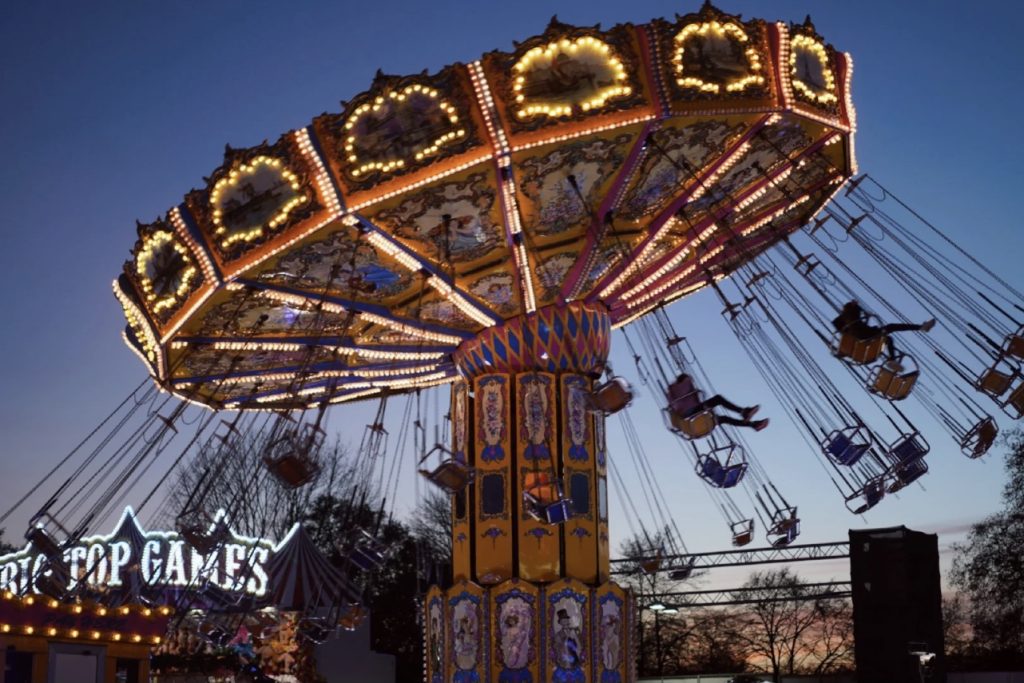 Let's assume that the most well-known Christmas event of every year is Winter Wonderland at Hyde Park? This fun event is definitely one of the happiest things to do in London during the Christmas season. From ice skating and circus acts to Christmas markets and live music, there is plenty of festive entertainment and activities with enough fun to fill a day and an evening. Missing the winter of 2020, this year's carnival will run until January 3, 2022. However, for covid-19 prevention and control reasons, ticket reservations need to be purchased in advance on the official website and are divided into off-peak and peak periods.
Address: Hyde Park
Website: hydeparkwinterwonderland.com
Words and photos by Huaisheng Gao, subbed by Katie Bird