As the cost of living in the UK continues to rise, renters are facing an increasingly difficult housing market, especially in London. Rising rents, limited availability, and poor living conditions are just some of the issues that renters are grappling with. But who is to blame, and is there a way out?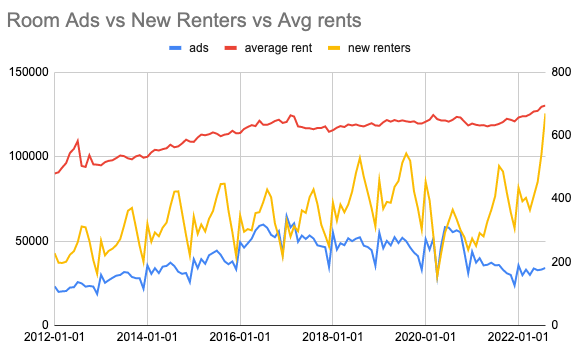 With over 106k people battling for just 15,000 available rooms, renters are getting desperate. It's not rare to pay a year upfront, offer 150% of the original asking price or deposit before even seeing a place. And those who can't afford that? They are in for a hard time.
How Big is the Problem?
With nearly half of London renters potentially at risk of defaulting on their rent and with one in four private rentals in England failing to meet decent home standards, it's clear that something needs to be done to address the crisis.
A recent report revealed an alarming rise in no fault evictions by landlords in England, with nearly 20,000 households being evicted in 2021/2022, compared to 9,000 in the previous financial year.
No-fault eviction, also known as Section 21, gives landlords the option to ask a tenant to vacate a property without giving a reason for doing so. It's often used in order to raise the rent or to make way for new tenants.
The spurge in evictions is can be attributed to the fact that landlords were unable to evict tenants during the pandemic due to government efforts to prevent a rise in homelessness.
However, the increasing costs, inflations and lack of housing make it hard for renters to cope, and the new data indicates that no-fault evictions are now leading to more homelessness than in the previous years, 2018/19 and 2019/20.
Families, people on government benefits and tenants in need of accessible housing are in an especially dire situation. The lack of rentals affects them even more than most, often leaving them without any options.
Mike and Kate, a couple with three kids who received the "no-fault eviction" notice from their landlord as an unexpected "Christmas present", are trying to raise £1500 to cover unexpected costs.
"We suspect that we are effectively being punished for simply exercising our rights as tenants and refusing to accept the landlord's claims that various issues we have experienced whilst living in the property, that in our opinion were not of our making, were down to us to resolve."
"We have been served with a notice to vacate by 1st Feb 2023, which means we have to find a new place to live and move out of our current one. We only managed to find a suitable property, but the new landlord needs it occupied from 1st Jan 2023 and our current landlord will not agree to terminate our tenancy early, leaving us to pay for both properties on 1st Jan, along with the new deposit" they said.
As London is one of the cities most severely affected by rising rents and lack of housing, Mayor Sadiq Khan has called for an emergency renting summit and called on the government to urgently introduce a two-year rent freeze, to ease the pressure on renters.
Another group significantly affected by high costs and lack of housing is students and young professionals. Often failing to 'compete' with older, more financially stable renters, they find themselves needing to choose between paying for housing or other essentials like food, travel and heating.
Student Beans' UK Housing Insecurity Report revealed that a third of students are facing housing insecurity, finding themselves without a place to stay during or whilst preparing for their studies.
Many are being forced to move further away from the city or to overcrowded and unsafe living conditions.
Zuzanna, a third-year university student shared her struggles:
"It was always my dream to study in London, but I'm starting to feel trapped and hopeless. I'm not a UK student, so I can't get help from the government for living costs, and since I split with my partner and had to move out from our shared room, I can't find a place I can afford."
"I ended up moving outside of London, which means it takes me over three hours to get to the city and back home every time I have university lectures. Even though I'm working part-time, It's hard to imagine being able to afford moving back to London anytime soon, and I'm afraid that I won't have enough time to focus on my studies," she added.
Who is to Blame?
The blame for the current crisis can be laid at the feet of a number of different parties. One of the main culprits is the lack of affordable housing. For decades, the UK government has failed to build enough homes to keep pace with population growth. This has led to a situation where demand for housing is outstripping supply, driving prices and rents higher.
Even though the Government unveiled their plan to build 300,000 new houses annually until the mid-2020s in their 2019 Conservative manifesto, they have fallen short every year so far.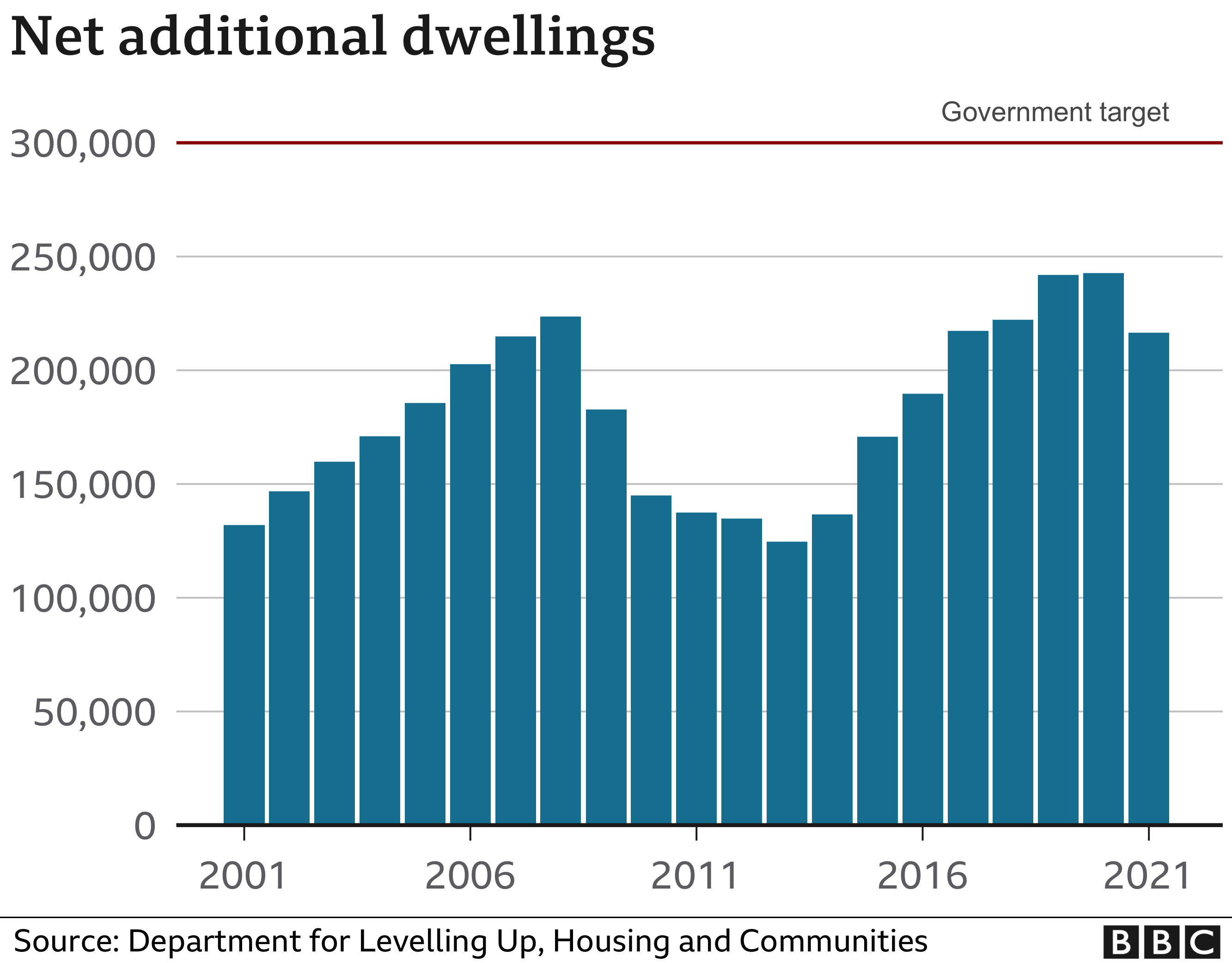 The statistic "net additional dwelling" is the primary measure of the housebuilding industry. It includes new builds, conversions of commercial buildings to residential use, and houses being converted to flats. Additionally, it takes into account any demolished houses.
Another major factor is the UK's buy-to-let market. According to data from the Office for National Statistics, there are now over 4.6 million buy-to-let properties in the UK, with many landlords seeing rental properties as a way to earn a steady income. However, this has also led to a situation where landlords are able to charge high rents and evict tenants at will, with little oversight or regulation.
According to SpareRoom, a majority of landlords (94%) lack trust in the government's housing policies. As a result, many are planning to reduce their rental properties, with 36% planning to decrease their portfolio and 16% planning to exit the rental market entirely, further reducing housing supply.
Landlors' frustration is partially due to Lizz Truss's ill-fated 2022 mini-budget. Negative market reactions to the unfulfilled promises of tax reductions without a clear funding plan led to a spike in interest rates, which also caused a dramatic increase in mortgage prices.
Landlords then passed on their extra costs to tenants (if they haven't decided to leave the rental market), which led to the rise of rents and a further lack of housing.
Struggling tenants' anger often also turns against landlords and agencies, not without surprise.
A member of the London Renters Union believes that while landlords might also be facing challenges, their issues cannot be compared to renters.
"They are fighting for their extra holidays, their cars, their houses – we are fighting for our dignity," she said.
While landlords and renting agencies might not be the most significant contributors to the housing crises, renters' complaints and anger are not baseless. According to a report conducted by ITV news, complaints increased from 10,015 to 16,289 between April 2021 and March 2022, a rise of 63%.
Renters often feel neglected and taken advantage of, with landlords – or agencies representing them – failing to fulfil their responsibilities of maintaining properties in good and safe conditions.
Finally, there is the issue of foreign investment. In recent years, London has become a popular destination for foreign investors looking to buy property. This has led to a situation where many homes are left empty or used as holiday rentals, or rented out at high prices, further reducing the availability of affordable housing for local renters.
"What happens is a perfect storm of external buyers who then rent the properties out at extortionate rates and this is why the local housing allowance has an issue," said Tory MP Bob Blackman at London's Homelessness Briefing.
While the issues with the UK's housing market are evident, the question remains – how can it be fixed?
The current crisis is a complex and multifaceted problem, and there is no easy solution. While the government is facing a tough challenge, the most important long-term solution is obvious – increasing the supply of affordable housing.
As the housing crisis has been building up over decades, fixing it will take time – something struggling renters on the edge of homelessness don't have.
London Renters Union – along with many other charities, politicians and experts – are calling for a rent freeze, which would take some pressure off tenants in the midst of the cost of living crisis.
John, one of the organisers for London Renters Union shared why he thinks it's important to go out and protest:
"We've got 9 million private renters in this country, maybe even more by now. That's a lot of power if we get organised, we are all facing the same issues."
"We have the highest eviction rate ever recorded in this country, and something needs to be done. While a rent freeze is only a temporary solution, it would give people the security that they won't find themselves on the street unexpectedly. After all, high rents and evictions are two sides of the same coin." he added.
The housing crisis in numbers: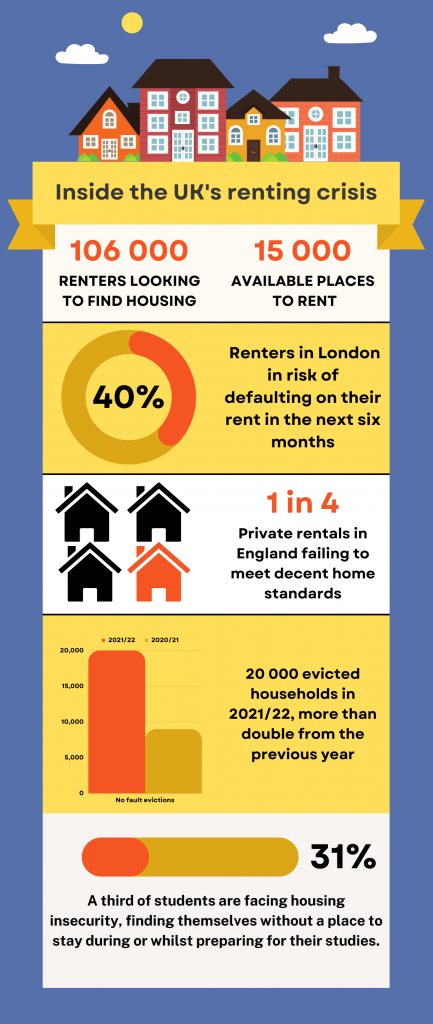 Words: Andrea Rezman|Subbing: Anna Kamocsai