Kim Jong-Kwan's 2020 film 'Josée' tells the love story of university student Young-Seok and a young disabled women called Josée. Between reality and imagination, the limits are hard to define. The film was screened at the London Korean Film Festival on Sunday 14 November and was followed by a short Q&A session with Director Kim.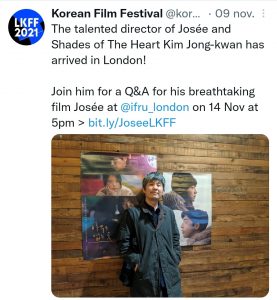 "This film is based on a Japanese short story written 40 years ago by Seiko Tanabe. 20 years ago, there was an original feature film from the same country. Based on these two, I made my own version of it. The Japanese author was a big influence on me when I was creating many different things in different ways. In my youth, the Japanese film 'Josée' was an important one." Stated Diretor Kim.
With different characters and style from the original version, Kim Jong-Kwan expressed how his own background influenced the film. Like the character Josée, he lived in a poor environment when young, and loves whiskey.
"My signature in films? There's always whiskey in it!" Director Kim joked.
He continued: "Josée is daydreaming. Even to that day, I do too. That's why I'm a filmmaker now. It feeds my imagination, just like she uses her imagination to travel to Scotland. But for her it's not happening, whereas I can be in London today for real, showing you this film."
Related stories:
He explained how he always uses his human side and does not think about the style of the film in the planning process.
"And when I'm on a film, there's always a big question mark on my next project"
He shared: "I mostly make short films, but I can also make music videos for example, it's the creative desire in me."
For 'Josée,' Director Kim had more budget than for his previous films, giving him more time to shoot and create more detailed cinematography.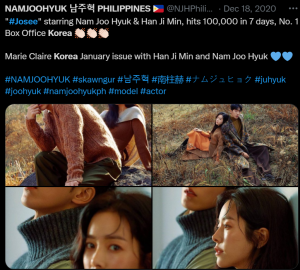 The film stars popular Korean actors Han Ji-Min (Capital Scandal) and Nam Joo-Hyuk (Start-up), the two having previously appeared together in the drama 'The light in your eyes' in 2019.
Director Kim mentioned the chemistry he felt between the two when the series came out, and how pleasing it was to reunite them again.
He added: "I know Han Ji-Min personally and I have a lot of trust towards her. It was a fun challenge to take up together with the character Josée who's been isolating for a long time."
As for Nam Joo-Hyuk, he commented: "I really like his naturalism. Even when I was saying 'cut', I couldn't tell if it was him or the character Young-Seok in front of me."
Kim Jong-Kwan's other film 'Shades of the heart,' filmed the same year as 'Josée' and starring superstar IU, was also screened at the festival.
Watch the trailer of 'Josée' here.
Words: Marion Pichardie | Subbing: Sarah Chaffey