What a pleasing and fun film to watch! Collectors shines with its humour, adventure vibes, colourful cinematography, beautiful Korean heritage sites and artefacts, and most of all its incredibly charismatic cast.
The film marks Park Jung-Bae's directing debut and is without any doubt a promising start: Collectors, starring Lee Je-Hoon, Jo Woo-Jin, Lim Won-Hee and Shin Hye-Sun, dominated the November 2020 Korean box office with a total of 1.5 million admissions, despite Korea's reinstatement of stricter social distancing guidelines due to Covid-19. Fans of Squid Game will also be pleased to know that the creator of the hit series Hwang Dong-Hyuk is the producer and scriptwriter of Collectors.
Related stories:
The film follows the story of a master in tomb raiding Kang Dong-Gu and his team- including a self-proclaimed "Indiana Jones of Korea" and the dig master of the shovelling arts- planning and executing a high-risk robbery: stealing one of Korea's national treasure buried in an ancient Royal tomb in the middle of Seoul. The team, all with special skills and hilarious personalities, is in fact approached by Yoon Se-Hee- an elite curator in the antique art world and associate of a rich collector of ancient artefacts obtained illegally- to do the job in exchange for a large amount of money.
The viewers describe the film as a mixture of Indiana Jones for its quest to find ancient and rare artefacts and Ocean's eleven, for the high-scale robbery planning by a group of skilled individuals. But what makes it original and incredibly interesting to watch is the combination of those classics with great Korean History and heritage sites. A real Kstyle heist movie!
The beautiful and bright colours emphasise the humour and lightness of the film, balanced with some darker themes. Indeed, the character of Kang Dong-Gu (Lee Je-Hoon) has his own trauma. This is, maybe, what the film lacks: a bit more depth into the past story of the character and his hidden emotions regarding this dark memory would have been appreciated.
Regardless, as I watched the movie in this cosy cinema, I truly felt I was taking a breath of fresh air. What a pleasure it is to see a film where you laugh and smile almost the whole time! The dialogues and situations in which the characters find themselves were truly amusing. As I write those lines, I am laughing at the memory of this scene where Dr Jones asks Dong-Gu, with a very curious and suspicious look, "how do you know what a dead body tastes like?" while his colleague tastes soil to find a corpse!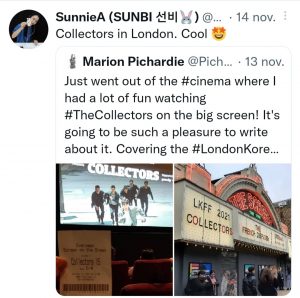 The other scene in a noraebang (karaoke room), where the team has to improvise a rather eccentric party to make a policeman so uncomfortable that he would leave, is a memorable one for many fans.
Scenes like those would probably not have that much impact with just any actors playing them. The choice of the cast is excellent and their connection to deliver those funny and often quick lines together is strong.
A special note for Lee Je-Hoon, whose character is involved in almost every scene of the film with an incredible number of lines (the actor admitted how much work it was to learn all of that!). A lot was on his shoulders, yet he brilliantly took up the challenge by demonstrating a strong presence on screen and a convincing performance of a cheeky, frivolous and provocative character. Fans are delighted to see such a side of him, Collectors being his first comedy.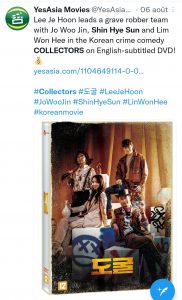 His electric chemistry with the beautiful Shin Hye-Sun is attractive and sexy. No wonder that the actor, during an interview for the Korea Times, expressed his desire to someday reunite with her in a romantic comedy or melodrama! It is a shame though that their relationship is not explored in more depth in the film (several of their scenes together had to be cut during postproduction). But that leaves, on the other hand, a nice mystery surrounding the two characters and their real feelings towards each other.
As a whole, big congratulations to Park Jung-Bae and his cast and crew for delivering such an enjoyable and entertaining adventure comedy to us, with all the right ingredients!
Watch the trailer of Collectors here 
Stay tuned for more updates on the London Korean Film Festival!
Words by Marion Pichardie
Subbing by Ivan Zhelev