Australia followed the US in announcing a diplomatic boycott of the Beijing Winter Olympics on 8 December, followed by the UK and Canada, who announced a diplomatic boycott of the Games and will not be sending delegations. As more countries join in, Beijing is likely to feel humiliated, and may counteract this in the area of bilateral cooperation and with international companies sponsoring the Games, based on "face" and national image concerns.
President Biden's video meeting with President Xi Jinping just last month, although without a substantive breakthrough, was interpreted as a signal from both countries to try to ease bilateral relations. And the diplomatic boycott of the Beijing Winter Olympics by the US and other countries suggests that competition and conflict between China and the US-led West will continue.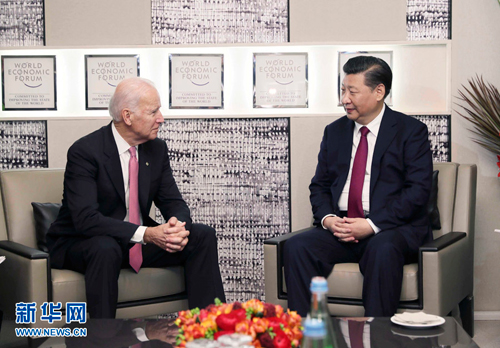 The US and China have now entered into a structural rivalry, not only in economic and trade terms, but also in terms of continuing geopolitical and values clashes. As a result, "mutual concessions are even less likely" when the Sino-Western camp is embroiled in a values framework discussion over human rights issues such as Xinjiang and Hong Kong.
A US White House spokesman said on Monday that China would not be represented at the Beijing Winter Olympics at the diplomatic level because of its "genocide and crimes against humanity" in Xinjiang, but that athletes would still participate in the games. Two days later, Australia also made it clear it would boycott the Games out of concern over human rights issues in China.
"I'm doing it because it's in Australia's national interest. It's the right thing to do." said Scott Morrison. "Australia President Morrison said.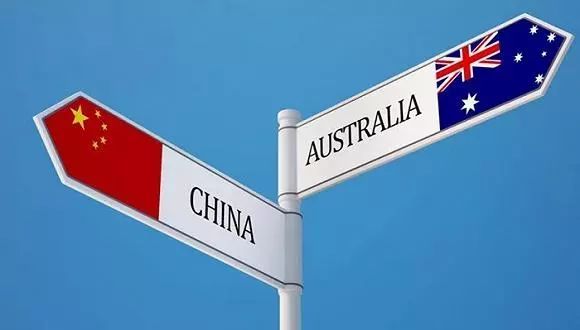 A spokesman for the Chinese embassy in Australia said Australia's move "runs counter to the Australian side's public statement that it wants to improve China-Australia relations". It also reiterated that "the responsibility for the current predicament in China-Australia relations lies entirely with the Australian side".
Australia's relationship with China is at a low ebb. Australia's attitude on the coronavirus traceability, Xinjiang and Hong Kong issues has angered its largest trading partner China. China has taken counter measures, imposing tariffs or other restrictions on goods such as coal, beef and wine from Australia.
Australia also signed a new security agreement (AUKUS) with the US and the UK in September this year, aimed at countering Chinese influence in the Indo-Pacific region. Under the agreement, the US will share technology with Australia to give it a nuclear-powered fleet.
New Zealand confirmed that it will not send government officials to the Olympics, but mainly based on concerns about the new crown epidemic.
According to the Prime Minister earlier report, the PM Boris Johnson didn't express much, but said the UK did not support a desperately boycott of the Games but had no plans to send officials to the Winter Olympics in Beijing, essentially implementing a diplomatic boycott.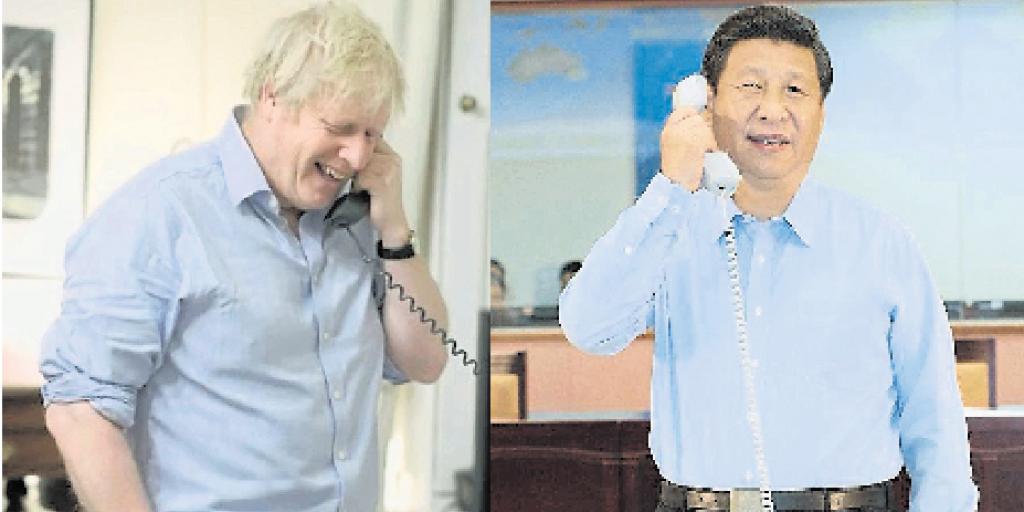 Canadian Prime Minister Justin Trudeau has also announced that he is joining a diplomatic boycott of the Beijing Winter Olympics to express concern about human rights in China, but believes the action will not affect the athletes' participation.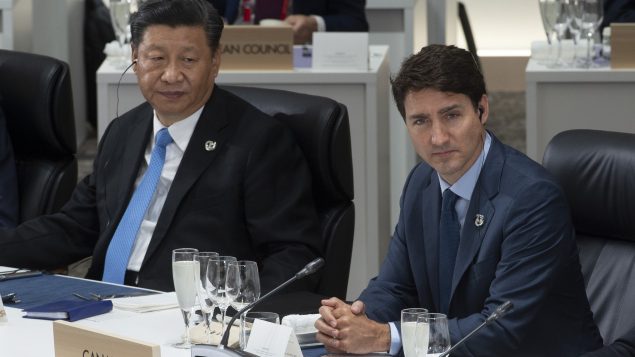 Both before and after the US officially announced a diplomatic boycott of the Beijing Winter Olympics, Chinese Foreign Ministry spokesman Zhao Lijian strongly condemned it and said he would "resolutely counter it". The Chinese embassies in the UK and Canada have also criticised the boycotting countries.
At a regular Foreign Ministry press conference on the 8th, Chinese Foreign Ministry spokesman Wang Wenbin said, "We have made it clear that the US side will pay the price for its wrongdoing, and we can wait and see." However, there is no concrete statement as to how to counteract this.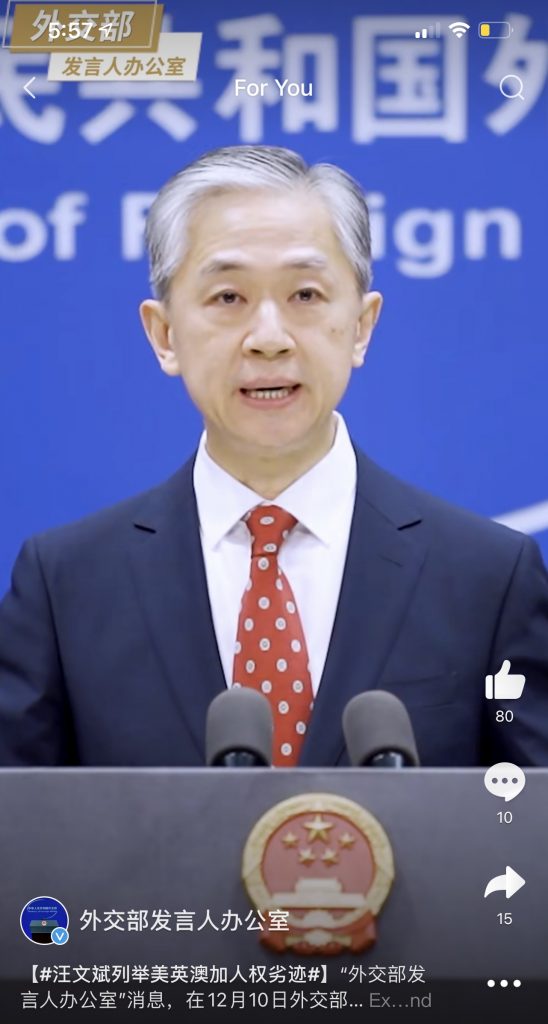 The Biden administration is leading a world summit on democracy later this week, to which neither China nor Russia, among other countries, have been invited. The State Council released a white paper on China: Democracy That Works" on 4 April, saying that China is developing a "whole process of people's democracy", which been viewed as a competition with the West for the right to speak out.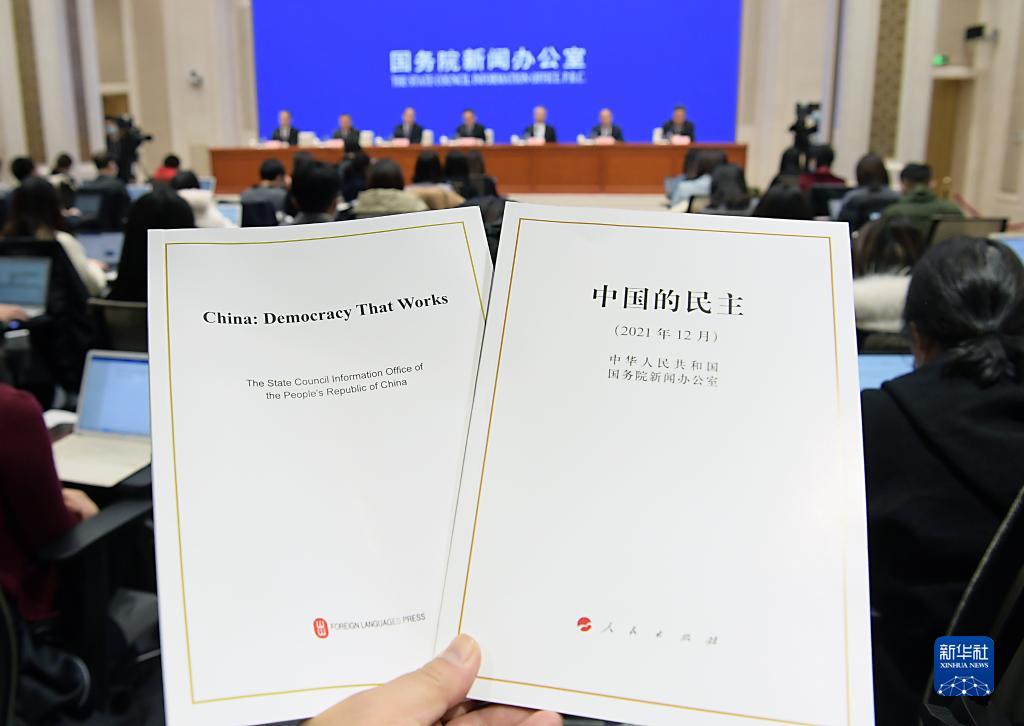 Chinese political advocacy platforms have since posted articles on Weibo attacking articles such as "American democracy is sick" and "American democracy is a fake democracy".
Beijing also recently held a high-end dialogue on democracy with Chinese and foreign scholars, which was attended by Chinese Vice Foreign Minister Le Yucheng, who said that the democracy summit was "anti-democracy in the name of democracy" and that China was a "deserving democracy".
In March this year, the US, UK and Canada imposed sanctions on some Chinese officials in Xinjiang. China has also taken counter-measures by restricting some Western officials and companies from travelling with China.
The US has argued that China has set up concentration camps to forcibly rehabilitate the Uighurs in Xinjiang, among other "genocidal" initiatives. China denies these allegations, saying its policy is to fight terrorism and provide retraining for Uighurs.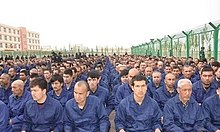 The recent revelations by Chinese tennis players on Chinese social media Weibo about sexual assault scandals by senior Chinese officials turned out to be the immediate trigger for some of these incidents.