England has over 100 new Omicron infections for the second day in a row, Boris Johnson has announced that Plan B will start this week and some UK universities have announced a switch to online classes.
As of 6pm GMT on 9 December, there were 50,867 new infections in the UK; 148 new deaths. 81.1% of people aged 12+ had received two doses of the vaccine and 37.8% had received a third dose.

As the data shown, the infections number has actually matched the previous figures during the European Championship final.
According to information on the British government's official website, PM have announced at a Downing Street press conference on December 8 that England began implementing Plan B this week.
It is said that this is to combat the growing number of Omicron infections. The British government said that urgent work is being done to understand the impact of Omicron on vaccines, treatment and transmissibility.

According to the Plan B published today, will reintroducing guidance to work from home, if you can, from 13 December.
Legally mandating face masks in "most public indoor venues", including theatres and cinemas from 10 December, with exceptions "where it's not practical, including while eating, drinking, exercising or singing"
NHS COVID passes for nightclubs, unseated indoor venues with more than 500 people, unseated outdoor venues with more than 4,000 people, and any venue with more than 10,000 people
Daily testing for people identified as a contact of a coronavirus case – with isolation required only for people who test positive.
On the otherside, in light of the government's new vaccination plan, some London based universities have announced a switch to online classes so that teachers can work from home.
Imperial College has sent an email directly to students stating that due to the rapid increase in the number of infections, online classes will start from now on.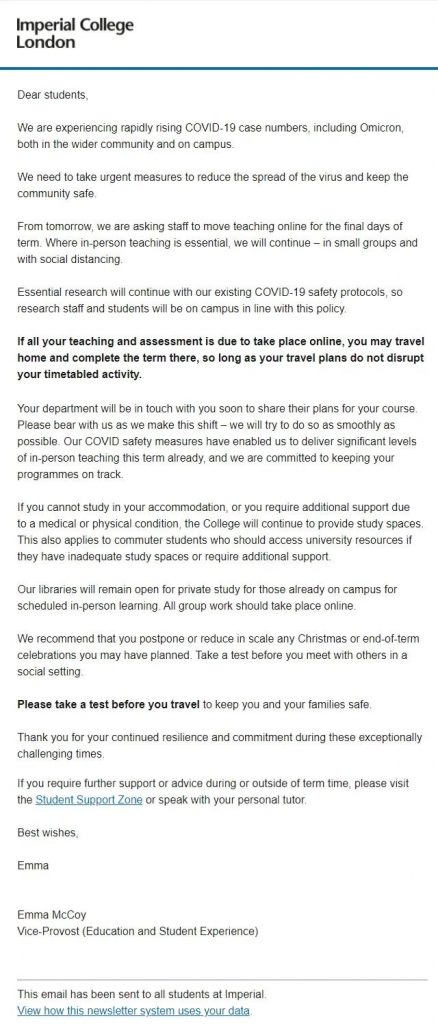 And before the increase in Omicron variant infections, most UK universities were actually asking students to return to classes next term.
UCL, for example, has made it clear that it expects all students to return to school in January next year. If students are studying remotely in the first semester, the faculty will inform them if there is an option to take online classes in the second semester; if they return in the first semester, they will need to apply to the faculty if they wish to take online classes.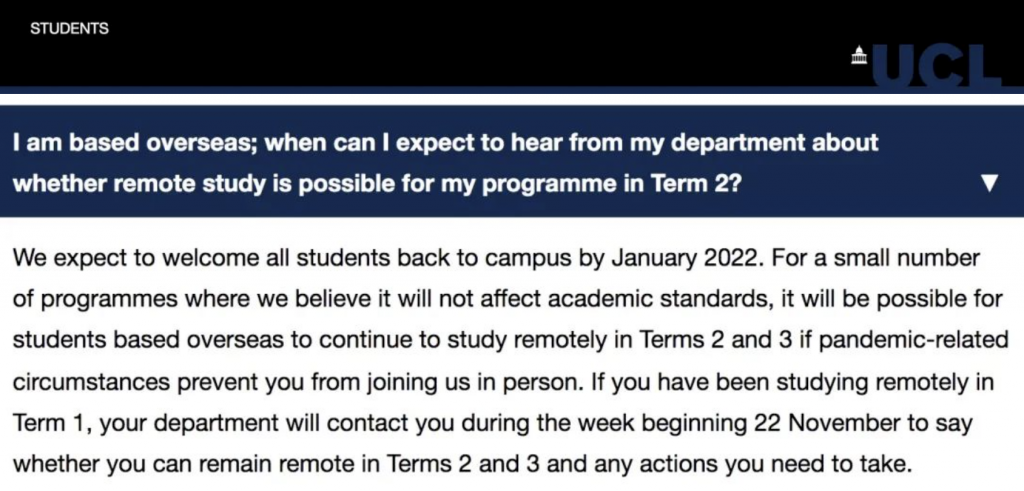 But considered to the government has just announced the implementation of Plan B yesterday, it is unclear whether more universities will switch to online classes because they want teachers to work from home, and some universities like University of Westminster seems may decide later depend on the situation later.

Words by Huaisheng Gao, subbed by Katie Bid