5 amazingly ugly Christmas jumpers that will both keep you warm and make you shine like the star you are!
Fairy lights, hot chocolate and merry jingles have accompanied us for the past couple of weeks and as Bing Crosby would say, it's beginning to look a lot like Christmas everywhere you go.
Now that the doors of the best season of the year have finally opened, Christmas dinners with friends, office parties and family gatherings are just around the corner. Here's five extraordinarily ugly Christmassy jumpers ready to wear for any of those occasions that would make both Mariah Carey and Michael Bublé proud.
SANTA'S LITTLE HELPERS
What's better than kittens? Kittens in a Santa hat. A lot of them. Printed on a jumper.
Be ready to melt even the Grinch-y-est people's hearts this time 'round and get yourself the purr-fect ugly Christmas jumper HERE
2. A JUMP IN THE 70S
If stealing from your grandma's closet is your go-to, this jumper is surely for you. With its pre-loved vibes, it'll for sure crown you the queen – or king, of 2021's vintage reclaimed trend this Christmas. Go get yours on ASOS right now!
3. BIRTHDAY BOY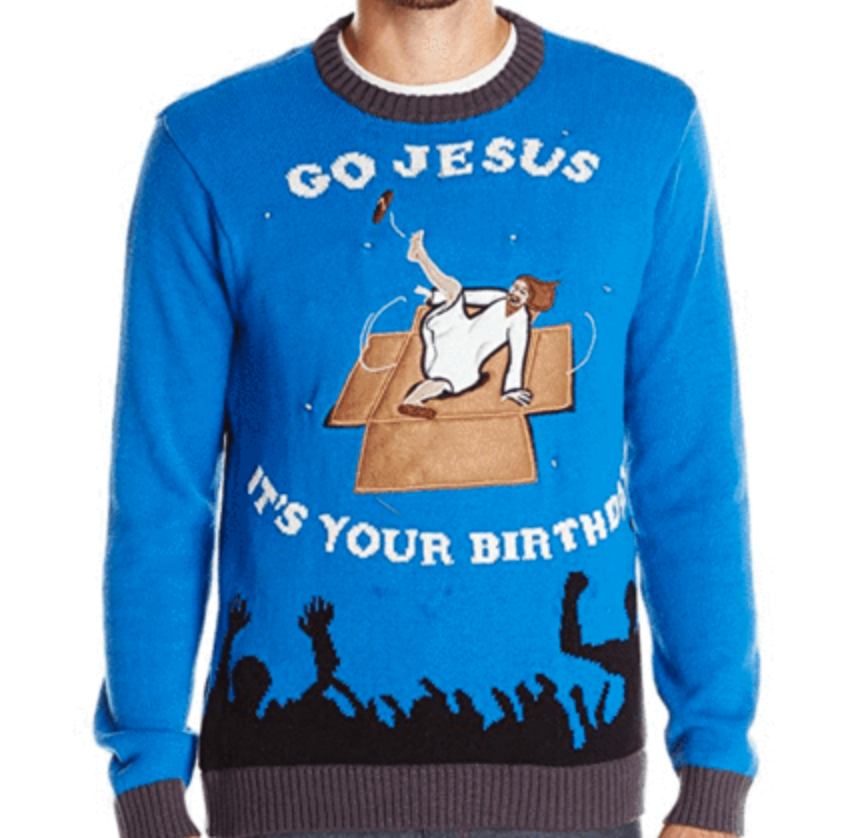 Just slightly crossing the fine line between hilarious and blaspheme, this jumper will for sure make you remarkable to everyone invited to your Christmas party. So, whether you're a fan of Jesus or not, you lowkey celebrate his alleged birthday every year. Why not bringing it to the next level? BUY ME HERE
4. LIGHTS UP
Fairy lights are arguably the most Christmassy decorations ever. They can trick your brain into a full-on Christmas spirit even in August. So why not on a jumper?
Light up – quite literally – the spirits of your family and friends this year and go grab yourself a self-lightning ugly (but is it really?) jumper HERE
5. PERSONALISED
You're all about self-love? You're absolutely obsessed with your dog? Did you get into a fight with your special someone and have some making up to do? You want a raise but your boss despises you?
Don't worry, because this year the perfect Christmas jumper is going to come to the rescue and speak for you. No matter the occasion, you can personalise this marvellous piece of clothing as best as you wish. Is it actually going to be ugly? Well, that's up to YOU!
Here's the shop, thank me later.
BONUS: FEMINISTA
It's 2021 and if you're not a feminist, do you even deserve to win the best dressed Christmas award?
If equal rights are your cup of tea this ugly but incredible Christmas sweater is the one for you-oh-oh baby!!!
Be ready to sleigh with your outfit and the patriarchy all at once with THE SPARK COMPANY
If you liked this article why not check out:
London 2021 Christmas Season Limited Event Guide
And just like that Samantha Jones is a Londoner too
Words: Rachele Petrocchi | Subediting: Nina Marangon