Nearly 70 percent of young people in Britain think that voting in the elections is useless as they feel that their voice is not being listened to.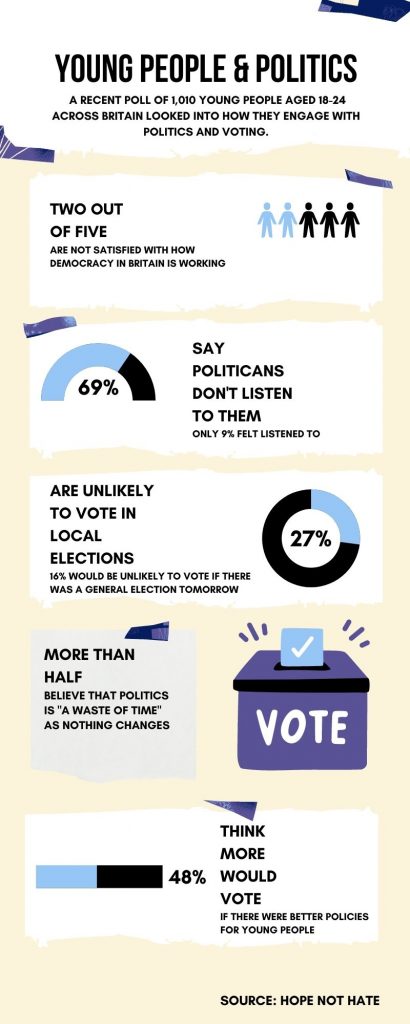 A recent poll by HOPE not hate organisation found that 18-24 year olds are losing interest in voting, with 27 percent admitting that they weren't likely to vote for yesterday's local elections. Another 16 percent of participants said that they wouldn't even think about voting.
This lack of interest towards voting comes from the young generation's feeling that they're not being listened to, with 9 percent agreeing with that and 58 percent thinking that it's a waste of time since nothing would change if they would make a move.
As a result, it's not a surprise that the 42 percent weren't even aware of the elections happening yesterday. 44 percent say that they're not happy with democracy itself, and that's an issue especially because young voices are important for the future and they're not influencing any change. However, 48 percent think that they would be more motivated if there was more focus towards young people in the policies.
To see our coverage of the local elections, follow this link: Election Results: Conservatives lose key London boroughs
Ashreya Jimi, 20, said: "Of course it is important to vote, but I'm not really sure about what they're offering us."
Elitsa Maymareva, 20, said: "I feel like we're always taking a step back when voting, it doesn't matter who you vote for."
Words: Argia Hernandez | Subbing: Yana Trup