We're drinking 95 million cups of coffee a day — and there's definitely a catch.
It keeps us from tearing out our hair on our morning commutes and can help us live longer. While most of the UK spends today hitting the high streets, a large part of the population will unknowingly be celebrating another unofficial holiday — National Espresso Day.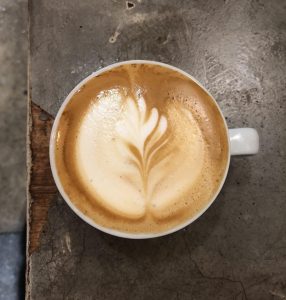 But given the UK's apparent love for coffee, every day may as well be declared as National Espresso Day.
According to The British Coffee Association, 95 million cups of coffee are consumed by the country each day. Whether it be a flat white, macchiato, or instant grounds, the coffee bean is responsible for the espresso in our drinks and the caffeine in our veins.
The demand for coffee is so high that a 2018 report by the Allegra World Coffee Portal (AWCP) found that in the last 12 months, 1,215 coffee shops were added across the UK, adding £9.6 billion to the business sector and 24,000+ shops total. There seems to be no slow down with AWCP projecting that by 2022, there will be more than 31,400 coffee outlets in the UK.
Despite the physical and fiscal good the coffee industry may be doing for us, perhaps we should pause before having a celebratory espresso. Coffee beans and the farmers who harvest it are under threat by climate change, 2.5bn disposable coffee cups are used each year in the UK, and 500k of (reusable) used coffee grounds are thrown away, potentially adding to water pollution.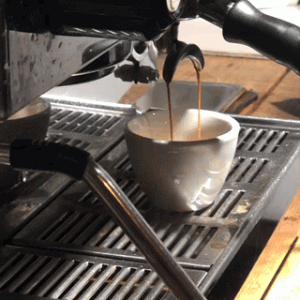 The downsides of coffee and the industry don't have to be completely disheartening. Like a lot of the activities in our daily life, there are small steps one can take to be more eco-friendly and sustainable when it comes to having coffee outside home.

"If you care about your contribution towards the environment [when it comes to coffee], being aware is the key thing,"  Jonathan Guttery, 29, of Lomond Coffee Roastery, tells Voice of London. Guttery has been working in-and-out of the coffee industry for the last ten years.

While using a reusable cup is one of the biggest steps people can take towards being more 'green' about their coffee, there are other steps that Guttery recommends: "Look for anywhere that advertises the coffee they're using. That usually indicates they've got nothing to hide. All of the big roasteries in London tend to operate their own fair trade policies."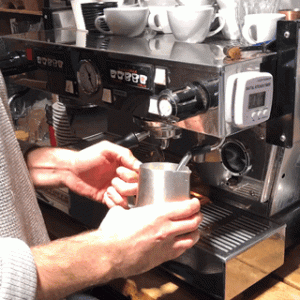 If coffee is certified as 'fair trade,' it means that coffee farmers are receiving a fair price for their labour and coffee beans. This keeps farmers, coffee production, and communities afloat at the very minimum. Fair trade coffee companies have also began stepping in and assisting coffee farmers in adapting to the effects of climate change.
But it isn't just the type of coffee a shop uses that's important — the other products matter as well.
"You need to bear in mind that the milk quality is just as important, if not more important than the coffee itself — if you're talking about ethical values. We, for example, get our milk from a dairy estate just outside of London, meaning it hasn't travelled far. It's also coming from an organic farm that treats its livestock well."
It's likely that most coffee shops won't advertise every single product they use and its origins, making it potentially tricky to figure whether a coffee shop is doing more good than harm.

For that reason, Guttery says that there's one 'cheat' a person can use to help know: "If a coffee is cheap, it usually means somebody isn't getting paid fairly – whether that be a farmer, exporter, or barista."
What's a fair price then? By his estimates, this should mean that the average 'fair' americano in London costs around £2; a flat white, around £2.80.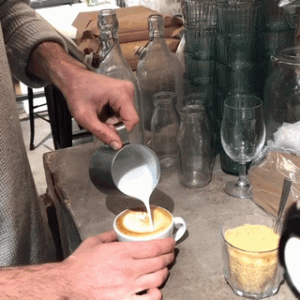 "Of course you can get a cheaper coffee at other chains or kiosks. But having coffee outside the home is a habit that can add up to be quite costly, even if you're drinking the cheaper stuff. So if you're concerned about being sustainable but can't afford having the slightly more expensive, ethical stuff, I'd recommend buying fairtrade grounds and making your own coffee at home."
While being more conscious of your coffee consuming may not seem like a big deal, every little step we take towards reducing our carbon footprint, supporting the environment and environmental causes, and being less wasteful counts.
Climate scientists have said we have 12 years to reduce potential climate catastrophe — why not begin with the drink that starts our day?
[soundcloud url="https://api.soundcloud.com/tracks/542613165″ params="color=#ff5500&auto_play=false&hide_related=false&show_comments=true&show_user=true&show_reposts=false&show_teaser=true" width="100%" height="166″ iframe="true" /]

See also: Coffee shops that will keep you warm this winter
Featured image: Courtesy of Christoph via Pixabay
Words, audio, pictures, and graphics: Taylor Paatalo | Subbing: Shruti Tangirala