It is fair to say that Brits are experiencing a different form of lockdown, then the first one we went through. Winter is coming with no possible way to know if these living situations are permanent.
During the first lockdown, people found it more motivating to get out and about, due to the good weather.
Expert and personal trainer Adam Lakhdar explained that people "struggle with motivation especially if it's always the same training and the end up training less, what I would suggest is to switch up between indoor and outdoor training to have more variation".
However, with a winter approaching, where days are getting shorter and the sun is setting earlier, it can be hard to find the motivation to work out. Lakhdar says it's important to stay active not only for the intention to stay fit but also for his mental health.
"The more you work out the better you feel as the brain releases dopamine, the feel-good hormone, which fights stress".
During the previous lockdown, studies showed that 64% of individual developed symptoms of depression and 57% symptoms of anxiety. These numbers are drastically high, and it is feared they will be even higher with the second lockdown entering winter.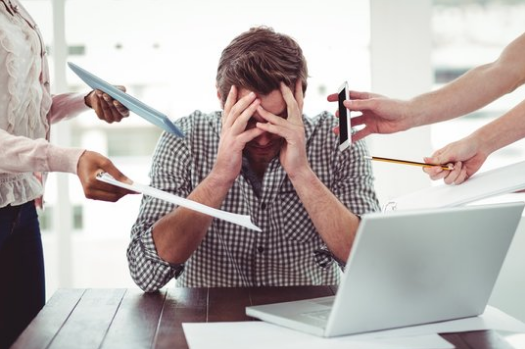 Source: https://da.depositphotos.com/stock-photos/stressed.html
However, keeping a weekly routine of exercise might release some stress-relieving hormones and create better wellbeing.
Lakhdar holds outdoor classes in public parks to motivate people to say more active. The workouts are respecting the governmental guidelines for distancing, with people keeping a distance from each other.
The workouts can be a great way to stay social in these social distancing times.
Salil Patel and Marjan Jafari are both weekly attending Lakhdar's outdoor classes. Patel explained his workout routine.
Video by Yasmin Sakki
Patel also points out that "exercising outdoors during winter will be harder and more challenging when it is cold and wet outside. When I don't workout enough in colder darker months the apathy creeps in slowly and I don't realise it. You can go down a spiral without realising it, which for me may affect other areas of my life".
Patel emphasised the importance of adjusting the workout during winter times.
"With the frequent wet weather, the risk of injury due to slippage increases so I would have to adjust my workout accordingly to minimise the risk. Warm-up will also need to be carefully done to prevent injury".
Marjan Jafari explained how she adjusts her workouts during the lockdown
Video by Yasmin Sakki 
Four motivating reasons to keep exercising during winter and lockdown periods
1. Maintaining a good immune system throughout flu season
By keeping fit and exercising the body and immune system has a much higher chance of fighting off any illnesses coming in winter times, such as flu.
2. Keeping your mentality intact
Many suffer from depression and sadness due to the lack of sunlight and cold weather during winter. Outdoor exercise gives you D vitamin, which studies show can lower stress and depression. Exercise releases the feel-well chemicals, which helps your wellbeing and fights depression.
3. Avoid weight gain during holidays
Holidays and the wintertime are known for people eating heavier food, especially food that gives us comfort. Studies show that half of Brits have gained weight during the last lockdown. With an exercise schedule, it will be much easier to enjoy your favourite food and still avoid gaining weight during Lockdown.
4. Stay warm by exercising
During a workout, the body naturally warms itself up as the body temperature increases. Workouts keep the blood flowing, leaving you with a nice warm body ready for the winter weather.
Words: Yasmin Sakki | Subbing: Leah Trimmer