A lot has happened over the past 10 years in sport, from the London Olympics to England reaching the semi-finals of the men and women's World Cup.
Editor's Picks:
After speaking to students at the University of Westminster, Voice of London has ranked some of the most memorable sporting moments of the decade.
[youtube https://www.youtube.com/watch?v=WosZ3rm-PHM]
10: Mark Webber overtakes Fernando Alonso at Spa (2011)
[youtube https://www.youtube.com/watch?v=5Xq4JyrsV4I]
Fans of Formula One will struggle to forget Webber's stunning race in Belgium where he overtook Alonso through one of the most difficult corners in the sport.
A lot of skill was needed to attempt and master the move without a collision, and Webber himself said he may not have done it against a "less skilful driver".
9: Jenny Jones' historic bronze medal at Sochi Winter Olympics (2014)
[youtube https://www.youtube.com/watch?v=yKLsWoXKrAo]
There were highs and lows at the Winter Olympics five years ago for Great Britain, with success from Lizzy Yarnold in the skeleton and disappointment for Elise Christie in the short track speed skating.
But it was Jenny Jones' historic bronze medal in the snowboarding slopestyle that gave Team GB their first ever medal on snow.
Editor's Picks:
8: England's disallowed goal at South Africa World Cup (2010)
[youtube https://www.youtube.com/watch?v=o5QlBHF6ib8]
Arguably one of the most controversial sporting moments of the decade was when Frank Lampard's goal was denied against Germany after referee, Mauricio Espinosa, failed to see the ball cross the line after it hit the crossbar.
This fuelled debate for Fifa to introduce technology that would prevent situations like this from happening, and VAR was finally brought to the World Cup in 2018.
7: Lionesses reach semi-finals in France World Cup (2019)
[youtube https://www.youtube.com/watch?v=mOvIK1yFKr4]
Millions of people watched England's women beat Norway 3-0 in the quarter finals of the World Cup this summer, with a brilliant performance that saw goals from Jill Scott, Ellie White, and Lucy Bronze seal England a place in the semi-finals.
6: Great Britain win the Davis Cup (2015)
[youtube https://www.youtube.com/watch?v=ZScPRvzQwRo]
It was Great Britain's 10th Davis Cup title, but first in 79 years, last lifting the trophy in 1936.
Andy Murray's dominant performance lead the team to victory in Belgium alongside his brother Jamie, and teammates Kyle Edmund, James Ward, and Dominic Inglot.
5: Anthony Joshua becomes world champion (2017)
[youtube https://www.youtube.com/watch?v=RogJU2LTJuQ]
It was an epic night for boxing that saw AJ gain the world heavyweight title after a knockout in the 11th stage against Wladimir Klitschko at Wembley Stadium.
Watford-born Joshua became a household name that night, and went on to hold the WBA, IBF, WBO and IBO titles for three years, before reclaiming them all in a rematch against Andy Ruiz Jr.
4: England's performance at Russia World Cup (2018)
[youtube https://www.youtube.com/watch?v=RbmaLT320hw]
It's fair to say Gareth Southgate instilled fresh hope for football fans across England when the Three Lions reached the semi-finals of the World Cup last summer.
And if there was one moment that stood out (aside from the love for Southgate's waistcoat) it has to be when England won on penalties against Colombia to reach the quarter-finals.
3: Team GB's Super Saturday (2012)
[youtube https://www.youtube.com/watch?v=gZsdbNFb6H8]
The London 2012 Olympic Games is memorable for many reasons, but on one Saturday evening, Jessica Ennis-Hill, Mo Farah and Greg Rutherford became sporting superstars as they each won gold within one hour in the Olympic stadium.
And it's their success among other athletes that has since inspired the nation to get active. Watch Ella Cohen's journey from casual runner to half-marathon success below.
[youtube https://www.youtube.com/watch?v=0Hs40B7BtxY]
2: Andy Murray wins first ever Wimbledon title (2013)
[youtube https://www.youtube.com/watch?v=2PYyEDl1bJk]
Viewers were on the edge of their seats as they watched the moment Novak Djokovic hit the ball into the net to crown Murray Wimbledon champion.
And this was just the start for the Scotsman, who after winning gold at the London Olympics the year before, retained his gold medal in Rio in 2016 and won Wimbledon for the second time, before ending the year as world number one.
Before announcing VoL's number one moment, here are some honourable mentions that just couldn't be forgotten.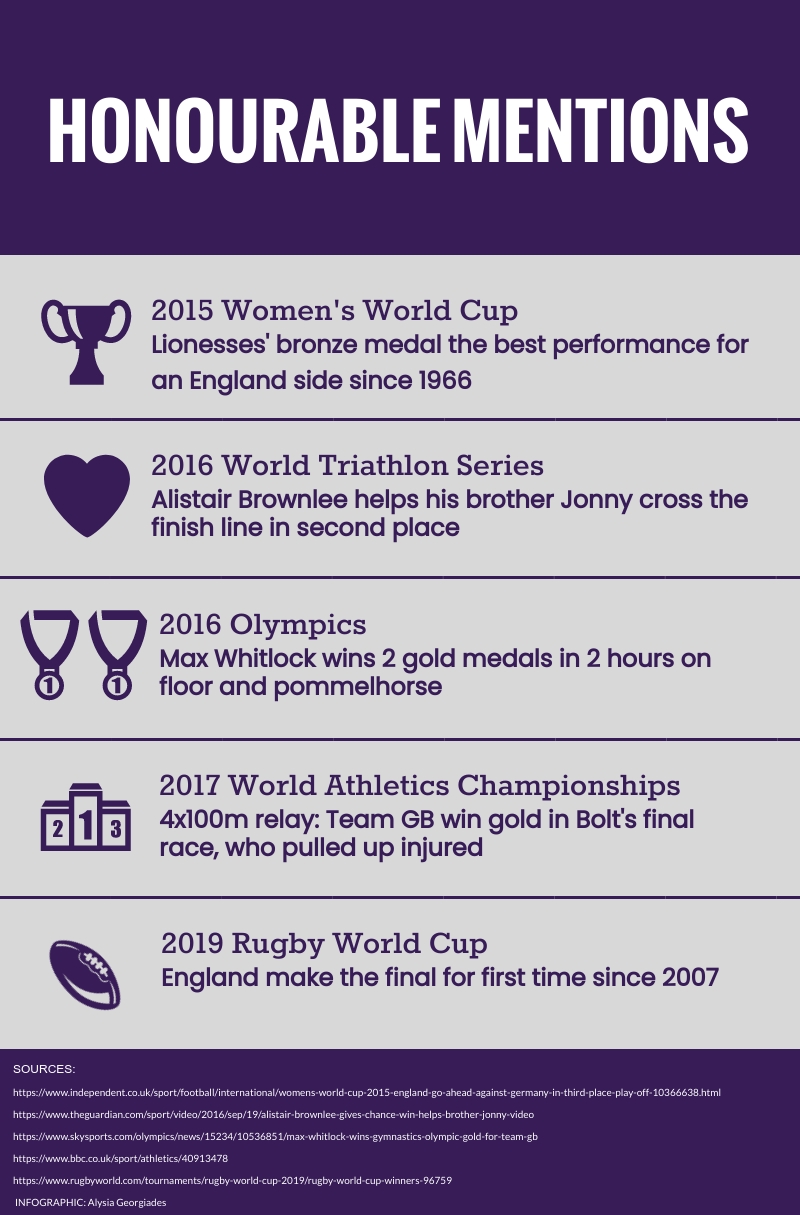 1: Leicester finish top of the Premier League (2016)
[youtube https://www.youtube.com/watch?v=eqdojUifxis]
It's arguably the sporting story of the decade as outsiders Leicester City managed to end the 2015/16 season as Premier League champions.
Their manager at the time, Claudio Ranieri, produced consistent performances from his team, losing only three times throughout the season, and finishing 10 points ahead of Arsenal, who finished second.
Do you agree with Voice of London's choices?
Which sporting moment has defined the decade? Find our top 10 choices at https://t.co/zKKIbuObm7, and have your say on the top four below:

— Voice Of London UK (@VoiceOfLondonUK) December 3, 2019
Words, featured image and infographic: Alysia Georgiades