1. Liberty
This Tudor-revival building, settled just on Regent Street and Carnaby, boasts a whole range of gifts for your loved ones. Known for its high-fashion brands and unique individualism, you will be sure to find something here that is one of a kind. They offer a wonderful gift-wrapping service, that will bring an extra touch to your gift.
2. Selfridges
This iconic department store has made many Christmases merry and bright. First opened in 1909, Selfridges has offered a delectable range of high-end and luxury brands, whilst offering things that are less pricey to fit your budget. They offer a range of services including an experience concierge and gift services. They also provide gift wrapping. Anyone would be happy to receive a gift from Selfridges,all tucked away in their iconic yellow bags.
3. Fortnum and Mason
Fortnum and Mason has been the essence of a Christmas in London since it opened in 1707. Another department store that specialises in things from food to fragrance, and offers their iconic and classic afternoon tea, it exudes Britishness from every angle. Their iconic food hampers would be the perfect gift for any indulgent foodie, not to mention, the hamper basket is the perfect keepsake and can be used for future picnics.
4. John Lewis
John Lewis has played an integral part in giving their customers the best Christmas. We all know of their iconic tear-jerker television adverts at Christmas, which most of the public enjoy and appreciate. At their flagship store in Oxford Street, you can find anything from gift sets to homeware, and they offer a price range which is more affordable than those above, although, they do specialise in high-end brands too.
5. Harrods
Who could forgot Harrods? It's been at the centre of London's Christmas scene, and provides many luxury brands, as well as, their own range of pieces. They offer services such as personal shopping and personalisation, which adds a special touch to your gift. They provide a gift wrapping service too. A gift in one of Harrod's recognisable bags will put a smile on any face.
Below is a map of these locations, indicated by their green markers.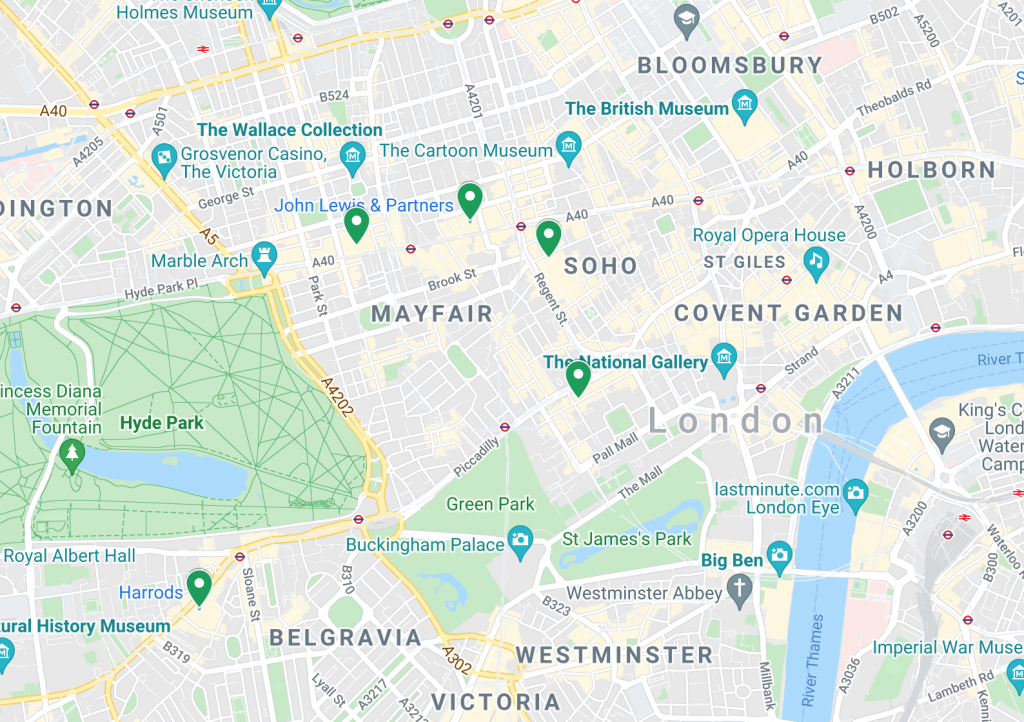 Link to this map: https://www.google.com/maps/d/edit?mid=1Xr-I-pMqYTEIe3Bk1yXJxW1LUGDgnNBT&usp=sharing
Words by: Joe Benham | Sub-Edited by: Chloe Reilly