"Are you here for a manicure?" A young girl's voice asked from the room with Lan Nails written on it, a small table with a checkered tablecloth, a nail lamp, and a nail polish rack opposite the door were particularly noticeable. It was Margaret Lan's manicure table; she sat down at it to work on her upcoming manicure.
As a student at the University of the Arts London in 2021, Margaret Lan began to realise that as she enjoyed helping her friends with their nails so much, she might as well start it as a hobby on the side, and finally, in October 2022 she did; Lan Nails was set up in her bedroom as a result.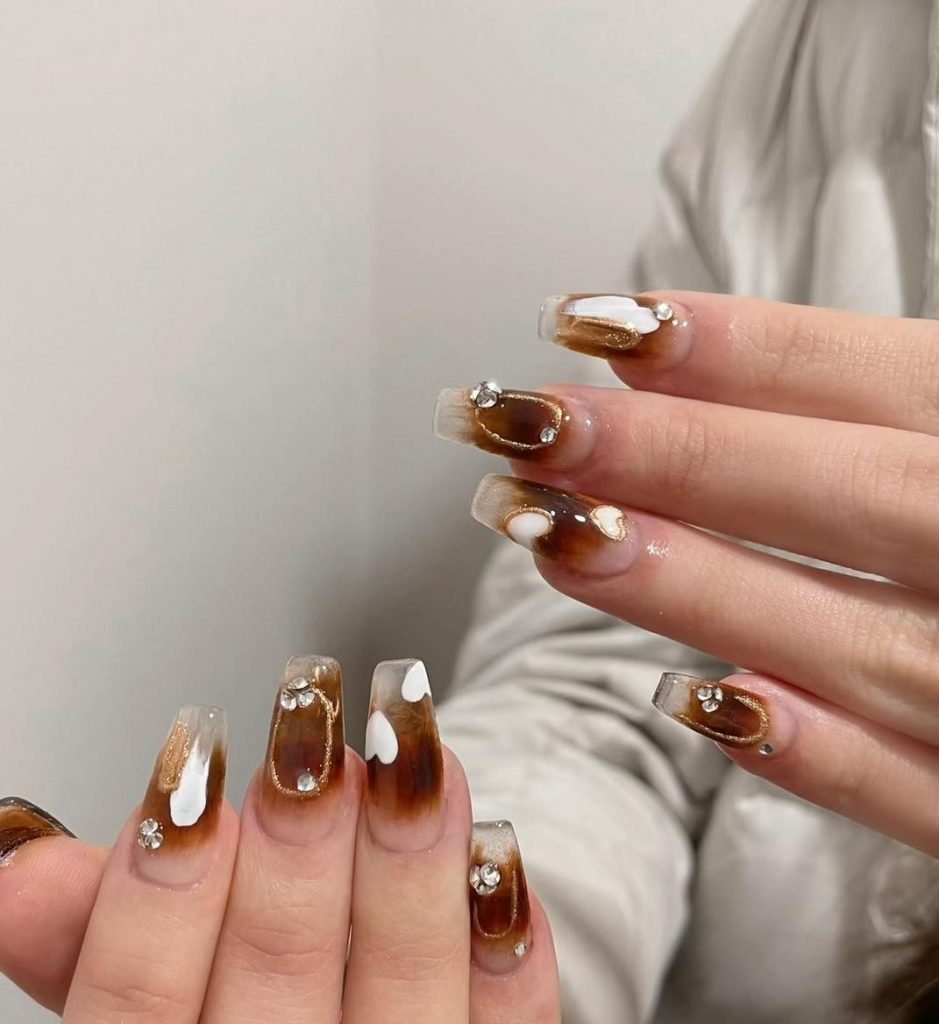 "At first, I had considered all the difficulties I might encounter after opening, so after much deliberation, I chose the lowest-cost dormitory manicure," Margaret said with a smile as she looked at her nails.
Lan Nails, which has just opened a month or so ago, maintains a customer flow of five clients a day. "It's kind of a new business model in the nail industry," according to Margaret, who feels that this way of doing business, although not as competitive as other nail salons in London, has attracted students. "My nail prices are already relatively low for students, so it's very popular," Margaret explained.
What she didn't expect was that "the customer feedback was much higher than I expected," says Margaret, standing up, which is a great encouragement and help for a student who has only been in business for a month. She experiments with softeners and polishing strips on her nails every day, in order to be able to achieve the nail styles that her customers bring in.
"There was one customer who really impressed me," she said, pointing to the unlabelled nail polish, a delicate English grandmother who came to her hostel to have her nails done, but she didn't know at first that it was the grandmother of a girl she had helped before.
As always, she sharpened and polished her nails, but when she was about to leave, the elderly woman thanked Margare for helping her little granddaughter and gifted Margaret nail polish.
This came as a big shock to Margaret, who had only just opened her business, "I was only doing it so I could make money, but since the grandmother gave me that meaningful nail polish, I believe I need to work harder to help others achieve their nail dreams," and after that, she worked hard every day to be able to achieve what her customers wanted.
After that, she experimented with softeners and polishing strips on her nails every day in order to be able to do the nail art styles that her customers brought in.
When it comes to what she wants to do with her nail art side business, Margaret looked out of the window, paused, and said, "Let's take it one step at a time! I just want to do what's in front of me right now, take on clients normally and just try to offer different styles of nail art to my customers whenever possible."
After sending the last customer slowly away from her dormitory, Margaret rubbed her sleepy eyes, packed up her nail art utensils, and sank down into the bed in the dormitory, to look out of the window at the vast starry sky.
Words: Yimin Xie | Subbing: Andreea Bejan