In Poland, Christmas Eve is one of the most important celebrations of the year. It is the time when the whole family gathers together for a very special dinner. It always includes 12 traditional meals, most of which are cooked specifically for this day and only once a year! For many of us, this is the only time the whole family comes together to share this special meal. Traditionally, there will also be an extra plate for an unexpected guest or even a homeless person, who might knock on doors and ask for sojourn. Christmas is the time when you celebrate and share this joy with others.
In Poland, it is not important whether someone is Christian or not. Everyone who celebrates Christmas Eve knows very well that on this day meat is not allowed. Our culture is a combination of religious, ancient, traditional, local and folk influences. The dinner always includes twelve dishes and desserts. In some families, the Christmas menu includes multicultural aspects, as Lithuanians, Bealorus, Ukrainian, Jewish, German, Polish and other minorities have lived in Poland in the past. That is why Polish Christmas is an inimitable and magical ceremony.
Why do we eat 12 dishes during the Christmas Eve dinner?
The number 12 symbolises the twelve Apostles, represents the twelve months of the year and is also the number most symbolic of richness. We believe that everyone should try at least a little bit of everything. This gives you blessings for the next year. In fact, in the past, Christmas Eve included more than 12 dishes. The preparation was very long and tedious, but all of them were universal.
Nowadays a lot of restaurants and polish shops in London offer Christmas-ready products, however Poles still love to cook their own traditional food based on old family recipes. They always taste better and more unique. Here are a few of the most popular Christmas dishes you should try when you visit Poland during the festive season.
. Red Borsht with polish ravioli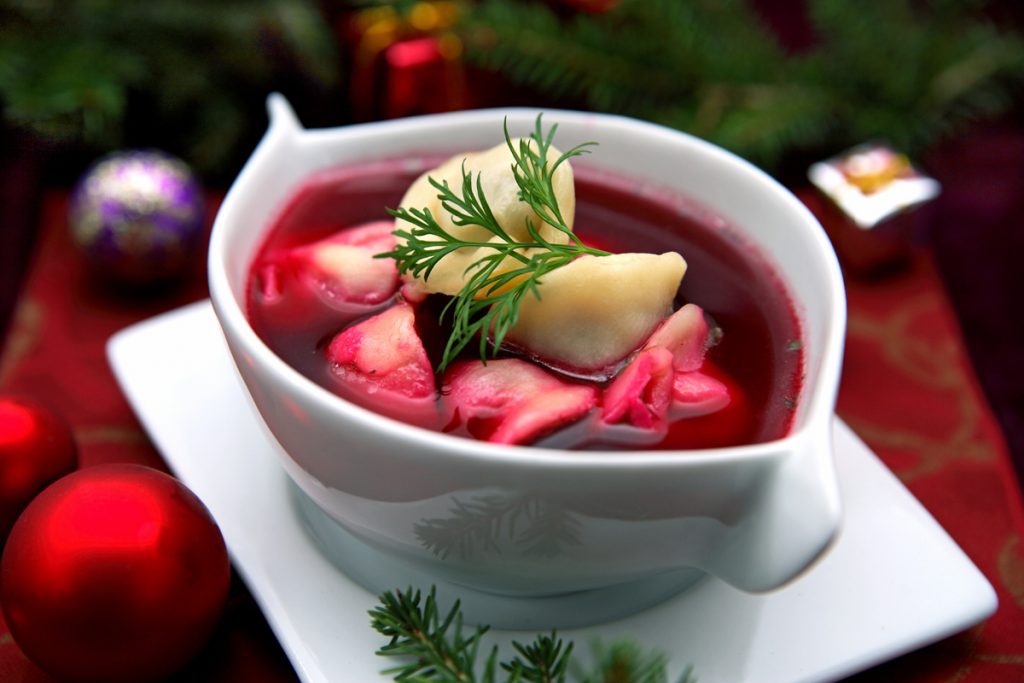 image:Pinterest
Christmas Eve dinner always starts with a beetroot soup (or at least in my family). Called borsht, it includes a sour base, which is made few weeks in advance. It also consists of small raw pieces of beetroot. The taste of the soup is sour, sweet and a bit spicy. It can be mixed with veggies or dried mushrooms, but it depends on the region. The traditional Christmas Borsht is served with Polish ravioli. Uszka, as they are called, means little ears and are stuffed with mushrooms. In some regions the uszka are replaced with large beans.
Dumplings (Pierogi)
Image:Pinterest
Every time someone finds out I am from Poland, one of the first things that comes to their mind is PIEROGI. Yes, everyone knows and loves Polish dumplings. In London you can buy them easily in Polish shops and major supermarkets. However, the ones which are made for Christmas Eve are much better than anything you have tried before. Since meat is not allowed, Christmas pierogi are stuffed with potatoes and cheese or with sour cabbage and dried wild mushrooms: my favourite one. You can eat pierogi with sour cream or with red borsht. In some places, Pierogi are served with smoked and dried plums or poppy seed, but I have never tried this mix.
Carp Jewish Style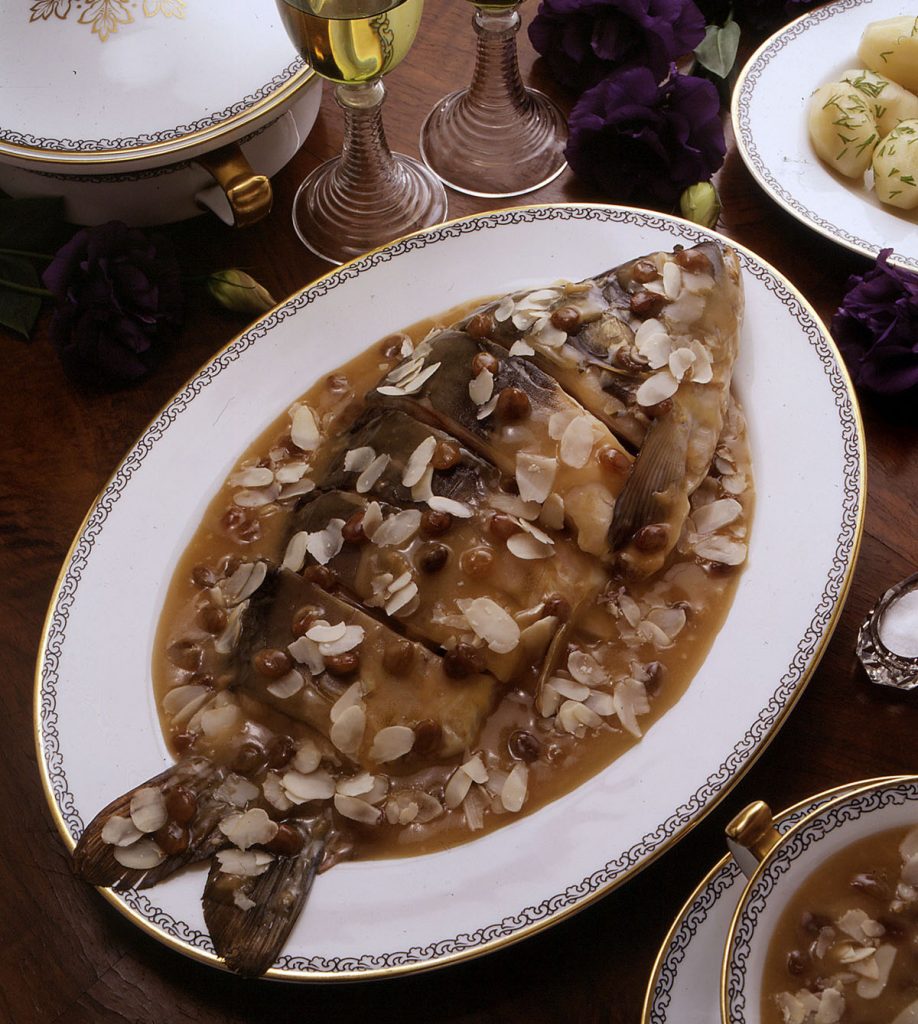 Image:Pinterest
This is something which my mother loves to cook and I hate to eat, because of the bones and the specific taste. Carp is a very popular fish in Poland. It is a must-have for Christmas. There are many traditional recipes but in my family, the most popular is Jewish Carp Style. Originally, it came from Central and Eastern Europe, and was the traditional meal of the Ashkenazi Jews. Pieces of fish are cooked in fish stock and served in a natural jelly, with almonds, raisins and onions.
Kutia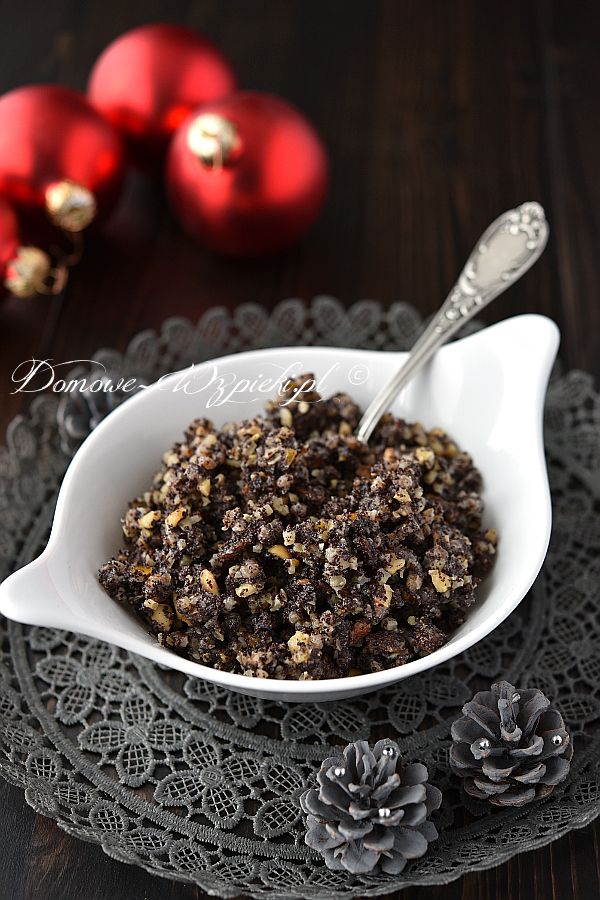 Image:Pinterest
This one is very, very sweet. Kutia is an ancient dessert, originating in Eastern Europe. It is not popular in my region, however my grandfather who was born in Eastern Europe brought this delicious dessert to our family. It is a mixture of cooked wheat grains, poppy seeds, honey (a lot of honey), raisins and nuts like almonds and walnuts. Perfect for your sweet tooth.
Poppy cake (makowiec)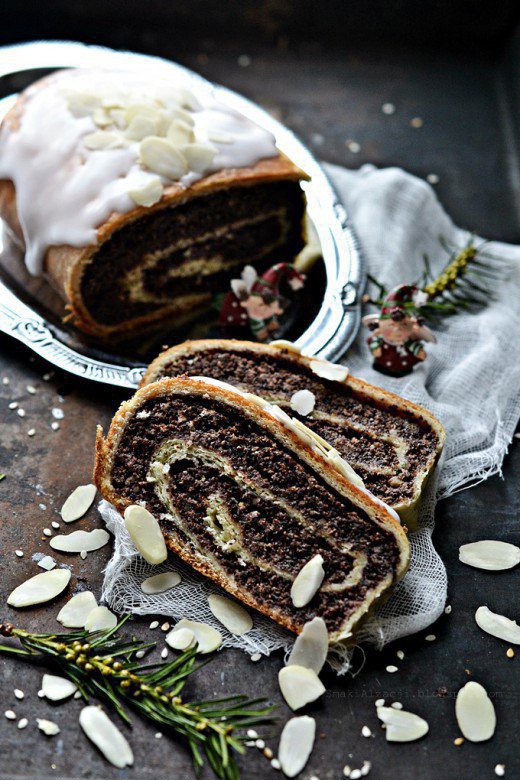 Image: Pinterest
As you may have realised, poppy seeds are everywhere in our Christmas menu. Maybe because this little black grain symbolises prosperity. But Makowiec is a very special cake. Not just because it is the only cake my mother has never stuffed up. The layers of dough are thin but the layers of sweet poppy seed cream is much, much thicker. Makowiec is often served with milk or dried fruit compote and tastes amazing!
Words: Dorota Ciolek | Subbing: Asya Gadzheva