As the world opens up again and it seems as if Covid-19 is in the rear view mirror, people are beginning to travel abroad once more. For some, the carefree holidays from before the pandemic are a welcome return. For others, the same old worries appear again.
Solo travelling is a social media trend on the rise. On TikTok, young women show gorgeous landscapes from hostel windows, inspiring others to consider a trip of their own.
What better way to explore the world than alone? You can go at your own pace, can go anywhere you like and have a brilliant experience.
However, there's a lot to think about when planning a solo trip. Where will you go? Where will you stay? What places will you visit while you're there? And for women, there's the added extra worries. Will I feel safe there by myself? How are women treated there?
There have been several rankings of the safest cities globally for women to solo travel. The Women's Danger Index, by Asher and Lyric Fergusson, is a study on the most dangerous countries for women to travel alone.
They found that the top five most dangerous countries for women solo travellers were South Africa, Brazil, Russia, Mexico and Iran. Their top five safest countries were Spain, Singapore, Ireland, Austria and Switzerland.
Their research was based on eight factors. Including whether it was safe to walk alone at night, rates of intentional homicide against women, rates of sexual violence, gender inequality and attitudes towards violence against women.
Despite the risks, according to reports by Overseas Adventure Travel, more than 60,000 women travelled by themselves between 2018-2019. They also found that of the solo travellers registered with them, 85% were women. This proves that women are solo travelling more than ever before.
Below is a map of ten European cities that women solo travellers have recommended for people wanting to plan their first solo trip…
Below are our five top safety tips for solo travelling…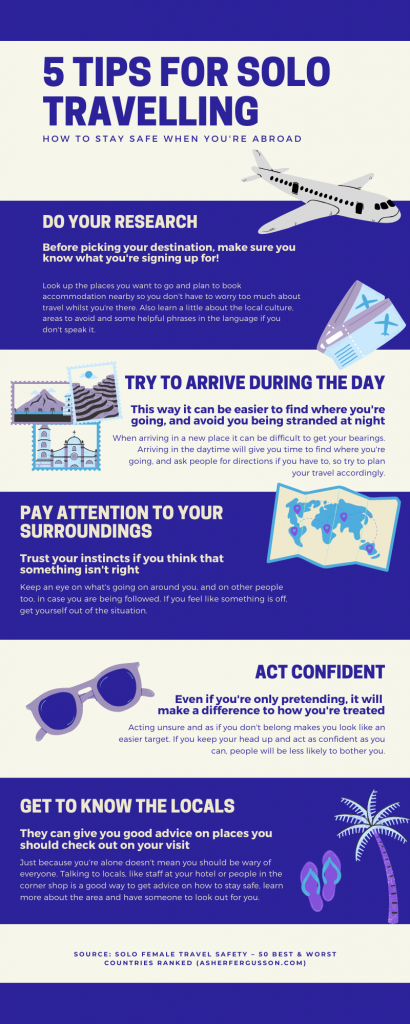 Solo travelling is no easy feat for anyone. Especially when it's one of your first tastes of freedom in an unfamiliar city. But when done right, it can be an incredibly freeing experience for even the most seasoned travellers.
Featured image credit: Unsplash