Due to a rise in inflation, the war in Ukraine and Brexit, prices are rising on almost everything in the UK.
From this April, the people of the UK are going to head into an extreme financial crisis.
You can see below which areas of life are being hit the hardest by this increase.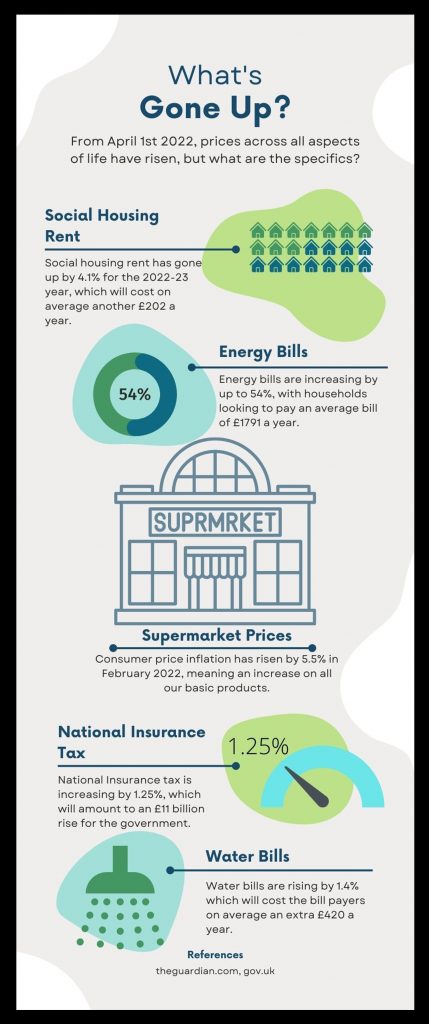 While this is going to impact everyone drastically, for those on low incomes and/or living in poverty already this is going to make their lives even tougher.
Many households will be facing the decision whether to heat or eat, and while there are charities to help in these circumstances, even they are facing huge struggles in the current climate.
Check out this video news report below to find out more.
With food banks becoming a vital support system, with at least 2.5 million people in the UK having used one, they need the support and donations to keep running.
When I spoke to Melanie Hudson at the Slade Green food bank, she told me about how in just the first year of running the food bank they had helped over 20,000 people but have also spent nearly £100,000 on just food in the two years it has been open. The majority of the food they receive is bought, not donated.
"I don't think anyone should have to beg for food"

Melanie Hudson
When speaking to Melanie Hudson, she told me of her worries for the people in the community as they struggle to find the supplies to help them, saying how they are "dreading how much it's going to affect the families".
The Slade Green food bank is independent, and not a part of the Trussell Trust, so relies on donations heavily, but with these price inflations affecting them too, they are not sure how they are going to keep funding it.
Using their own personal purchases, donations from members of the community, customer donations from local supermarkets and groups such as Neighbourly and Fair Share, they are able to keep going, but she tells me that "without them we wouldn't be able to cope".
This is the situation for many food banks around the country and with reliance on them looking to increase, they need more donations to survive.
Below is a map of all the food banks in London and you can find your local one to either donate to or seek help from.