Tommy Robinson, a far-right political activist and former leader of the English Defence League, has sent a post circulating on social media.
A Broadcast Journalist Trainee opportunity for BBC World Service, which he questionably labels as "blatant racism", states that the internship is only open to candidates from a black, asian, or non-white ethnic minority background.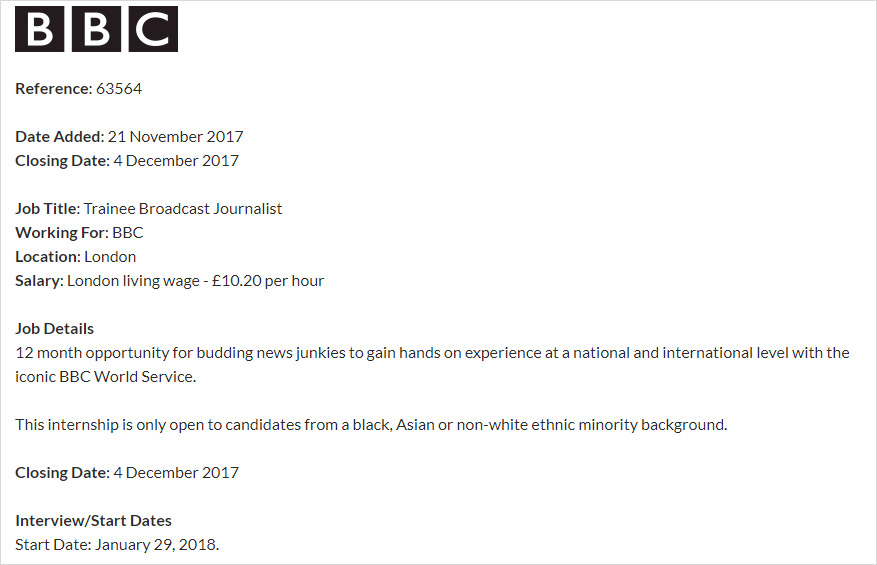 © Creative Access
This opportunity was run by Creative Access, an organisation that provides paid internships in the creative industries for talented young people from under-represented black, Asian and non-white ethnic minorities.
Not-for-profit, Creative Access exist to ensure that diversity of Britain is reflected in the media. Stating that "media cannot reflect society if society is not reflected in the media."
However, as well as Creative Access, the job was advertised on BBC's website. This allowed for anyone, of any age, race or religion, to see the job opportunity.
---
So why do the BBC allow for this specific candidate requirements?
The Resolution Foundation found that despite a higher proportion of BAME, (black, asian and minority-ethnic people) obtaining degrees, they face "employment and pay penalties" in regards to their background. Ofcom, the UK's communications regulator, states that figures from the BBC suggest employees from an ethnic minority background are less likely to be promoted, with only 6% of senior roles held by employees from an ethnic minority. Chief Executive, Sharon White, said that previous audience research revealed broadcasters were "falling short" in reflecting "the society we live in today."
---
In spite of this, there are mixed discussions about the fairness in the BBC's choice to exclude a nationality from their applications.
Voice of London spoke to media undergraduates, who can and can't apply for the role based on their ethnicity. Listen to what they, and Tommy Robinson, have to say below.
Words: Olivia Herring | Subbed: Katherine Docherty