If money is tight, but you want to give back to your community this Christmas, donating blood can be a great way to make a difference and even save a life.
The cost-of-living crisis is truly taking a toll on most people's Christmas plans this year. People struggling to feed their families are planning on missing out on Christmas dinner and one in every seven children might not receive a gift this year.
In October, the UK was faced with a scary situation due to a serious blood shortage – bad enough that it even led to surgeries being delayed. As the shortage alert was lifted in November, the UK must do all it can to avoid this happening again, which could be catastrophic.
If you're able to, there are many ways to help out such as buying a present for a child in need or even making a donation. However, most of us are struggling and can't afford to do this, let alone keep ourselves warm in the midst of inflation and rising energy prices. However, if this Christmas you want to give back to your community, donating blood can be a great way to do so for free.
Who can donate blood?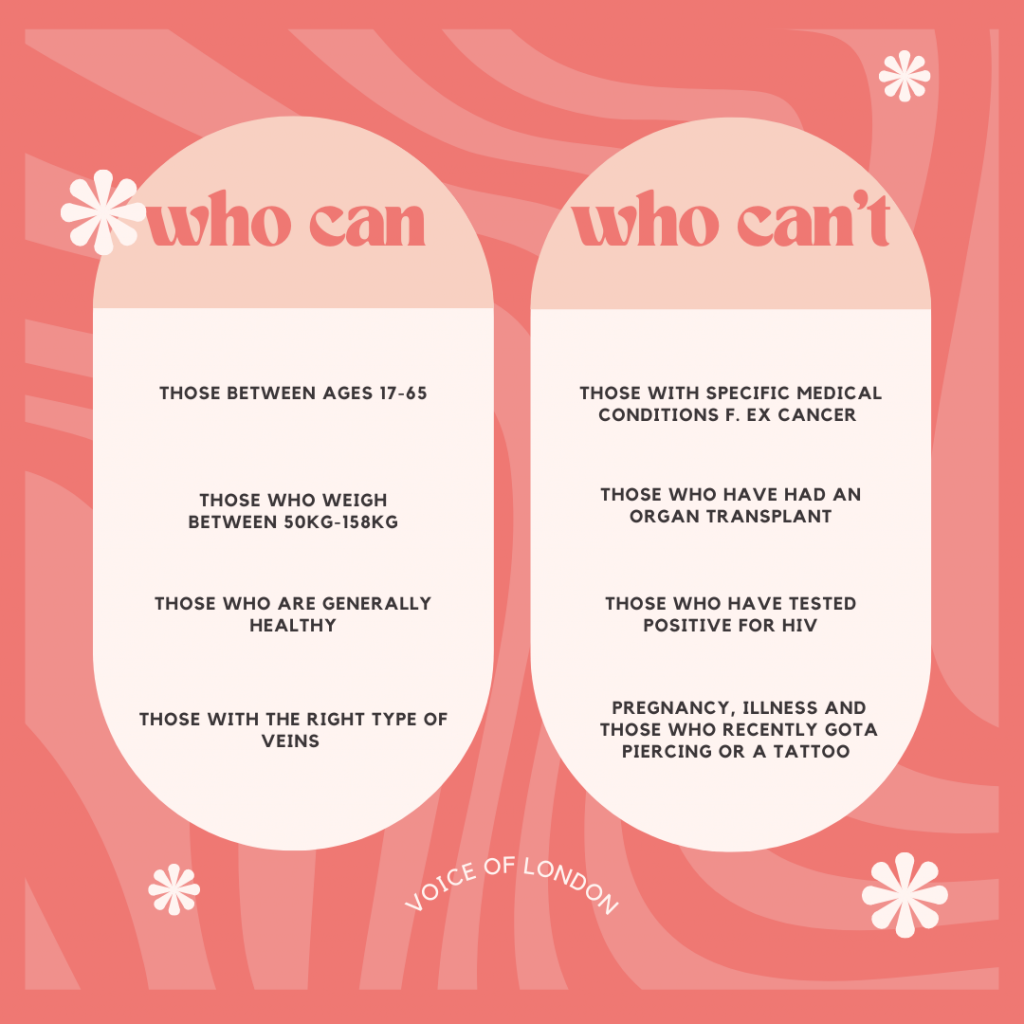 Donating blood is a simple process, however, you should check that you fit the criteria. According to the NHS anyone between the ages of 17-65 can donate blood – other factors can be weight, the type of veins you have or overall wellness. Factors such as having cancer or if you had an organ transplant won't allow you to donate blood. Before donating it'll be made sure that your Hemoglobin levels are high enough. If you're man you can donate blood every 12 weeks, whereas women can donate every 16 weeks.
What to expect?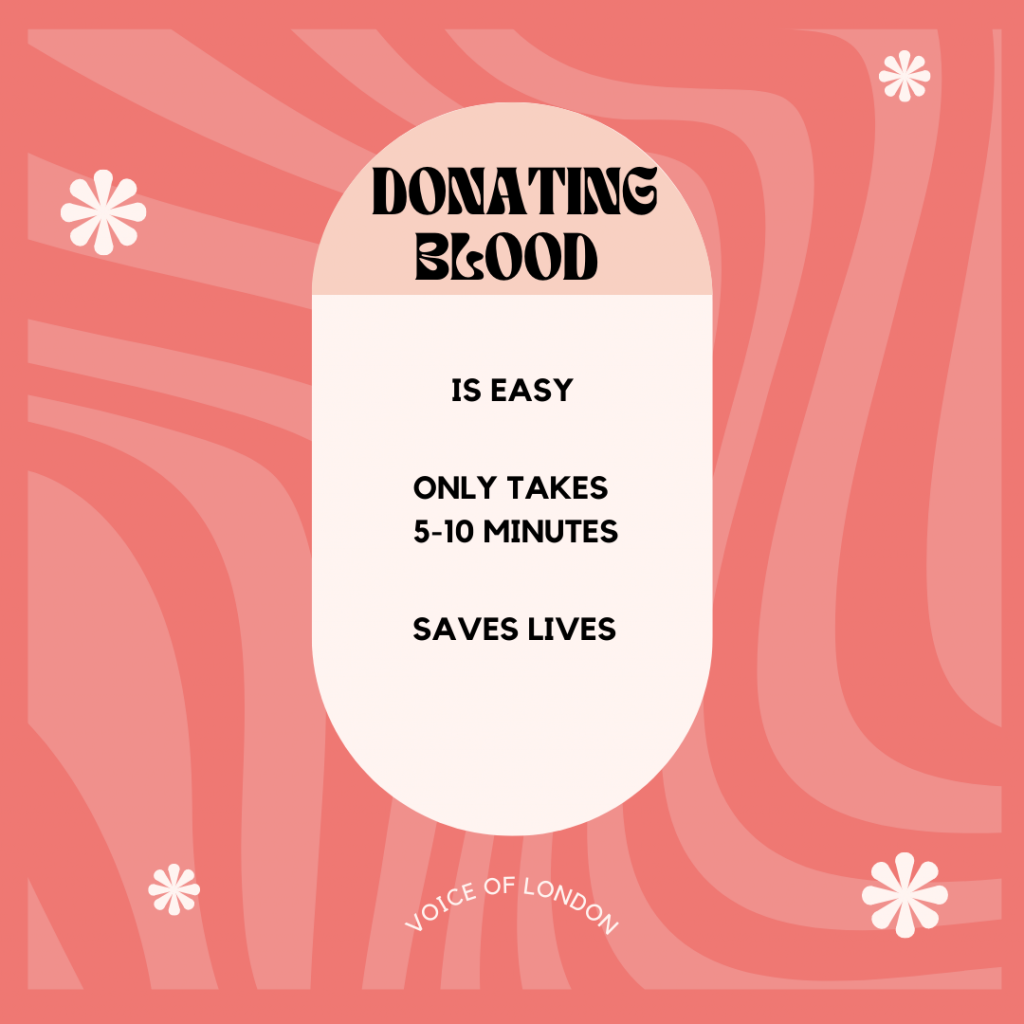 One in six of 17–34-year-olds are aware that blood donation is a good thing, however, are pushing the good deed off – specifically young men who are twice less likely to donate blood than young women. There is also a need for black donators.
Before donating, you can easily register online and book an appointment – or you can use the NHS Give Blood app to see available appointments effortlessly.
"I was really nervous before my first time donating," said Alex, 22, who's been donating blood since the age of 18: "but it's so much easier and quicker than I thought."
The donation process is quick and shouldn't take more than 5-10 minutes.
"After realising how easy it is, I wanted to keep doing it. It feels like you're doing something to give back," Alex explains and now donates routinely a couple times a year.
After a quick process that can save lives, you're encouraged to stay in and have some free refreshments.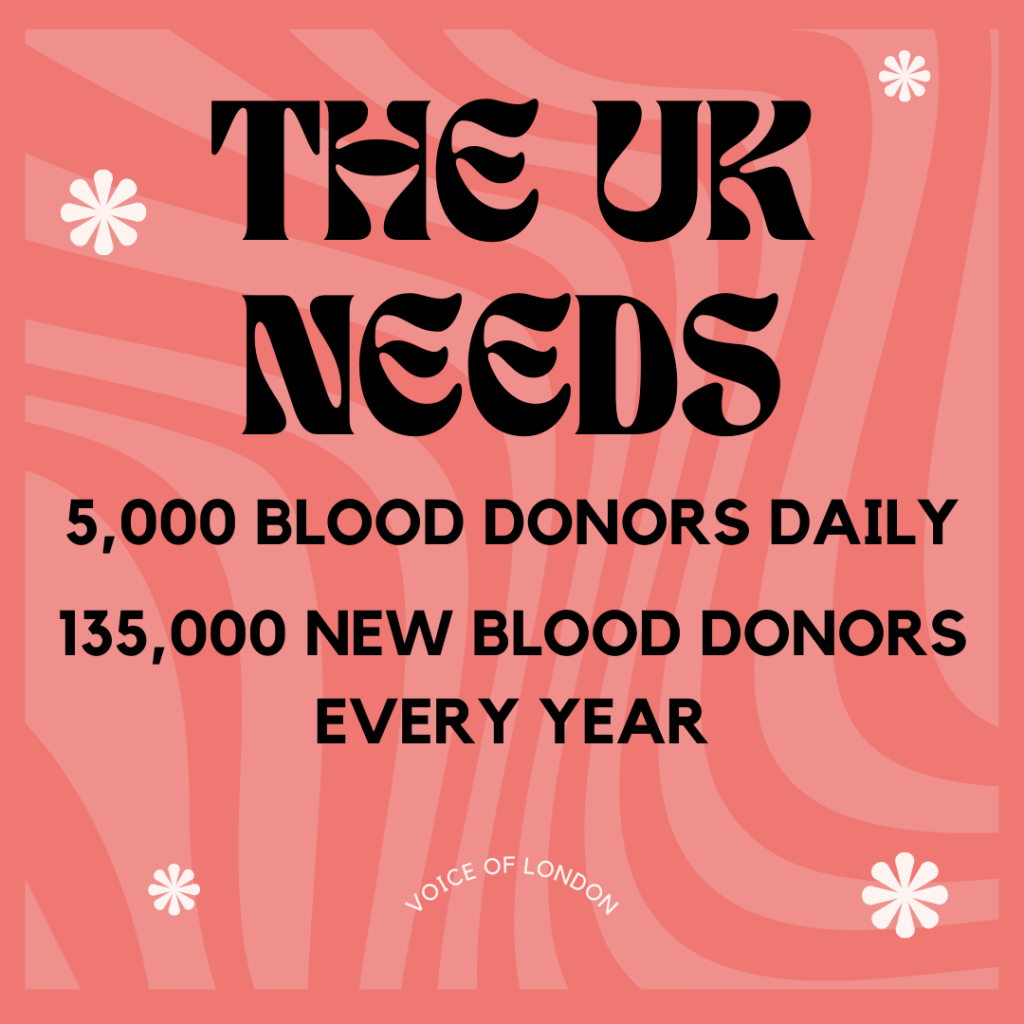 The amber alert for blood in October was a frightening example of how important blood donation truly is. The UK needs 135,000 new donors each year to keep up with the needed blood supply.
If you meet the criteria, donating blood is a great way to give back for free this Christmas. There are tens of locations to donate blood around England, and thousands of community-based ones. Give a lifesaving gift this Christmas and register to be a donor here.
Words: Lumi Leinonen | Subbing: Aleksandra Martynow