By now we're all aware of the importance of internships. In many industries, such as fashion, internships represent the one key that will facilitate your transition to the work environment. That opportunity to showcase your talent to the world and gain the required experience to pass to the next level… However, getting one is never an easy task. 
Finding an internship that will provide you with the necessary skills, that will recognise your effort and even pay you for it, is increasingly difficult but Jasmine MacPhee is here to help us. 
After being an intern herself, and having worked for Cosmopolitan and Harpers Bazaar, Jasmine noticed the various existing challenges in the world of internships and decided to launch Find Your Intern, in order to help us navigate through it. 
You may not know this, but Find Your Intern started as a university project. A final assignment with the scope of showcasing Jasmine's graphic design talent while improving the existing landscape of finding internships. As the young entrepreneur tells us, back then there weren't many websites nor tools for this, and the few ones that existed weren't as interactive.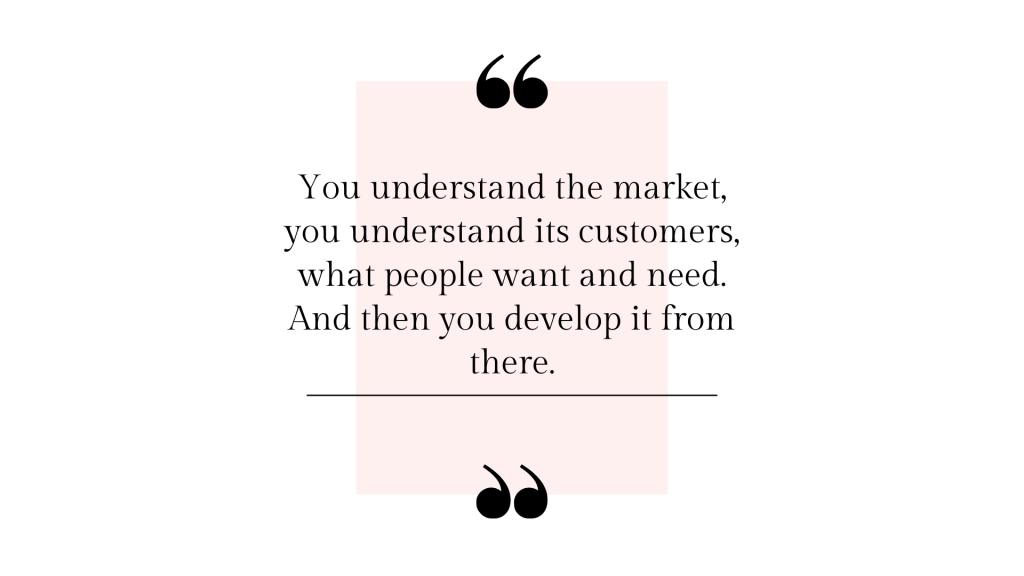 This gap in the market and the possibility to help other students with similar aims as hers were what motivated Jasmine to launch this project, which now has become one of the most active community-driven spaces to find exclusive fashion and creative internships. 
FYI isn't just a great research tool but also a motivating source of inspiration for the many creatives with plenty of ideas ready to be developed. It may seem hard, at times even impossible, to consider launching a successful independent project, but according to Jasmine it just takes the right amount of effort and dedication. 
She tells Voice of London: " I was working full time and developing this on the side, even asking experts from the industry; Is it going to work? How can I make money? And they would often answer; I don't know, I don't know how you're going to do it. I didn't let it stop me, I kept on going and I made it work." 
But in order to make it work you need to have an aim and the aim behind FYI is one which benefits us all. The world of internships is still highly characterised by unpaid opportunities, because according to many, that one unpaid experience will allow you to then get a paid one. But as many of us know, this isn't always the case and Find Your Intern proves just that. 
The internship-exclusive platform finds and promotes paid roles, and to our surprise there's plenty of them. Jasmine explained to us that this resulted from her own experience with internships and the understanding of the need of being accredited for the work that you do. She says:
"When I was at uni, looking for internships, most of the internships were unpaid and it was just normal. We accepted it, we didn't fight it, we didn't really think about it being fair or not."  
But now things have started to change, and this can be linked to social media and the voice that it has given to the youth. 
"Now we've all got something to say. If you see a brand that's not paying their interns, you're going to speak up which can lead to brands noticing and take it into consideration. It can lead to an eventual change"
"I still see big brands, advertising, unpaid internships, people will send it to me, and I'll put up my stories. I think this is positive, you know, you guys have a voice and you're not really afraid to air it." 
However,  many of us still function under the belief that without previous experience it may not be worth the risk to apply for paid positions, since we may not get them after all. When asked about it Jasmine argued that it all relies on how you think of and present yourself. 
"You may think that you haven't got experience, but that university showed that you helped in, that work experience you did with your family friend, or, you know, volunteering, or working at London Fashion Week. It's all there. It's just about fleshing it out."
"Often people feel like what they've done isn't good enough, or, you know, that they can't get any experience out of it. And that's the problem, we tend to diminish so many opportunities because we don't consider them as progressive." 
You may have not thought about it this way, but everything that you do could count and help you get that paid internship you're looking for, as Jasmine says: 
This idea traces back to the importance of an online persona and how its relevance in the work environment is increasing day by day. Due to the current pandemic a lot of opportunities are being cancelled and redirected online, resulting with a general discouragement from the youth. But is this online shift really as bad as it seems? 
The Find Your Intern founder doesn't necessarily see it as a solely negative change. She believes that  this has made us pay more attention to the way in which we present ourselves online and even find opportunities in ways that wouldn't have been considered before.
"There were certain opportunities that were exclusively physical before that have gone completely digital this past season. London Fashion Week, for example, went completely digital. They certainly required people with online knowledge and ability to reinvent itself and deliver their product as successfully as they did." 
"Since people of your age are more equipped and familiar technologies, social media platforms and the digital world in general you should take advantage of this change. You should adapt and chase opportunities that before were limited by physical requirements."  
Jasmine herself followed her own advice. Her growing team is based all over the country and working remotely, something she probably wouldn't have considered nor followed a year ago. 
But this isn't the only exciting change in Find Your Intern. When asked about the future plans for the platform Jasmine revealed that there's a lot to look out for.
As the end of a hard year approaches, her main goal is to accompany her customers and members. To help them stay positive about the future and the existing opportunities in the creative landscape. All of this done through continuing to expand her services and being reactive to the current world environment.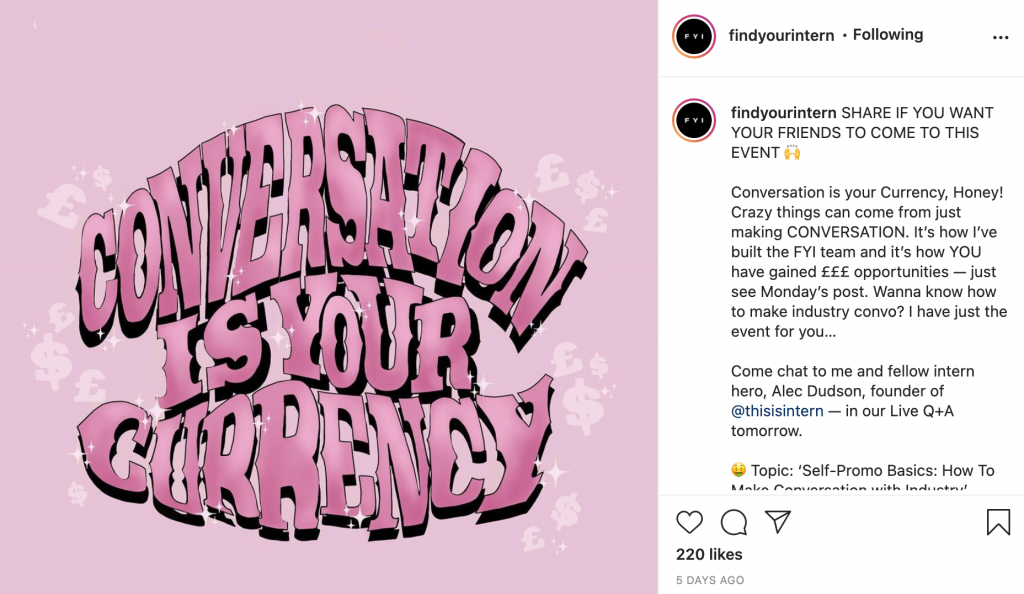 "I produce products that I know you guys want, in a digital sense. I change the membership based on what you want, and what you need. So the platform will continue to change accordingly. I want to be the business based on change. But now it's about what I can do to scale up the business and how I can be there for you guys."
If you're looking for a paid internship and need something more than a research tool. Something like an interactive community with tips and tricks on how to succeed in the oversaturated world of internships Find Your Intern may just be the website for you. 
Follow Jasmine here:
Read more about creative internships here:
Read more about the struggle of finding work opportunities here:
Words by: Chiara Ferrari | Subbing: Gabriela Jimenez