Looking for an internship in the creative field can be an exciting yet difficult task, even more so now due to the current pandemic and its consequent limitations. 
Many students, like myself, have struggled in finding internships, and gone through the disappointment of some opportunities being postponed or even cancelled. But as discouraging as it may seem, this shouldn't stop you from searching. 
Companies are still on the lookout for motivated interns, after all who wouldn't want free or cheap labour right? Jokes aside, internships have always been a good quid-pro-quo, which is why many companies have resorted to online alternatives. Internships programs that can be done remotely. 
I know, you're probably thinking 'it's not the same thing', and you're right. 
You're missing out on the networking opportunities of your usual creative job, the coffee break chats and brainstorming sessions. However, we have to adapt to the current situation, and think about it from a different perspective.
Now you can get valuable experience from anywhere in the world and do it from the comfort of your own home. 
Geography isn't a limitation anymore, and contrary to popular belief there are still plenty of great work experience opportunities out there, you just need to know where and how to look for them. 
Here's a list of useful online resources to facilitate your hunt: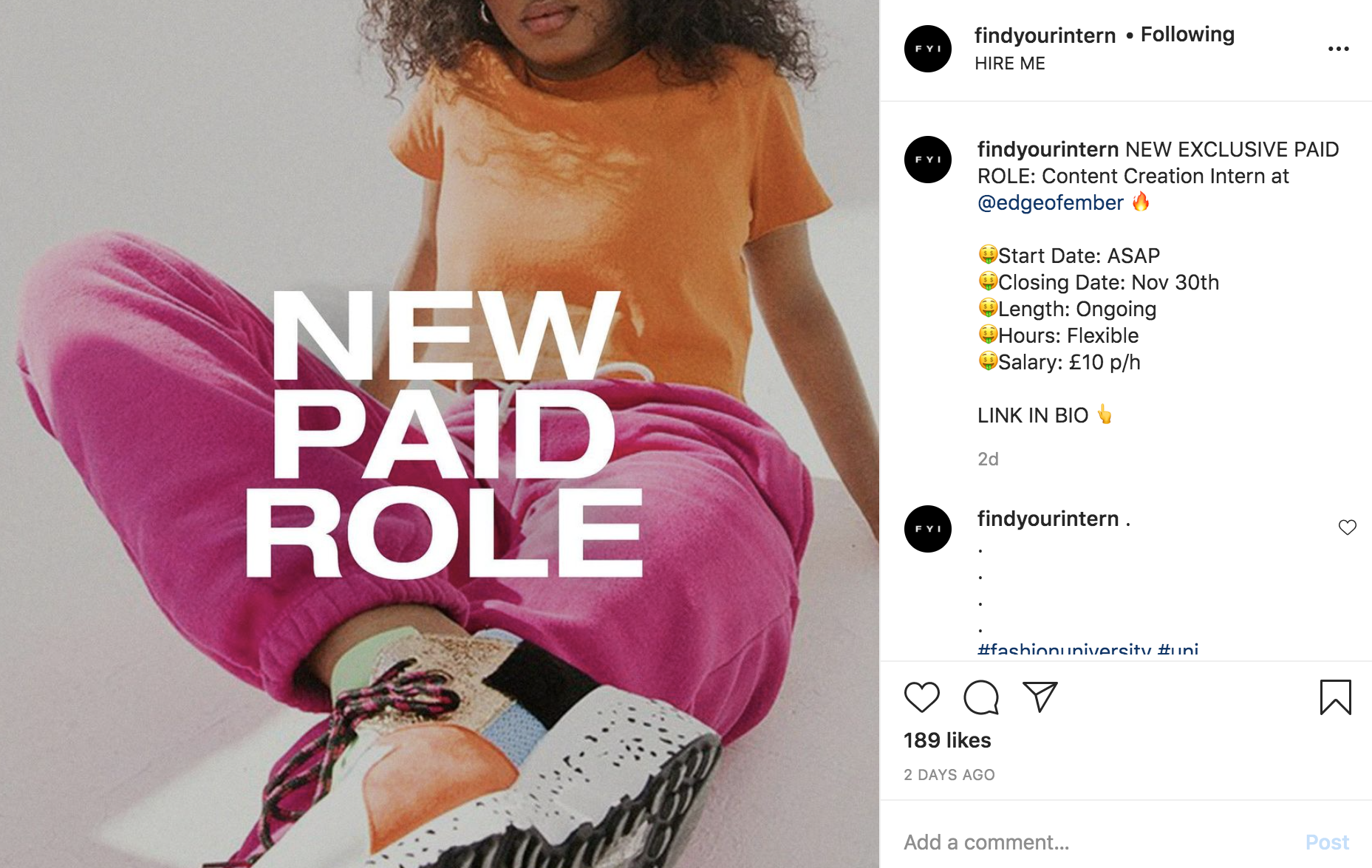 This website may be exactly what you need.
Jasmine MacPhee, founder of Find Your Intern, shares everything from fashion internships to tips and tricks in how to enter the industry, and make the most out of it.
Oh and the best part, most of them are paid roles!
https://www.instagram.com/p/CHiOzeLguCQ/
A diversity centred community that helps women and the LGBTQ+ community find professional opportunities, while providing guidance for all. With podcasts, online events, freelance courses and more – you'll have the tools that you need in order to get the creative internship of your dreams. 
"The professional network for people who don't wear suits to work" 
An exclusive alternative to Linkedln, but for creatives. On The Dots, you will be able to find an extensive list of remote internships. The platform will help you connect with other professionals, and you can help each other with career development. 
Take a look at this job on @The_Dots_UK – Social Media Intern at Trakk Group https://t.co/XyiXfDDRDU

— Trakk Group (@TrakkGroup) November 7, 2020
Through @themediamentor David Spencer, radio, television and digital broadcasting professional, he provides guidance and plenty of opportunities in an "increasingly tough industry". Following the twitter account will keep you up-to-date with the latest job opportunities in the media field, and for further guidance on how to succeed you can always contact him via email. 
Welcome to all new followers. This is a feed for media professionals looking for advice and guidance on their career. Jobs posted through the week. Radio Monday, TV Tues, PR Weds, Entry level/ intern Thurs & Online/Print Friday. New jobs around the clock #journojobs pic.twitter.com/MODes2wGLD

— The Media Mentor (@themediamentor) February 26, 2020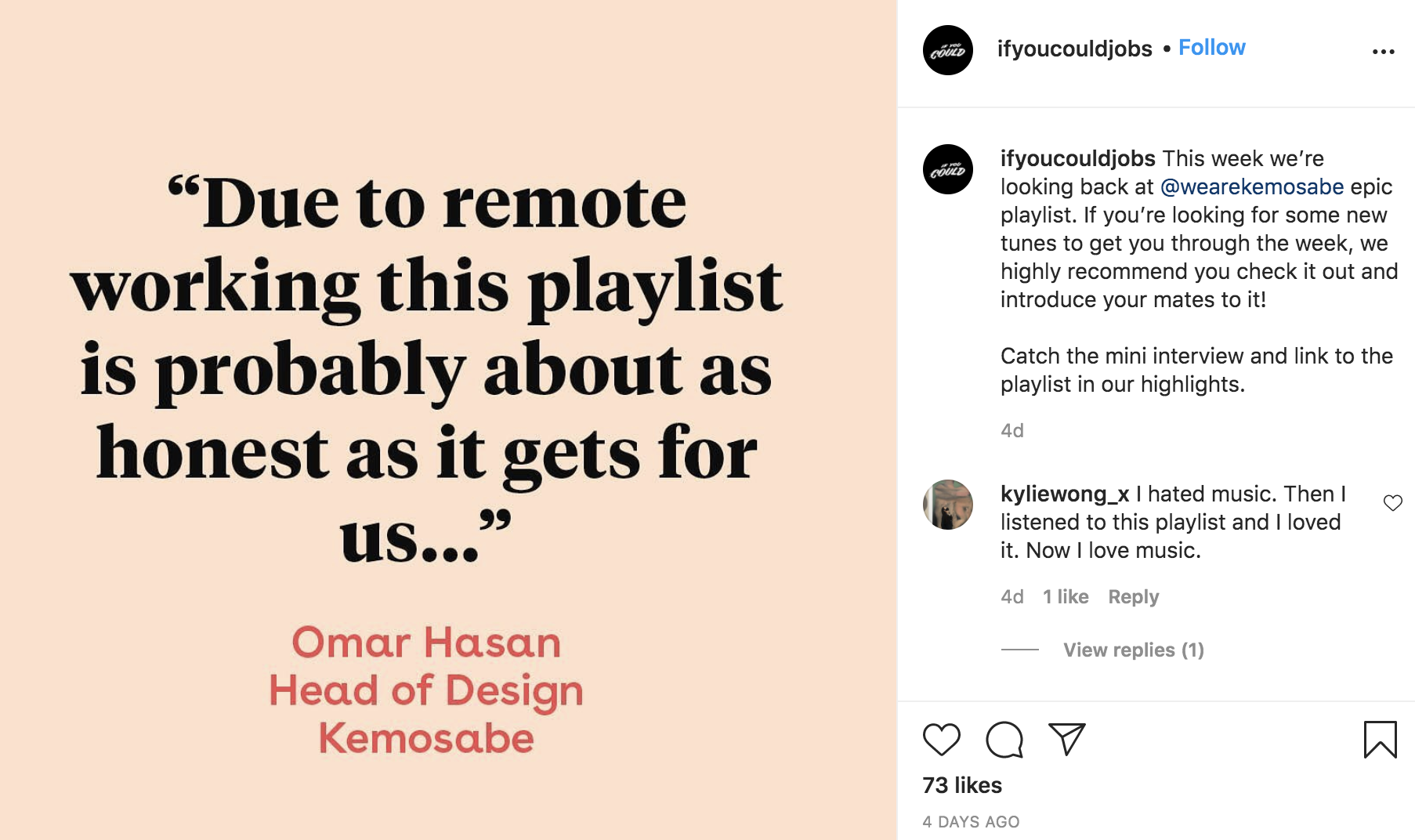 A community built by creatives, for creatives. It's nice that acts as a source of inspiration for anyone who's interested in the creative sector. Together with its sister companies, it focuses on helping the creative community expand while informing you of the trends and needs of the creative field. Its jobs board If You Could collects the most recent and relevant roles according to your needs, check it out! 
Words: Chiara Ferrari | Subbing: Anuj Datta