Over the past year, we've spent countless hours in the same places. Our homes, flats or bedrooms. The sun rose, set and rose again but nothing changed. Maybe you went outside to get some fresh air but not for long. Before returning to that place again, a slight sigh of nostalgia probably came. "I miss going out with my friends," or "I miss going away to another place," are phrases that hit your mind. Beginning to create those dreams of when it all comes back, where shall you go, or what should you do. Creating a fantasy if you will. We all do it, create those long winding dreams forward, looking at what if I spoke to that person one more time, or what if I decided to study something else. Creating fantasies are part of the fun of dreaming, but what if you decided to live that fantasy?
Last week while the England team were forging more fantasies, a group of creatives were beginning to further their own.
'Live Your Fantasy, By Any Means, Till Death,' the message. This collective, known as 'LYF,' coming out of the East Midlands are looking to inspire those around them to live those dreams. With their first pop-up in Shoreditch, London being marketed more as a party rather than a shop. Come inside, grab a glass of prosecco, observe the art on show and converse with each other. Learn more about the world that you step in, learn more about those different minds who also like you took a step inside.
Sitting down and talking with one of the co-founders, Tapi, as well as observing the entire event as a whole while helping out. It was clear something different was happening here.
Inception.
Founded in 2020, Live Your Fantasy are an art collective, created by people who think outside of the box. A group of people who attempt to refuse to conform to the society around them, to live freely and purposefully.
Helping out with their initial launch, I managed to begin to understand the reasoning behind the push to create something different, or change a definition of what it means to be a 'Brand.'
It's no secret that young people are looking for something different. The rise of influencers online, constant new fashion brands coming out of the woodwork looking to be 'different.' It's sort of a blissful irony how many wishes to be different, but end up being very similar. Yet, in the East Midlands, where LYF was created, this creativity seems to be lost.
Growing up in the region myself life seems to be almost cyclical for everyone. Repeating pattern after repeating pattern. In an almost 'Brighton Rock' way, everyone born there ends there. You may escape for a few years to study, but a lot of the past generations come back and settle.
It's the settling part that LYF is in turn looking to combat.
"Me (Tapi) & Reiki want to be the people we needed growing up for everyone in our community."
It's here at the inception that their fantasies began in those communities they look to inspire.
Dreaming in Shoreditch.
Attending the event held, there was this sort of proud but motivated atmosphere before the open. It was obvious that once they, Tapi, Reiki & Co, had popped the corks to celebrate the opening, they were happy and proud at what had been achieved in such a short space of time. Yet that awe soon turned to look forward at the future, to looking to create more, to inspire more.
"The goal is to leave a legacy, I want this to outlast me. For everything we do now to build a bigger picture so that the generation who comes after us can use this thing we're creating as the driving force to go on and do more." Tapi spoke over the phone to me about the event.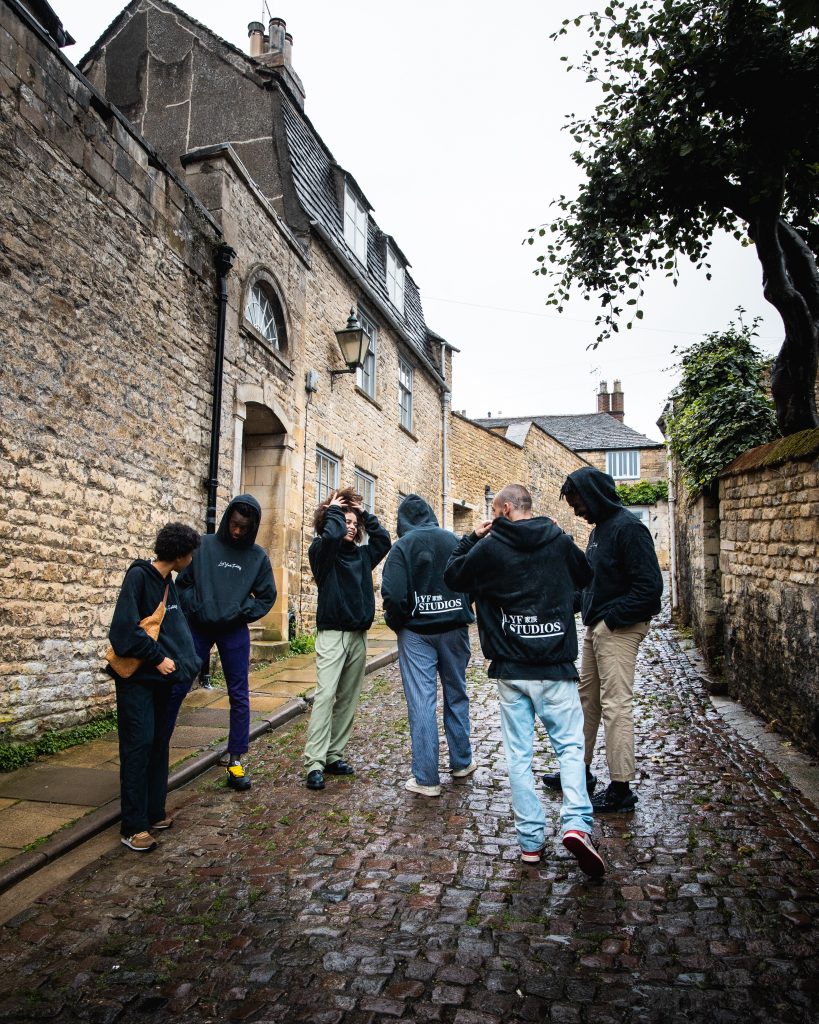 Again, it was clear at the event there is some more than just a brand here with LYF. At the same time, the shop was open England were playing against Ukraine. Yet, the entire shop was full, the entire time. The goals were celebrated in the bars around and also in the shop itself. People surrounding the area were creating new fantasies of football coming home. Players like Raheem Sterling, Kalvin Phillips, Bukayo Saka, sons of immigrants were inspiring a generation. The same could be said for LYF. Tapi and Reiki are sons of immigrants. Growing up they both were one of only a few black students in their schools. Their parents came here looking to give a better life for their children. Now their children are trying to give a better life for us.
The new step.
While this was LYF's first foray into London and the area, I have been told by both Tapi & Reiki that this (London) is where they need to be and will look to return as soon as they can. Yet back in their home county of Lincolnshire a few events have also been held. Collaborating with creatives from the area and also bringing one down to London, RUEDI.
Since the inception of LYF, there has been one goal, to inspire. It is not for profit, nor is it for fame, but just to inspire. Being there during the entire event and the after-party, I for one felt ready to go and do something. It sort of put into question what I, myself had been doing as a writer or thinker alone. Yet, that's the idea, to challenge yourself, to ask yourself what would you rather be doing in life.
You can find more about LYF & the event here
Sadly the images taken (by myself & others) during the event were not able to be processed in time – hence why they are not included however, head over to LYF's Instagram above to see them as soon as they are released! The above slideshow is what has been able to be gathered from social media outside of the event.