Chanel has announced their decision to exclude fur and exotic animal skins, such as snakes, crocodilians and lizards from their collections.
The announcement came as part of a wave of luxury fashion brands, such as Gucci, Michael Kors and Burberry, announced their withdrawal from using animal fur.
See also: Fury on Regent Street
"We did it because it's in the air, but it's not an air people imposed to us. It's a free choice," Bruno Pavlovsky, Fashion President at Chanel, said to British Vogue.
The brand's attention will shift to the research and development of materials and leathers generated by "agri-food" industries https://t.co/uWa5BJIhtx

— British Vogue (@BritishVogue) December 4, 2018
"The champagne corks are popping at PETA, thanks to Chanel's announcement that it's kicking fur and exotic skins—including crocodile, lizard, and snakeskin—to the curb," reads the statement from PETA Director of International Programmes Mimi Bekhechi, sent to Voice of London.
The French luxury fashion house, well known for their python and calfskin handbags and accessories, told The Business of Fashion: "It is becoming increasingly difficult to source exotic skins which match our ethical standards."
"For decades, PETA's affiliates have called on the brand to opt for luxury, cruelty-free fashion that no animal had to suffer and die for, and now it's time for other companies, like Louis Vuitton, to follow the lead of the iconic double C's and do the same" continues the statement from Mimi Bekhechi.
From high street retailers to luxury designers, here's a list of brands with a no-fur policy: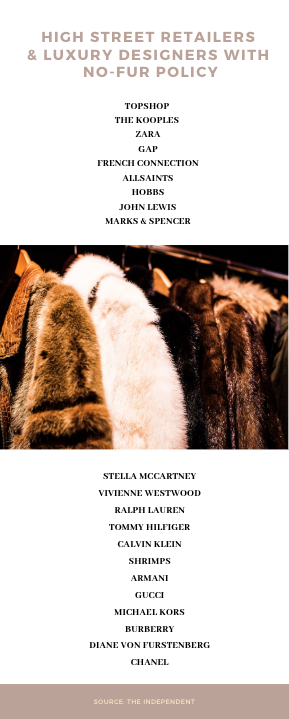 This isn't the only major change Chanel is implementing this year. As well as moving its headquarters to London, the fashion brand used a black male model for the first time in its 109 year history, as part of its Metiers D'Art show in New York City earlier this week.
The first ever black male model to walk for Chanel in 109 years pic.twitter.com/hO0tbZYnp5

— Joey (@JoeyMenson) December 6, 2018
Featured image: Wikimedia Commons
Words and infographics: Noemi Martini | Subbing: Taylor Paatalo