Far away from the Instagram hype campaigns and gold-plated MP3 players on street corners (*cough* Katy Perry *cough*), the Arctic Monkeys have never been a band to overdo their advertisement campaigns.
An example of this was their 2018 'Tranquility Base Hotel and Casino' album which had no singles released prior to it coming out.
This album in particular had very little marketing and still managed to extend the band's record of topping the UK charts with every album released.
With that in mind, we are long overdue for a new release from the Sheffield-based band and, thanks to some in-depth sleuthing from fans online, we now have two concrete bits of information on what to expect with their upcoming album, dubbed by fans as 'AM7'.
Best of Voice of London…
"Forget NME, Suffolk farmhouses are the best source of music news"
To the surprise of many August 2021 brought an announcement from Butley Priory, a farmhouse turned studio in Suffolk, about a certain band and their love for the farmhouse's acoustics.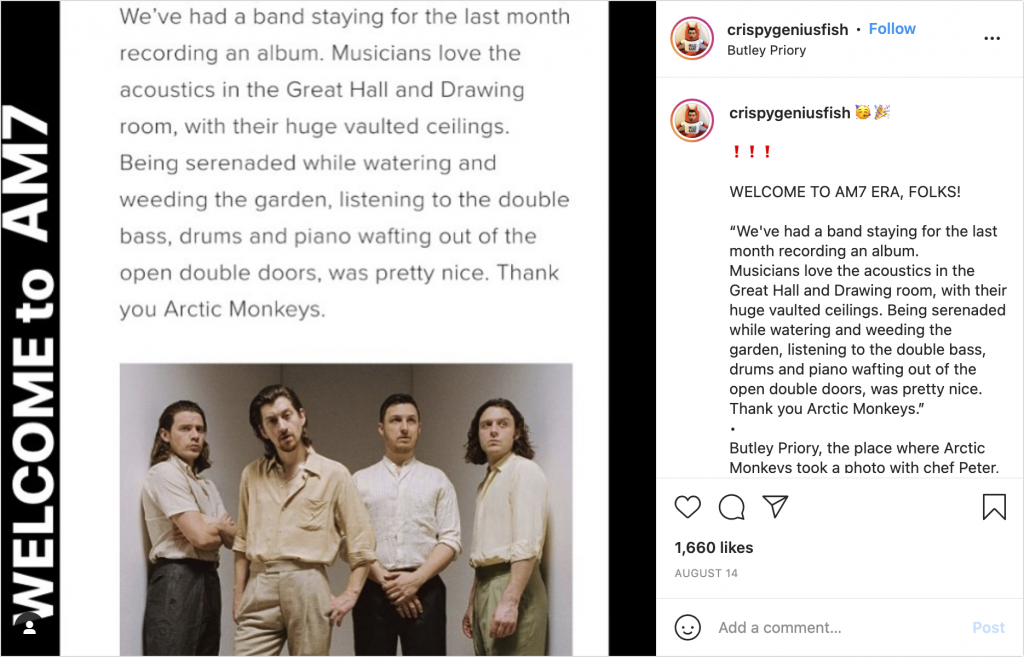 They clearly lost the NDA in the post, as this reveal is not something that the band or their record label would encourage on their end, but this did spark intrigue among fans.
From the now-deleted blog post on the venue's website we can safely assume that this album will be more in tune (pun intended) with 2018's psychedelia, and less with the guitar driven entries the band has become synonymous with.
"Double bass, drums and piano" are not the kind of instruments commonly seen on heavier rock tracks but, with this announcement coming in August, it is clear that something is in the works.
"Matt Helders tells all to 5 Live"
This leads us on to our next piece of information, definitely more blatant and on purpose but with less insight into the sound itself.
Drummer Matt Helders joined host Rick Edwards on Radio 5 Live Breakfast for a drum lesson and to talk all things Arctic Monkeys.
Edwards was quick to ask about upcoming releases and, upon asking whether a new album was "ready to go", Helders replied: "Yeah, pretty much, yeah."
"It was a bit disjointed how we had to do it, and there are bits to finish off, but yeah, it's all in the works."
When asked about a potential release date, Helders replied: "I think by the time we get everything together it'll be next year."
"Hopefully we can get out and tour next summer."
With all this information it is assumed that an album has been recorded and is most likely due for release in late spring or early summer.
The kind of sound is shaping up to be something closer to the glam and jazz-infused Tranquility Base Hotel and Casino, though we may well be proved wrong.
"What do the fans think?"
It's fair to say that excitement has been growing rapidly among fans around the world.
The countdown has begun to next summer and it seems as though even that is too long of a wait for some.
The announcement of Irish-rock band Inhaler as support for the band's upcoming European tour has only added to the anticipation.
Written by: Peter Trythall | Subbing by: Raheela Ali