Animal prints like leopard, zebra, snake, alligator and tiger are the hottest design elements this winter, and they're high street fresh off the catwalks. According to many S/S lookbooks, it looks like this fashion craze will last until next spring. Ready for a piece of animal print in your wardrobe?
In this year's latest fashion shows, dozens of high fashion brands like Dolce & Gabbana, Max Mara, Tom Ford and Burberry brought animal prints back on the runway. From bright leopard-print suits and knee-length coats, to a more low-key snake print leather skirt, fashion feels like a big animal reality show.
Animal prints are quickly becoming a staple for top celebrities as well. Kendall Jenner, Bella Hadid, Romee Strijd and blogger Anne-Laure Mais have been pictured showing off their own print wardrobes. Even PM Theresa May, who makes headlines for dressing the way no politician before her has, seems to be a fan of animal prints if her leopard-print heels are anything to go by.
Interestingly, leopard-print symbolises ego and freedom. 3 to 4,000 years ago, male nobility would draw in all eyes in a room with the leopard skins they wore to express their confidence and strength. Don't forget – the leopard is the fastest mammal on the planet, after all.
In 1943, CFDA (Council of Fashion Designers in America) founder Norman Norell pioneered leopard-print by using it in his costume designs. Other designers like Christian Dior and Roger Vivier followed his example, by bringing leopard-print, snake-print and zebra-print into their designs.
Want to join in the craze? Maximise your confidence and charisma this winter with some of the wild looks we've prepared for you.
1. Leopard print
The silk leopard-print skirt from Réalisation Par is known as "The Most Viral Clothing Piece of the Year" on Whowearwhat.com. We recommend lighter leopard-print items in softer material for this year, rather than heavier leopard-print coats and sweaters.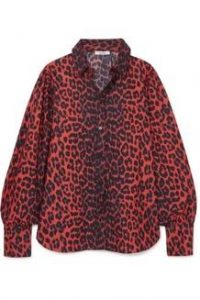 Ganni Bijou Leopard-print Cotton Poplin Shirt
2. Snake print
Among a diverse range of available animal prints on clothing, the snake-print is by far the coolest. Compared to the visually exaggerated leopard and tiger prints, the snake-print is more suitable for those larger pieces like coats. Tip: snake-print works best in crisper, cooler material.
3. Zebra print
Stripes, black, and white colours go well with anything and the same holds true for this particular striped animal print. Whether it's a shirt, skirt, dress or jumpsuit, the zebra-print is a blockbuster that can be worn casually on daily occasions or bring some spark to your outfit at a party.
4. Tiger print
The tiger-print is similar to leopard-print, but typically produces more exaggerated patterns, which requires smaller, more subtle accessories to wear with to get the balance of your outfit just right.
5. Alligator print
Alligator shoes and bags are always a fun addition to an outfit; they can be low-key but full of texture and fashion all at once.
Featured image: Imagine China
Words: SiJie Ren | Elise Fritts