Update: We have a new most-watched video, which now has 2,407 views. Our videos are starting to appear on the 'For You' page. 
It's one of the fastest growing social platforms in the world and, if you're under 25, chances are that you've probably downloaded the app – or at least heard of it. But, while TikTok is a little bit like Marmite in the sense that you either love it or hate it, there's no denying the popularity of the app.
TikTok is thought to have over half a billion active users worldwide, with 41% of these aged between 16 and 24; and it hasn't gone unnoticed by the world's celebrities either – Cardi B, The Jonas Brothers, Britney Spears and Lewis Capaldi (the self-proclaimed 'King' of TikTok) – to name a few – all have accounts on the app.
In fact, in 2018, TikTok was the fourth most downloaded non-game app of the year, with 663 million downloads – beating Instagram, but following WhatsApp, Facebook Messenger and Facebook.
But what exactly is TikTok? 
TikTok is a social video app, owned by Beijing-based company ByteDance, that allows users to share short videos of up to 15 seconds for single clip videos or 60 seconds if it's a compilation of multiple clips.
TikTok has been famed for its resemblance to Vine (R.I.P) and Musical.ly – the popular lip syncing app that was absorbed by TikTok in August 2018.
On TikTok, users can use stickers, filters, sounds and more; the world is basically your oyster when it comes to posting on the app – you can pretty much post whatever you like. And it's because of this that it's so popular.
So, to find out more, we spoke to the people in the know: four pretty successful TikTokers…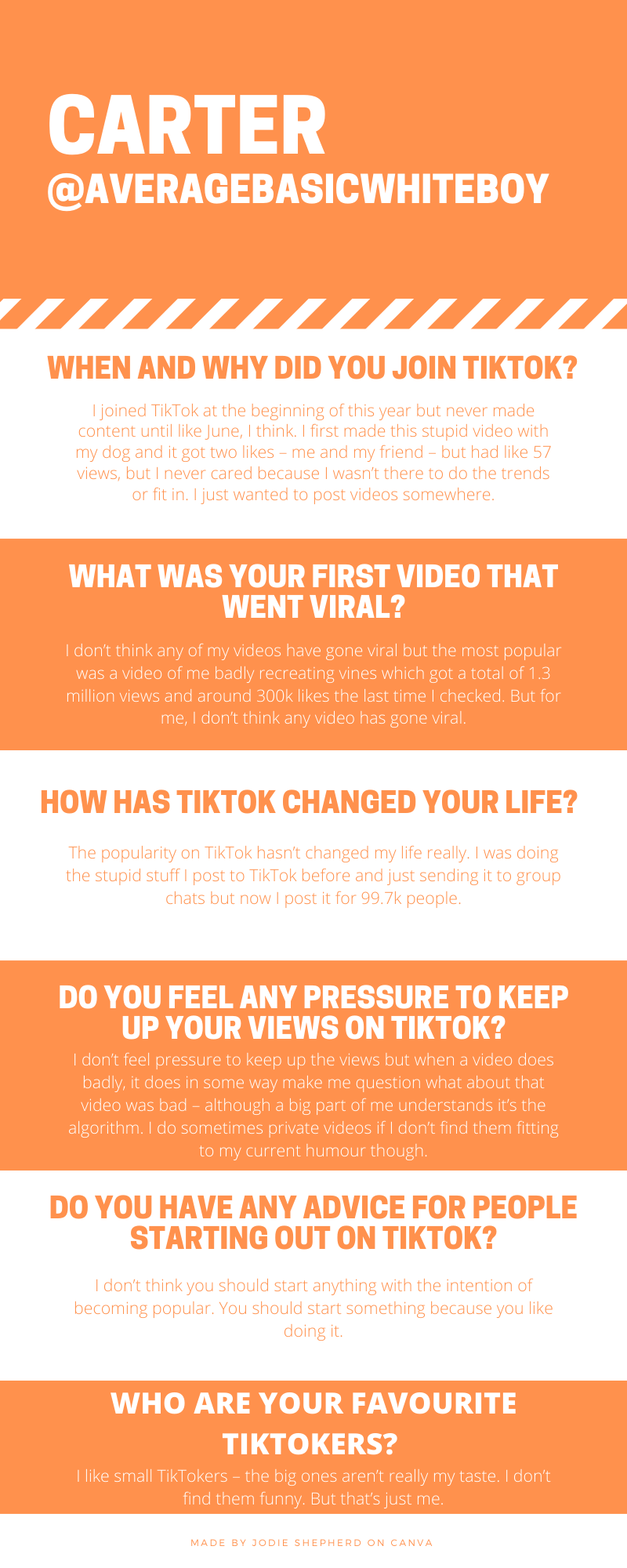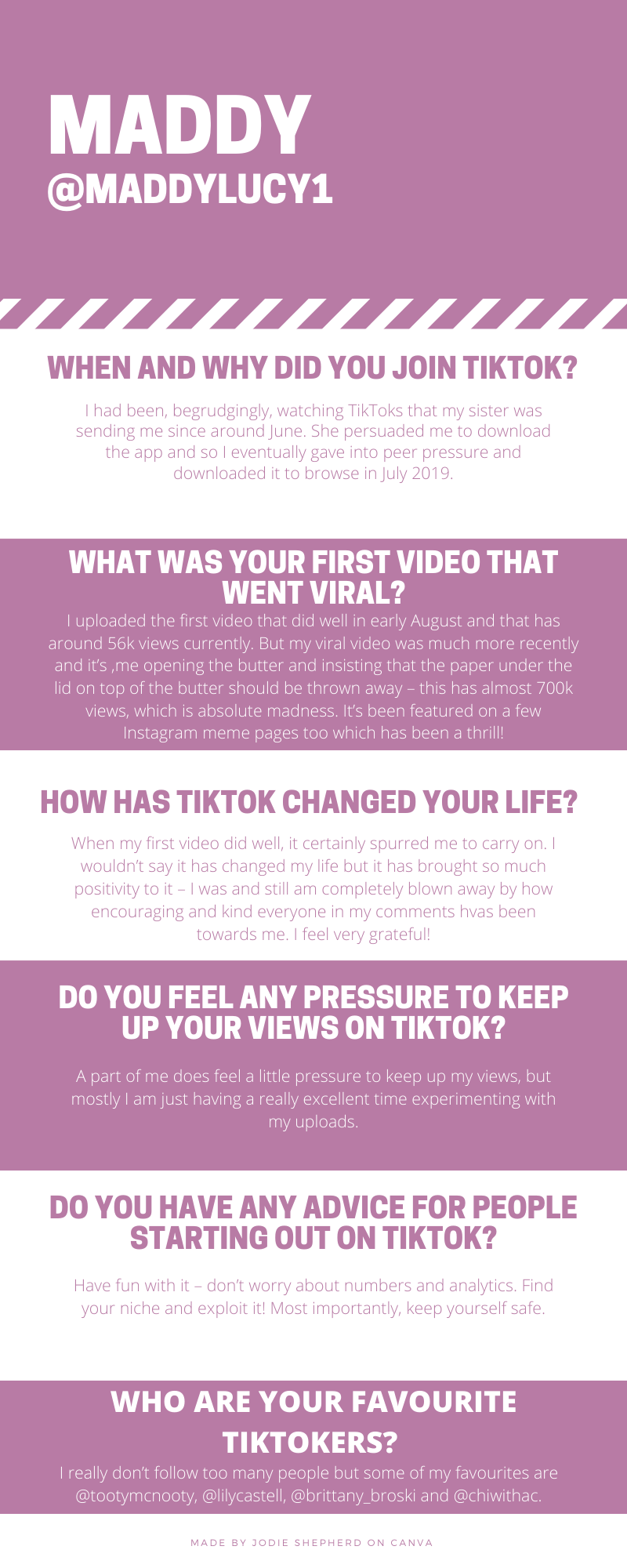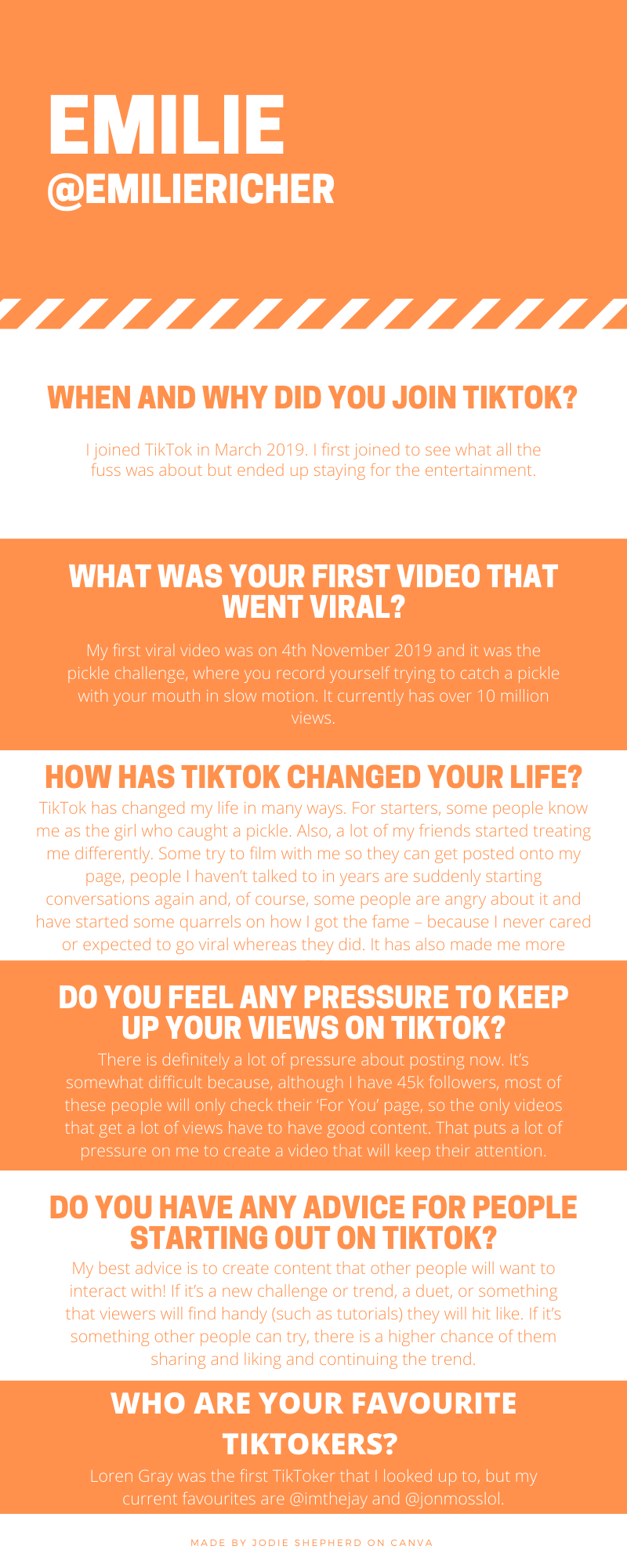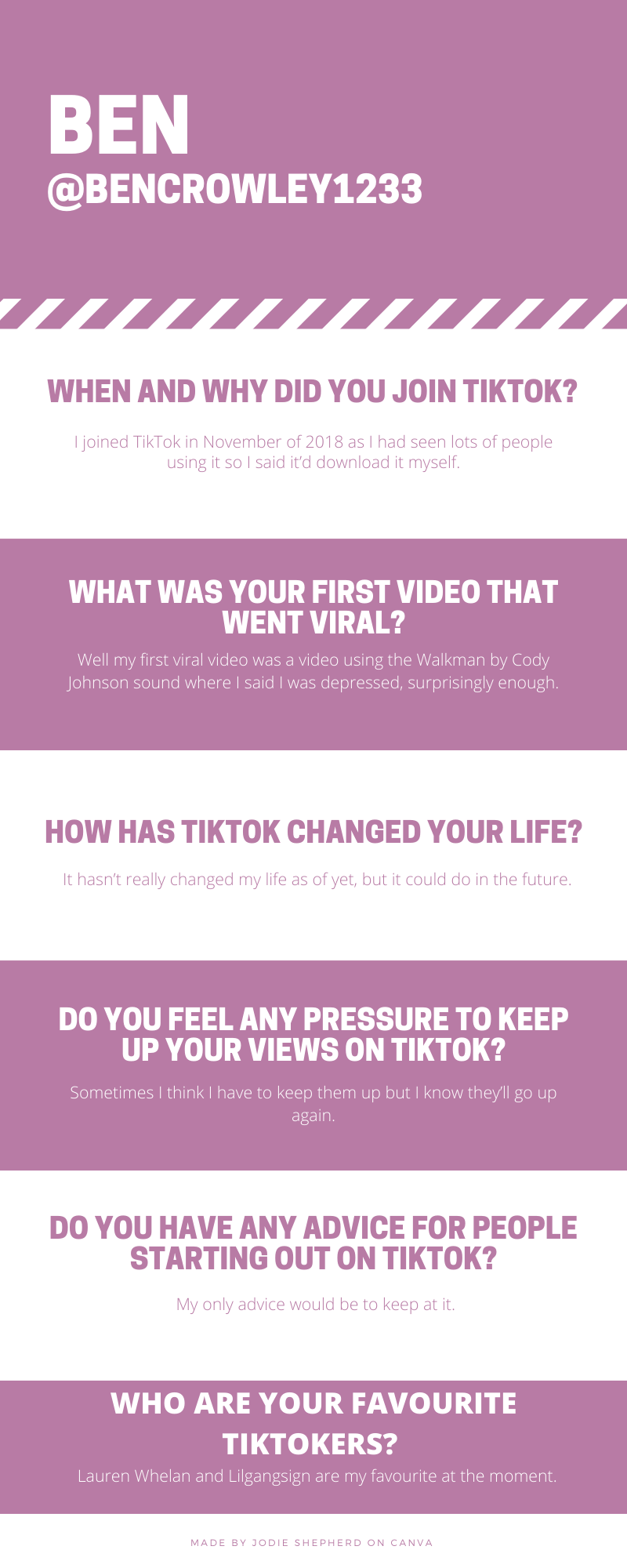 And then it was our turn to see if we could become 'TikTok famous'
To get started, we created a joint account – @jodieandderrian – and did our research of what TikTok trends and popular videos are on the platform at the moment, as well as finding popular hashtags.
We then made a list of videos we wanted to create, or recreate, and started saving the necessary sounds. And then, it was time to start making our videos.
We learned the trending dances, memorised the most popular sounds (scenes from Keeping up with the Kardashians, parodies of the Nickelodeon TV show H2O), and even created a couple original videos of our own.
Here's what we found out: 
While it seemed all the TikTokers we interviewed had an easy road to fame, ours was a bit more rocky – or rather, it seemed we weren't even going the same direction.
Our most-watched video – 352 views – was a trending dance to Mariah Carey's Fantasy. The least-watched videos were the original ones we created. In total, we received 79 likes over the span of 9 videos.
Part of the TikTok algorithm requires that you post one to two times a day – and we tried our best. While dealing with assignments and social lives, we made time to learn dances and sounds, film…and then re-film.
We were advised by TikTok users that the trending hashtags were key to going viral. Although there were new trending hashtags every day – #LastChristmasMovie, #BorntoGlow, #ThankUNextSpritz, and #JumanjiChallenge to name a few – we stayed on top of the hashtags and used as many as possible.
During our research, we learned a secret. There is a secret TikTok group chat run by the company called the Advanced Creator Programme. The group chat is a place to go to discuss content ideas with other "advanced" TikTokers.
Being a member of the programme means your videos get boosted to the "For You" page by the company. This is why all the famous TikTokers are always on your "For You" page.
The "For You" page is TikTok's main feed which features viral videos and videos catered to your likes. Every TikToker's goal is to get onto the "For You" page – using hashtags #foryoupage, #foryou, and #fyp can get your video boosted to the page.
It's unclear how one gets invited into this secret group, but we assume the content you're posting needs to be worthy of being noticed by the company's higher-ups.
Overall, the experience was really amusing. We hold a lot more appreciation for the people who have gained lots of popularity on the app simply because the time it takes to perfect a dance or scene is not quick and easy. It took us 30 minutes to an hour to be happy with one TikTok.
We downloaded the app as a joke thinking we'd quickly grow tired of it and return back to scrolling through Instagram. Spoiler: that didn't happen.
We think it's safe to say we'll be continuing our journey to TikTok fame, so stay tuned.
Words: Jodie Shepherd and Derrian Douglas
Photo: Flickr