After a three-round war just two weeks ago Derrick Lewis says he's ready to take on pound-for-pound No. 1, Daniel Cormier.
Derrick Lewis, promises to give his all on 4th November against Heavyweight and Light- Heavyweight champion Daniel "DC" Cormier. During a media event, for the upcoming UFC 230 in Madison Square Garden, the challenger discussed his latest fight, health and training schedule.
Lewis is currently ranked number two in the UFC Heavyweight division, after he knocked out number five, Alexander Volkov two weeks ago in UFC 229. Lewis admitted that this knock out was the highlight of his career. Now, he is facing the pound-for-pound number one, Daniel Cormier. When asked by The Voice of London, British fight-analyst, Dan Hardy shared that Derrick Lewis' style of fighting may surprise the current champion. "Daniel Cormier could maul [Lewis], he could kickbox him, he could choke him out – all of these options are on Cormier's table. But if Lewis lands the right hand Cormier is going down. And we've seen that Lewis carries that kind of knock-out power all of the time."
Their bout will take place just three weeks after being announced leaving little time for recovery for both fighters. Lewis has been vocal about issues with his back. Cormier has also been in talks to fight WWE star Brock Lesnar later this year leading fans to believe that Cormier is expecting an easy win.
Daniel Cormier and Derrick Lewis are now headlining UFC 230.

Back in July, @Thebeast_ufc told @ArielHelwani that his problem with @dc_mma is that he disrespected Popeyes chicken 😆 pic.twitter.com/KNs4Qo6q3P

— ESPN (@espn) October 9, 2018
Derrick Lewis replied to these comments during the press event: "He's thinking it will be an easy fight. Go ahead and think that. It's crazy that I made it this far. I usually don't stay in the gym all that as all of my opponents do. I work out 30 minutes each day and five of those are just for posting memes on Instagram."
Trust me Derrick I am definitely taking you serious!!!! 9-1 last 10 and ranked #2 in the world. How could I not take you serious! #andstill #ufc230 pic.twitter.com/zq9vkYDP2G

— Daniel Cormier (@dc_mma) October 19, 2018
Here are the official fight card and start time for UFC 230: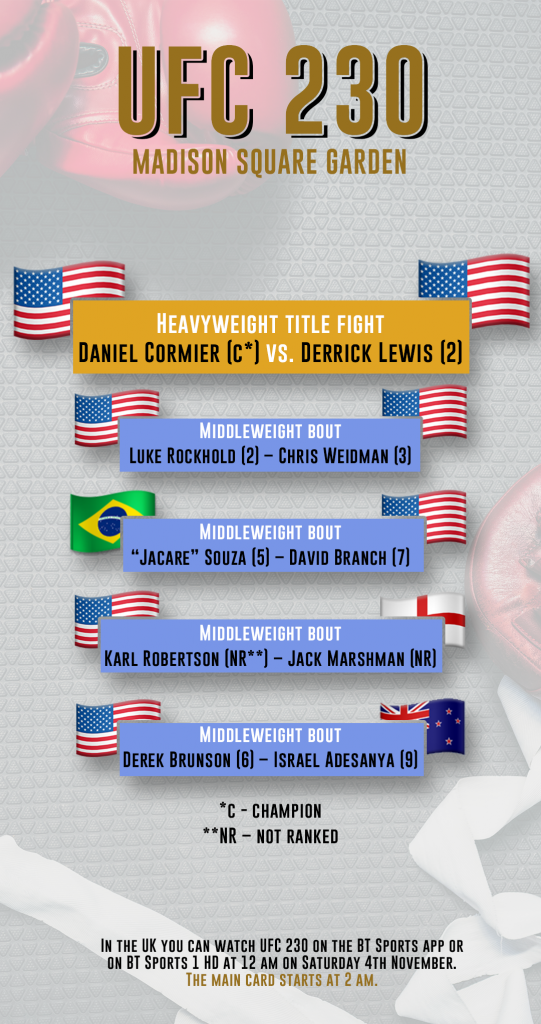 Check out Derrick Lewis on Instagram, you definitely won't regret it.
https://www.instagram.com/p/Bo5IlDQnVY4/?utm_source=ig_web_copy_link
You can also watch the full interview here:
[youtube https://www.youtube.com/watch?v=FOb91SVpUYY&w=560&h=315]
Words & Original Graphics: Kristiyan Stefanov | Subbing: Lee Pearson