The winner of the magazine's 91st Person of the Year award was announced on Wednesday morning.
'The Silence Breakers' are the voices that have spoken out against sexual harassment and contributed to the launch and success of the #MeToo movement.
TIME Editor Edward Felsenthal spoke of 'the Silence Breakers' creating 'the fastest moving social change in decades'.
He said, 'It began by individual acts of courage by hundreds of women, and some men too.'
The magazines cover image features Ashley Judd, one of the first to publicly shame Hollywood executive Harvey Weinstein and Taylor Swift, who sued former-DJ David Mueller for grabbing her bottom.
Judd and Swift are photographed alongside Isabel Pascual, a strawberry picker from Mexico, Adama Iwu – an American lobbyist, and Susan Fowler, an ex-Uber engineer whose allegations overthrew the company's CEO.
https://www.instagram.com/p/BcXwcrTFTNq/?hl=en&taken-by=time
Tanara Burke, who created the Me Too initiative before it took Twitter by storm in 2017.
Tweeters have commended the #SilenceBreakers for equality.

Many were quick to spot an arm at the bottom of TIME's cover image.
The arm belongs to a female hospital worker who feared going public would be a threat to her livelihood.

Others seemed to prefer the idea that the arm is a representation of anyone who has ever suffered as a result of sexual misconduct. Even those who are yet to speak out.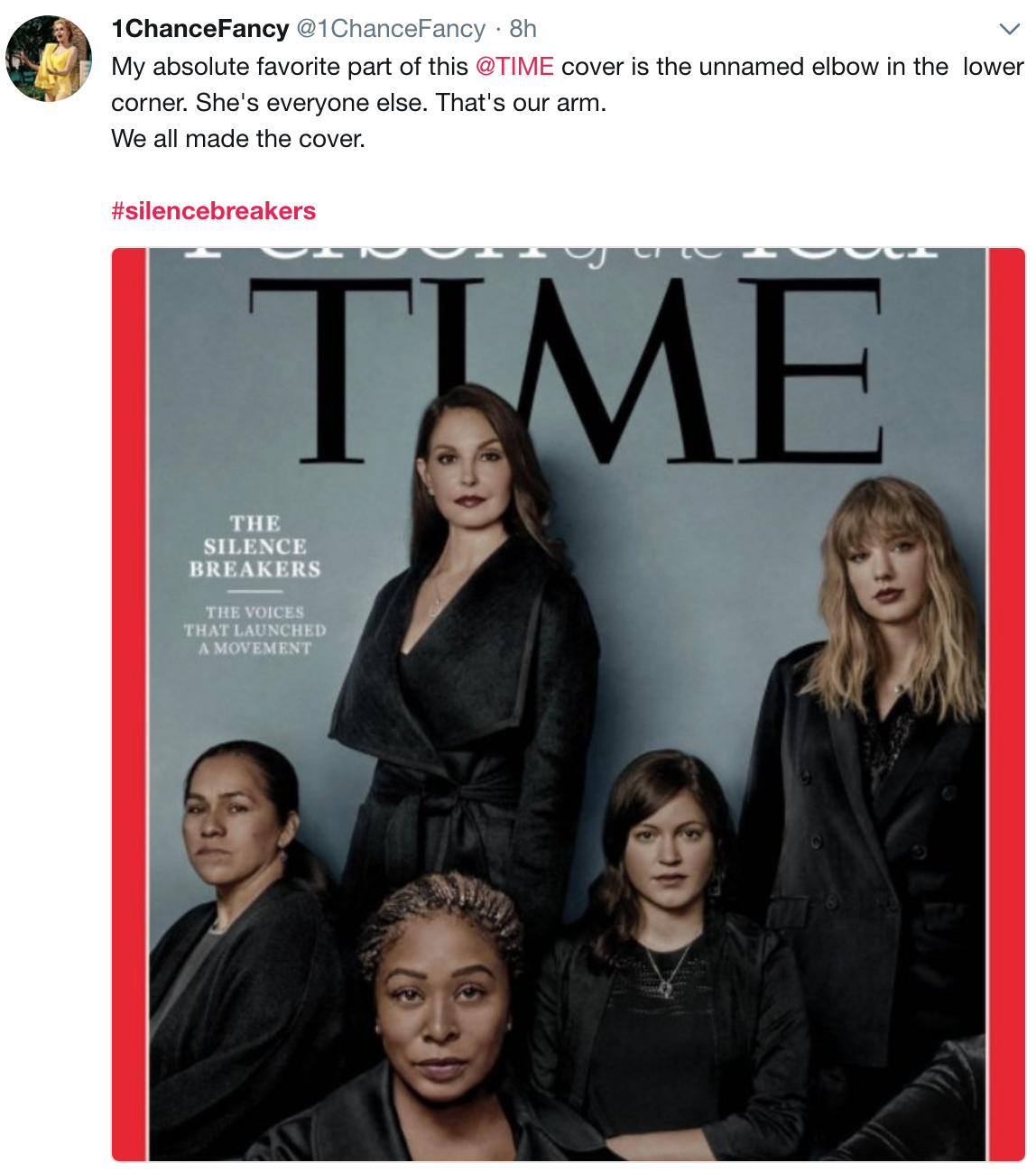 Click to watch the official video here.
Words: Katherine Docherty | Subbing: Olivia Herring