Dating apps seem to have taken the world by storm, gaining popularity for simplifying the once daunting task of socialising. But before you throw caution to the wind in the hopes that the love of your life awaits you in cyberspace, you should know that online dating is two-faced.
Thanks to innovation and the constantly evolving features of electronic devices, we could say that romance nowadays is dead. Most people rely on online dating apps like Tinder, Match or Cupid, to find anywhere between their "desired soulmate" to a simple "summer fling". Swiping right might feel like the first step to a thrilling and new romance but it could actually be the beginning of a troublesome experience.
Before the invention of smartphones, singles went out to clubs, restaurants or bars, in the hopes of meeting "the one". Dating apps made meeting people easier and saved lonely individuals the effort of socialising. Thousands of potential lovers, that fit conveniently in our pockets, are just a few texts or swipes away.
Online dating apps provide one with the opportunity of eliminating any traditional obstacles like location, time, and the embarrassing moment your date picks you up and your dad tells him no one is truly worthy of his daughter's attention. You don't have to look for the love of your life at a night out clubbing; this type of cyberspace leads you to believe that you can find your Disney Princess or Prince Charming online.
No one is to blame for having such high hopes. Most of the profiles on Tinder or Match seem to promise unbelievably amazing romantic relationships by advertising traits like charming, funny, witty or the classic 'animal lover'.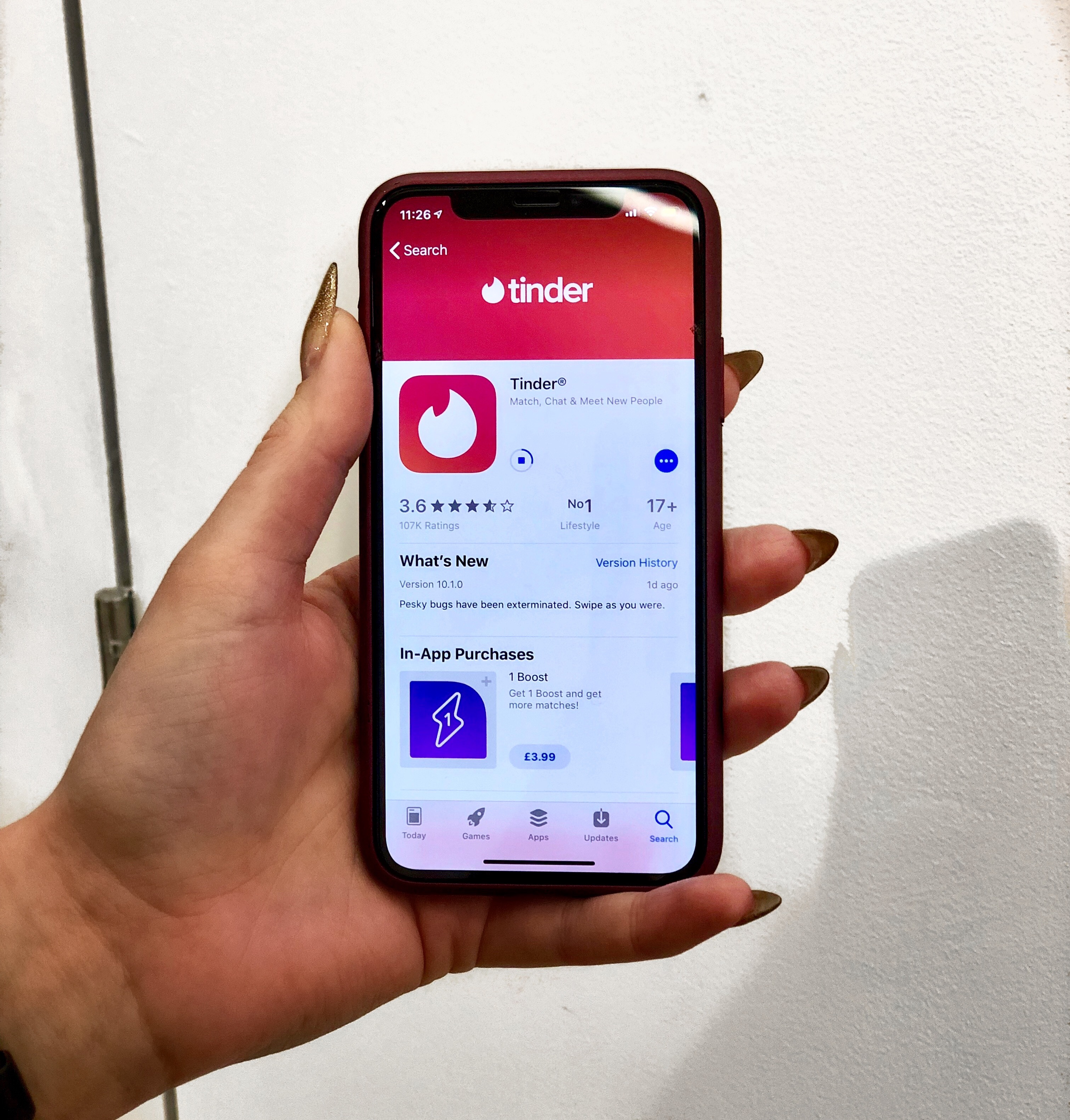 Research by Dominos has revealed that a third of Londoners are constantly and faithfully using Tinder or Bumble, making them the most dependent on online dating apps, compared to the rest of the UK. The research also reported that most individuals rely on meeting new people through these apps due to the lack of free time.
To determine whether Londoners have had unpleasant experiences with online dating apps, Voice of London conducted a survey in which 32 people aged between 20-25 participated. The results show that more than half of them have had at least one bad experience with dating apps.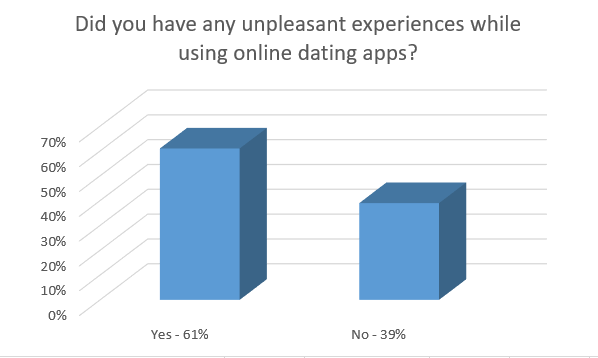 Most users are too busy browsing potential partners to notice the ugly truths about online dating. For instance, individuals tend to lie on their profiles. This doesn't seem like an earth-shattering revelation, but according to a survey conducted by OpinionMatters, 44% of Britons have lied about their appearance or personality while using dating apps. Women admitted to lying about their weight, height and physique, while men mostly gave false information about their jobs or financial status.
I think I should give up #tinder #lol #tinderstory #tindergonewrong #dating #datingapp #Accent pic.twitter.com/T34YtZ2Rpv

— Dheiix A. (@NotMyFavorite) April 12, 2018
Ah tinder, you never fail to amaze me. #Tindernightmare pic.twitter.com/y6tUipBSoj

— Bilal (@sbilh94) May 25, 2018
Jordan, 23, knows the disappointment of realising your Tinder date is actually a catfish. "I planned a restaurant date with an insanely beautiful girl that I met online. When I arrived at the restaurant, I couldn't believe that the girl waving at me was the one that I was supposed to meet with. Comparing her real appearance with the pictures of her profile, the only thing that was similar was the colour of her hair. I felt really uncomfortable the whole date because she basically lied to me," he shared.
While dishonesty is a noticeable drawback, it should be taken into account that having a date with someone from the "romantic town of the computer world" still means meeting a stranger. Communicating online before meeting in real life can bring a sour taste for someone's built-up expectations. Social media allows us to create unrealistic assumptions about our perfect match, by making us fill in the gaps of information.
A 2014 study revealed that we tend to use our imagination when we lack knowledge about our virtual potential partners. It highlights the fact that chatting online for more than two weeks before meeting in real life can lead to considerable disappointment. Also according to the research, meeting someone within 17 to 23 days of the initial conversation is the worst time to do so, because "idealisations are at peak".
Andrea, 20, found out that constantly talking online with someone doesn't necessarily mean truly knowing them. "I had the worst experience when I went out on a date with a guy whom I spoke with for two weeks. I really had high expectations because I portrayed him as the perfect boyfriend. Needless to say, I soon found out that we were at totally opposite poles. I had such a major disappointment that I asked a friend of mine to help me escape from that hell date," she said.
The promises that a dating app indirectly makes when you download it shouldn't make anyone forget about the "dark" side of it. The Internet gives any user the freedom of creating an alter-ego. In the end, while hoping to find someone to spend our lonely Sundays with, we usually bump into a reflection of what that person wants to be.
Plenty of people are still using online dating apps hoping that they will find whatever they are looking for. But before you go on an adventure in the world of Tinder, Bumble, Cupid or Match, you need to be aware of the other side of this romantic cyberspace.
Words: Ioana Oblu | Subbing: Shruti Tangirala