The UK's favourite trio has reunited and returned to our stages after an 11-year hiatus.
N-Dubz announced their return in June 2022 and revealed their tour after the release of a new song called 'Charmer'.
The song disappointed fans who expected a song similar to their previous albums; it was not the type of song that was expected, and the response to it was poor, but it didn't stop die-hard fans from dusting off their old Dappy hats and going the sold-out show at the 02 Arena.

The first leg of the 23-show arena tour kicked off on November 7th, 2022, in Newcastle and will end on December 6th, 2022, in London. Thousands of former fans have expressed their excitement for the band's comeback, with nearly every arena selling out.
Mackareo, a rising star in the grime and afrobeats music scenes, kicked off the night, highlighting his Congolese roots as well as his English identity. Mackareo opened his act with two of his most popular songs, 'Stefflon Don' and 'Peng Ting,' before warming up the crowd with iconic pop songs like Rihanna's 'We Found Love' and Oasis' 'Wonderwall', which had the audience dancing and chanting.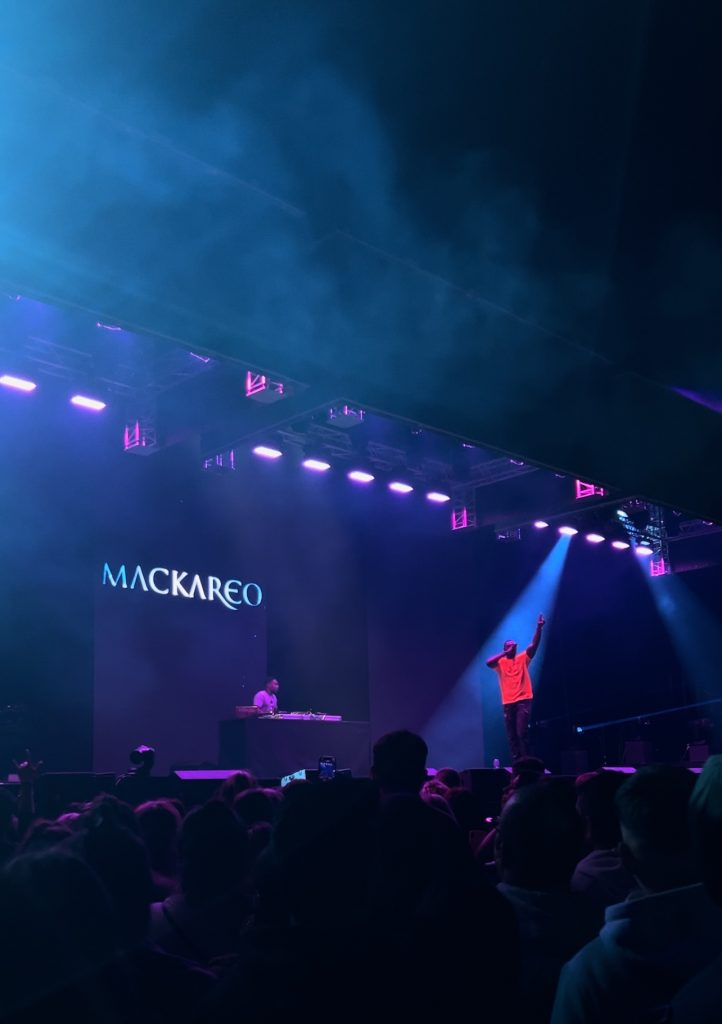 Moving on to the second act of the evening, the stage welcomed ex-Love Island star, singer and media personality Wes Nelson, 24. Since leaving Love island, the young star has established himself and collaborated with American rapper French Montana and well-known English artists Hardy Caprio and Yxng Bane.
Wes performed his popular singles such as 'Nice to meet ya,' 'See Nobody', and 'Tell Me', a collaboration with the English electronic music group Clean Bandit. Wes also performed songs from his new EP, 'message from My EX/ 3 words'.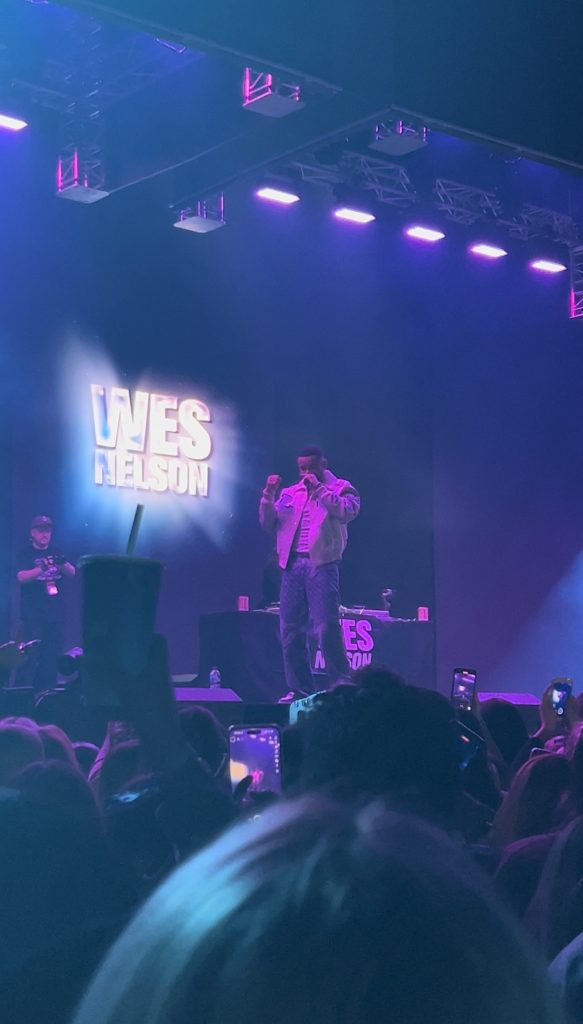 The crowd was excited for N-Dubz to take the stage; the last time fans saw the three was in 2011. When they disbanded, Dappy and Tulisa concentrated on their solo careers and social presence, while Frazer remained in the background producing music for other artists.

Back and better than ever the band performed all of their fan favourites and songs from over a decade ago, beginning with their biggest hit, 'Ouch,' from their album 'Uncle B.' Tulisa began the song and sang the ballad, and the crowd joined in singing in perfect unison, followed by Frazer and Dappy rapping their iconic verses.
This show exceeded everyone's expectations. With hit song after hit song being performed flawlessly; this is the comeback of the century for the UK music scene, and fans felt nostalgic as the band performed other popular songs from their hit albums, such as 'I Need You', 'Playing With Fire','Strong Again', and many others.

There were also standout performances by Russ, M24, and Ambush, which caused the audience to scream and shout at the top of their lungs.
For many fans, the event seemed very personal as Dappy, Tulisa, and Frazer interacted with them, expressing how much they appreciate them and how important it was for their followers to be there with them. Tulisa even took supporters' phones to record personal videos with them.
But it wouldn't be an N-Dubz show without a little bit of controversy, during their 23-date UK tour there have been multiple fights during the shows with fans drinking too much or fans arguing, kicking and pushing each other to get closer to the stage. But like at most shows the fights were defused with the help of security and encouragement from them to have a good time.

The good vibes didn't last long as Dappy began to argue with security for being disrespectful to fans, saying "it's our show" when the security disregarded his instructions. to get the event moving along. Tulisa shouted "let's get on with it then" and attempted to pull Dappy away. The videos of the two have now gone viral on Tik Tok and other social media platforms.

After that mishap, Dappy performed his hit songs 'Oh my' and 'No regrets,' the band continued with the show and sang their last two songs 'Charmer" and their biggest hit 'Number one,' where Dappy ran into the crowd and performed the song in the middle of the standing audience while interacting with fans who surrounded him. He then ran over to the seated audience, climbing up and performing the rest of the song in the standing area.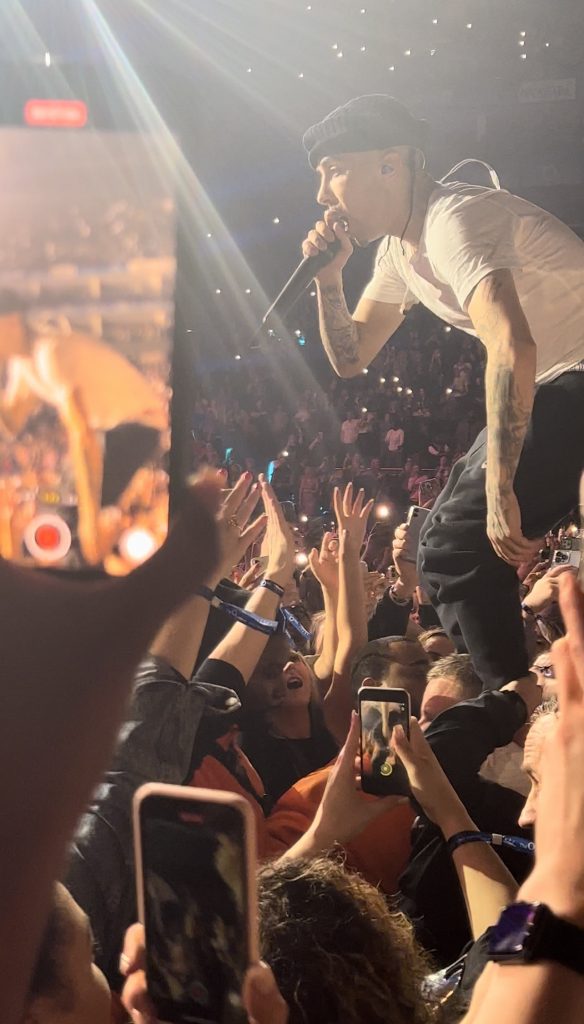 Ratings out of 10
Stage: 7/10 The stage seemed simple at first glance, but there was more to it than met the eye; a second three-part raised platform with red lights came down, on which Frazer, Dappy, and Tulisa would stand and move between the three separate stages. However, the stage was small, making it difficult for seated fans to view the performance.

Performances: 9/10 Fans screamed the words in unison during every performance, N-Dubz sounded better than ever, and the surprise guests added to the performances.

Costumes: 7.5/10 Dappy, Tulisa, and Frazer changed clothing three times, each one better than the last. Tulisa began the show wearing an all-purple ensemble with a matching jacket, while Dappy and Frazer were dressed in apparel from the most recent Courteiz release. Amid the show, they changed into coordinated all-white outfits, and towards the end, they were all dressed in red.

Crowd: 9/10 There were a few fans who had a little too much to drink and started fights, but with situations being defused by security, the crowd was full of nostalgia and sang word for word as they remembered how they felt when these songs originally came out over ten years ago.

Overall 9/10
This is not the end for the trio, but rather the start of fresh beginnings with their reunion, re-establishment, and adoration from their supporters across the UK. Fans are thrilled to see what's next and are waiting in anticipation for N-Dubz's next major show in the summer of next year to go on sale.
Words: Keana Isaac-Taylor | Subbing: Patrick Grady