The waiting list for treatment never ends.
Freddie Cocker came to terms with his mental health issues at the age of 21. He had depression, anxiety, PTSD (post-traumatic stress disorder) and chronic and obsessive overthinking.
"I first went to them [university counselling services] and said I was feeling very down and needed to speak to someone, but they told me I had to wait five months for an appointment," Freddie told Voice of London. He's not the only one to struggle with mental health before receiving help.
One of the leading mental health charities, Rethink Mental Illness, recently published a survey with results which can be considered concerning. According to the report, patients that are more mentally ill find themselves waiting longer for treatment.
The average waiting time for people suffering from severe, lifelong mental illnesses, such as schizophrenia and borderline personality disorder, is 14 weeks. This can be dangerous for patients vulnerable to suicidal thoughts.
The most striking finding of the study was that of the 1,602 participants, 56% did not receive treatment before their mental illnesses became crippling or life-threatening, and 28% of them were not referred to appropriate services by their GP. 51% of participants reported they received treatment for insufficient amounts of time, while some admitted to having suicidal thoughts following inadequate treatment for their mental health conditions.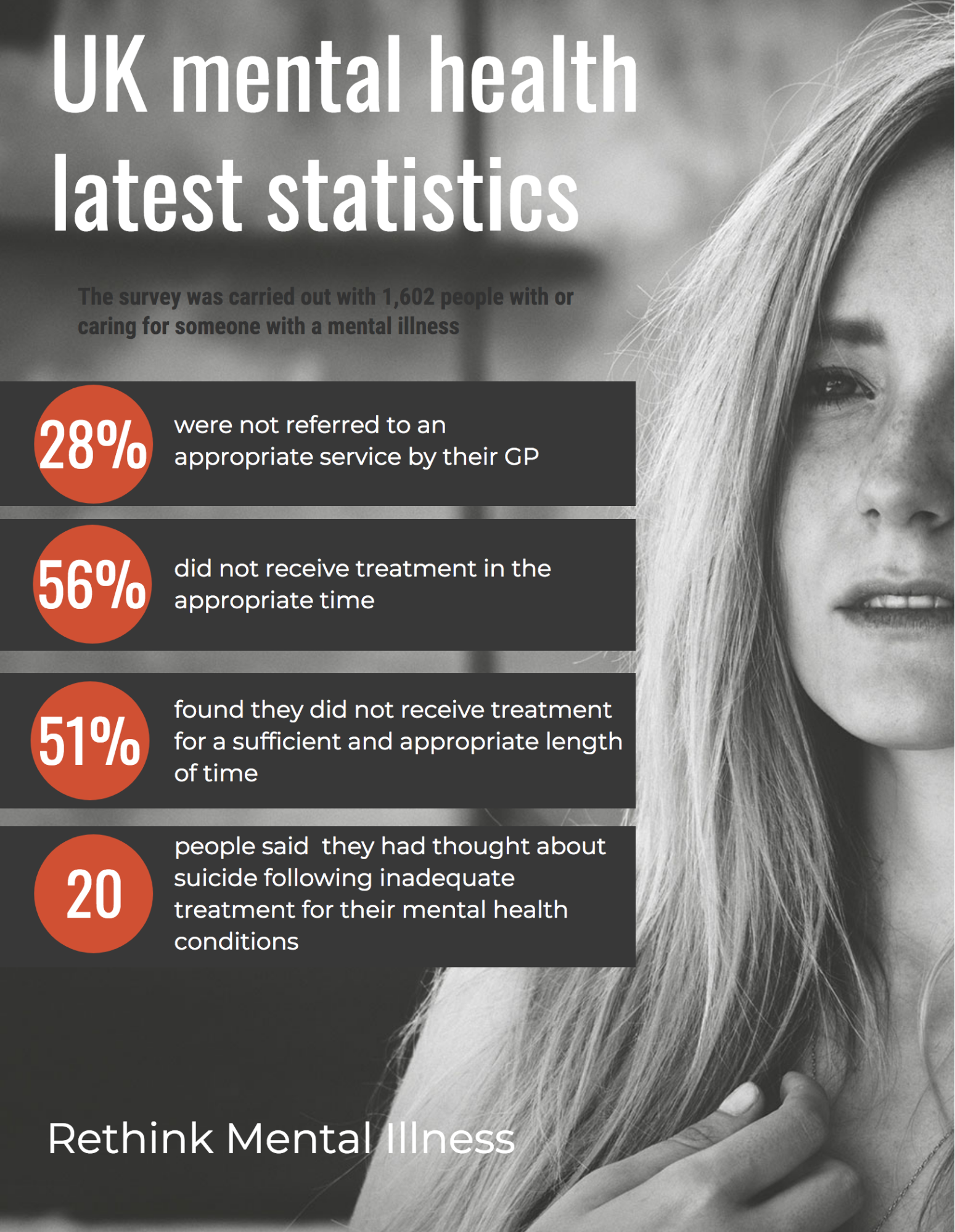 One participant of the survey told Rethink Mental Illness: "I've been in recovery since 2013 and I'm now tired and suicidal. I want counselling, someone to talk to without judgement, but I was told that counsellors don't like to take on people with my diagnosis, which is borderline personality disorder. I'm struggling with rejection and loneliness as it is. This in itself makes me more suicidal and dead inside."
NHS England also highlighted in its latest report that young people could develop mental health issues from an early age, and warned about self-harm and suicide attempts among young children aged 11 to 16.
New data from @NHSDigital has revealed a shocking and escalating #mentalhealth crisis in our children and young people. Read more here > https://t.co/HFkCO0uy7g pic.twitter.com/TdPznySFjv

— Rethink Mental Illness (@Rethink_) November 22, 2018
Universities are also under pressure. Counselling services at the University of Westminster told Voice of London: "Waiting times are longer because of demand and level of need which has increased significantly year on year." The facilities for students are available through a request form, and although there is always a counsellor on duty to manage urgent cases, it often takes weeks for a student to see a counsellor.
Freddie started receiving treatment through his university's mental health service team supplied by the NHS. "I first went to them and said I was feeling very down and needed to speak to someone, but they told me I had to wait five months for an appointment," he shared.
"I then came back to them and said I was suicidal and on the verge of taking my own life, which I came close to trying to do a few days before it. I also had a mental breakdown in the middle of a seminar which prompted my friend to take me back there to get checked over properly."
Read more: The kids are not alright
When he was finally assessed, he then received eight weeks of intensive cognitive behavioural therapy, which was life-changing for Freddie.
"People shouldn't have to be on the verge of suicide to receive treatment but unfortunately the NHS is under such pressure right now and the demand is so high, they are forced only to give treatment to those in desperate need," he said. "I know that I was one of the lucky ones and I wouldn't have received that treatment if I hadn't been suicidal."
Freddie Cocker openly talks about his journey. He became a mental health advocate to help bring this urgent matter to the spotlight. He is also the founder and editor-in-chief of Vent, a platform mainly focusing on men and boys opening up about their mental health issues, breaking down stigmas by starting conversations about mental health.
"What we want is right treatment, right time but what we too often have is wrong treatment, too late," said Brian Dow, deputy CEO at Rethink Mental Illness. "Thousands of people find themselves in desperate situations every year but have to contend with long waits, bureaucracy, and a severe lack of choice about their care. The result is that far too many people reach crisis point before getting help."
"Our advice service is overwhelmed by phone calls from people with complex and severe mental illness who are struggling to access crucial NHS services. There has been lots of effort to improve things and the upcoming NHS England long-term plan is a golden opportunity to meet the challenge of 21st-century mental healthcare."
If you feel that you need help, please call:
Samaritans:

116 123

Mind Infoline:

0300 123 3393 (9am-6pm Monday to Friday)

Rethink Mental Illness Advice Line: 0300 5000 927 (9.30am – 4pm Monday to Friday)

Saneline: 0300 304 7000 (4:30pm-10:30pm)

NHS England: 111 or NHS Direct 0845 46 47 (Wales)

Emergency services: 999
Featured image: Pexels
Words and Infographic: Boglarka Chamer | Subbing: Taylor Pataalo