The singer who recently released her fifth studio album, AIM, has provided emblems and designs to produce their own t-shirts and jumpers.
Reporter: Andrew Whiteford | Sub-Editor: Alex Clement 
M.I.A. has tweeted to her 695,000 followers that she did not want to create a new line of merchandise due to the effect it has on sweatshops and the environment. She came up with a new alternative, allowing her fanbase to get creative and design their own fashion.
Today, she uploaded ideas to her website so people can get creative with some basic designs and vectors provided for free. She tweeted: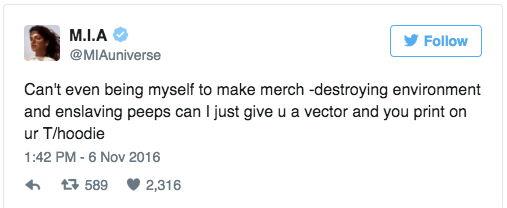 It's shown to be a popular idea amongst environment activist groups and her fans.
The Sri Lankan musician has consistently used her global reach as a way to educate on environmental issues and the government's response to the refugee crisis. In March, she partnered up with H&M for an initiative called 'World Recycle Week'. The eco-soldier was the face of a campaign where they pledged to make clothes from whatever fabric or old clothing is donated to them. Customers are welcomed to come to any of their stores internationally to donate.
Three months before that, M.I.A. dropped the highly politicised music video for 'Borders' which explored the negative portrayal of migration. It shows her with migrants climbing barbed wire fences and on tiny boats with lyrics such as, "Politics, what's up with that? Borders, what's up with that?"
In recent news, M.I.A. also revealed that she wrote standout AIM track 'Freedun' with Zayn Malik over WhatsApp she told MTV News. She explained: "I really wanted to write a song for Zayn, we had a couple people in common. And that's how it came about. I didn't really approach him for my own record until later on. First, I thought I wanted to try writing a song for him."