Reporter: Phuong Thu Nguyen / Sub-editor:Maria Christina Chougkaeva
Cây Tre 42-43 Dean Street, London W1D 4QA
Contact: 020 7317 9118 www.caytresoho.co.uk
Price: Three courses: £19.96/ Lunch deal: £10/pp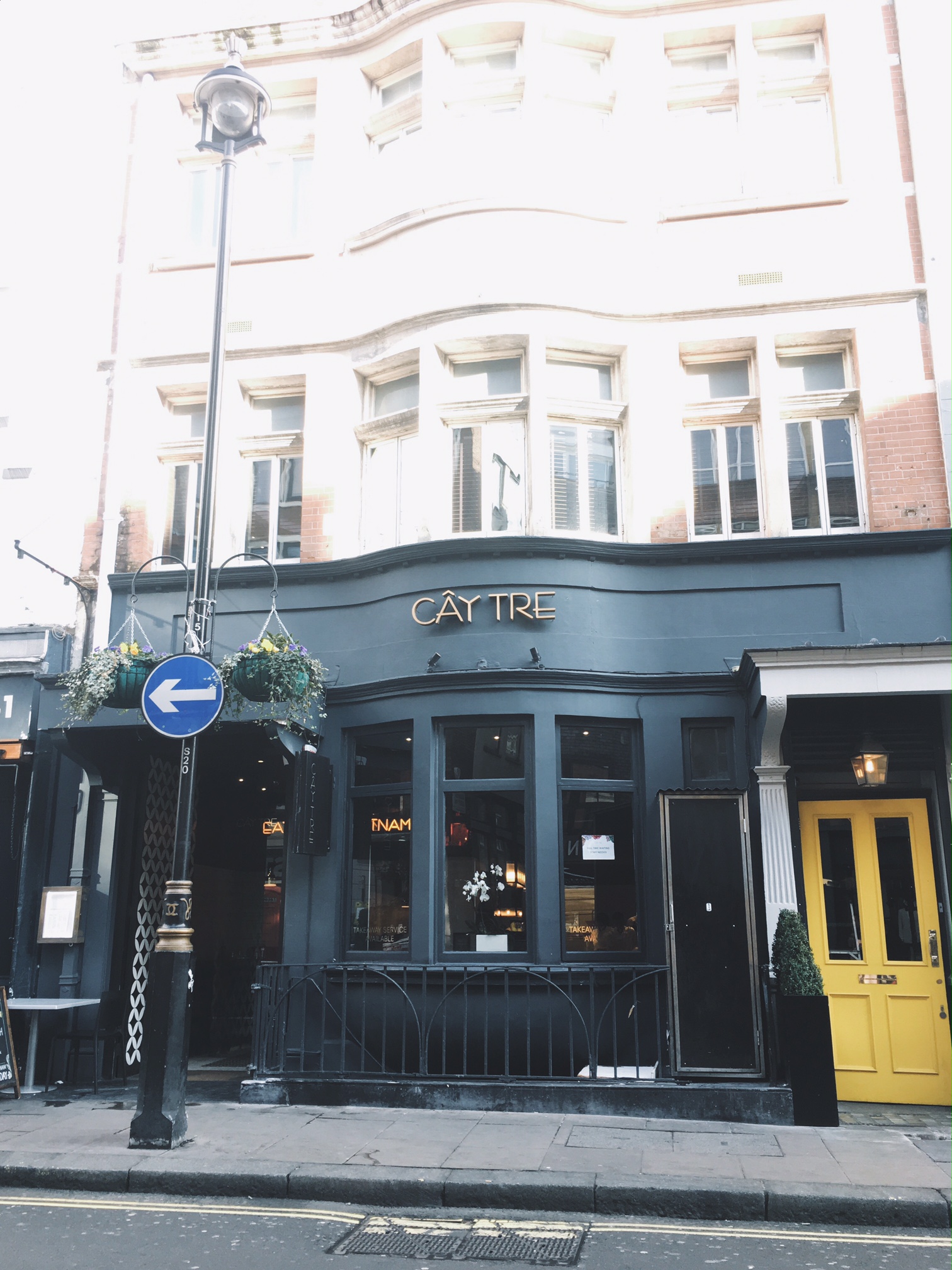 Cây Tre (means Bamboo) is hard to place in the restaurant food chain; it's certainly not a cheap noodle joint, but nor is it a hushed temple, designed to convey that this is authentic Vietnamese food as you'll remember for life.
It's chic, nicely lit, busy, and full of young people. It's quite clattery and closely packed, and you can't say it's a place you would linger because of the crowded feeling inside of the restaurant. However, it's attractive.
The sleek white tables, pale wood-panelled walls might calm you down and are good for photos. But Soho's newest Vietnamese restaurant stays loyal to its culinary influences.
The plastic bottles of chilli and soy sauce on the tables are the same as you would find in a Pho restaurant stall – but the food is even better…
Evelyn, can be characterised as a non picky person and fairly easy to please. The mission today is to taste the reasonable price lunch sets containing one starter and one main for only £10, what a deal! Evelyn starts with the famous crispy Vietnamese spring rolls and it seems she is enjoying them. Yet as  a fastidious one and a Vietnamese, I, conversely, thought they are under heat. Although it tastes not too bad, the rice papers are quite thick and feel like from frozen foods.
A highly recommended starter dish would be the anchovies chicken wings. It's a mixture of a crispy feeling combined with a sweet and sour flavour. The stickiness of the wings may get your fingers dirty but that is the only way to eat them. The side mini salad of lettuce and tomatoes must be consumed in order to calm the saltiness down the wings have. However, the price of £6.5 for only two small wings seems expensive, but the lunch deal won't let you down.
We both said "yes" to Pho, of course. There's no complaint about this signature dish.The presentation is more than expected, a warm bowl of Pho containing a satisfying portion. I had the beef Pho, thinly sliced fillet steak in authentic feeling of beef stock topped with quite a lot of sliced spring onion. Bean sprouts and a slice of lemon is served as a side dish to appraise the Pho's signature flavour. A tip  for any Vietnamese soup noodle is to add a teaspoon of chilli vinegar, it's a small bottle ready on every table in Cay Tre. That is the proper way of enjoying a noodle soup like a real Vietnamese, a bit spicy and slightly sour, can't ask for more.
Evelyn's one of the most favourite drinks in London is surprisingly here, in Cay Tre. She praised: "I used to hate avocado so much before trying this avocado smoothie. It built up a good friendship between me and avocado". A £4 mixture of condensed milk, pureed avocados and of course, milk. A bit pricy but worth a try. However, I would suggest having this alongside with your dessert; the greasy and slightly sweet is not a perfect match with Vietnamese food.
It was not a fulfilling experience without the friendly staff in Cay Tre. They patiently explain to their customers' dishes that they don't understand even in the restaurant's busiest hours like lunch time. If you're looking for Soho's most authentic Vietnamese restaurant, look no further than Cay Tre. An extremely good value for Vietnamese meals, pinky promise you'll leave with a full and pleased stomach.