People across the country are looking for ways to escape their isolation and meet new people while respecting the restrictions. 
2020 has been a bleak year; businesses have closed down, families are forced to stay apart and people are facing mental health issues. At a time like this, it becomes even more important to have a distraction. Even with 2020 being 'cancelled' people are looking for 'love in hopeless places.' There has been a surge in dating app users during the pandemic.
There are apps and helplines to support people who are dealing with the anxiety of being alone or facing difficulties while isolating, however, people would rather choose dating apps than getting help from a professional.
A Bumble app user, Zainab Rizvi, 21, said: "I would rather use dating apps to talk to people than calling the helpline. That seems more normal to me. I choose who to talk to and can be easily distracted."
After being criticised for promoting people to violate the social distancing rule, dating apps, such as Tinder and Plenty of Fish added a video feature. Match, a company which owns several dating services, stated in a letter that by adding the video feature and 'Dating while Distancing' service, through which users can get free advice from experts are a way of "healthy adoption."
After swiping right and chatting it up for days, what's next for you and your new potential babe?

Face-to-Face 👩‍🦱🤳.

Try the video chat feature in @Tinder now: https://t.co/9Fbe9uDqDg pic.twitter.com/MT7VdV9pa1

— App Store (@AppStore) October 28, 2020
However, some of the users who have gone on dates during the pandemic did not worry about the possible repercussions.
Dylan Smith, 19, said: "I initially had no hesitation in a meeting because I feel that with distancing put in place there is a minimal amount of risk, and even if we come into contact with the virus I would just isolate."
Though the video feature has made it easier for people to communicate and feel safer while talking to strangers. Some of the dating apps have built-in games or ice-breakers to make it more interesting for the users.
Match reported in its third-quarter earnings that Hinge subscriptions are up 82% this year and revenue has grown more than 200% year-over-year.
Wolfe Herd, the Founder and CEO of Bumble, told Poppy Harlow on an episode of CNN's Boss Files podcast: "More genuine connections are forming out of this, and people are really, you know, being secure in who they're meeting before that eventual physical meet-up ever begins."
Looking to seize the opportunity, media giant, Facebook has launched its own dating app during the pandemic, 'Facebook Dating.'
People who wouldn't use the apps before have also stumbled upon them, due to the situation. Smith said: "I didn't feel the need to download it before as I was able to talk to my school friends."
Voice of London conducted a poll on Instagram to ask the public if they have used dating apps during the pandemic. The result showed that 64% had used the apps, while 34% of the voters declined.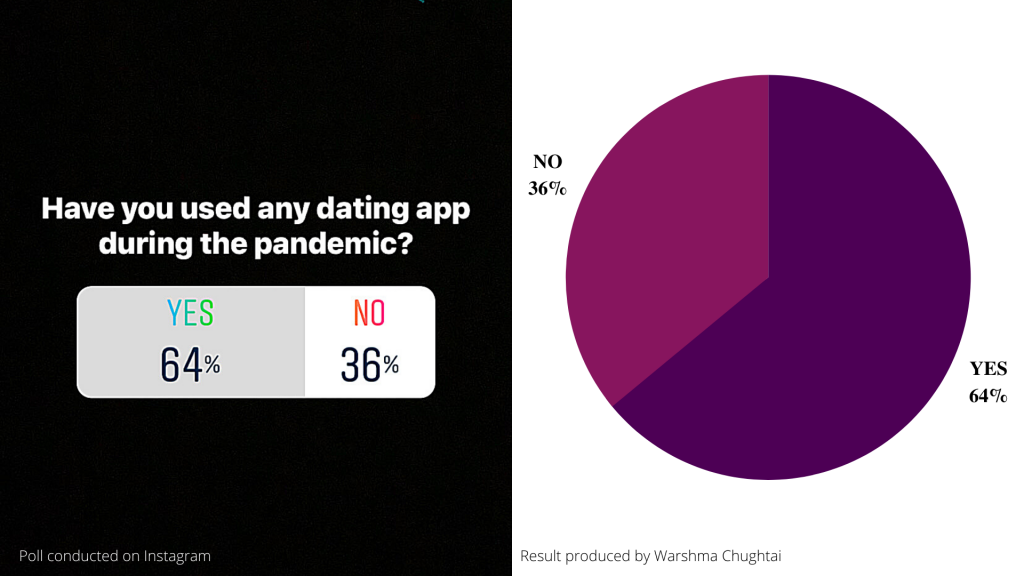 Not everyone is looking for a romantic experience. Rizvi said: "It helped me find friends, who I could talk to, if not meet."
With the end of the pandemic still not in sight, dating apps are becoming a source of an escape for many, while some are waiting for the restrictions to be lifted for them to meet their matches in person. Up for lockdown love stories, anybody?
To read more about the lockdown:


Words & Picture: Warshma Chughtai | Subbing: Zakia N