The G.O.A.T. makes a return to the 02 Arena with his latest album, a new stage, and a powerful message for his fans.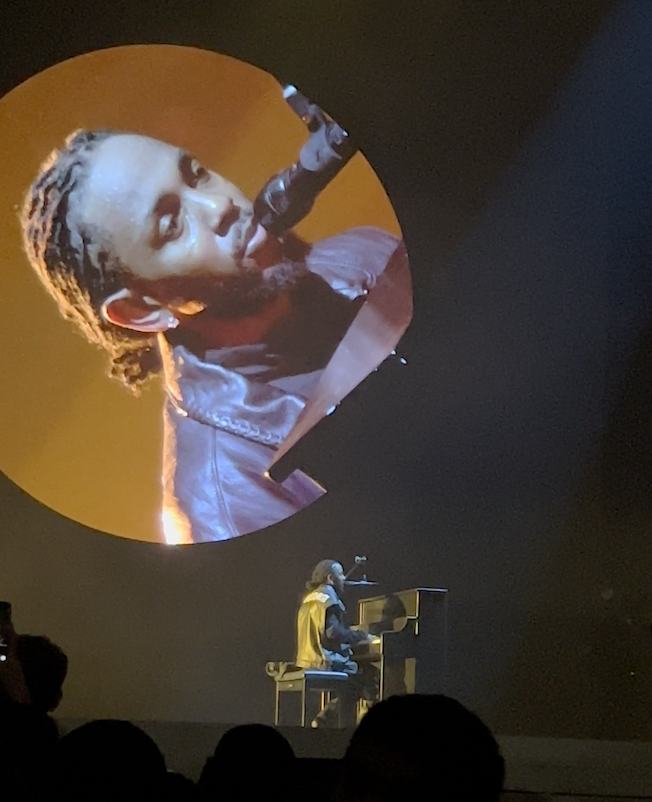 Kendrick Lamar's last album, DAMN, was released in 2017, so to say this album and tour have been long-awaited is an understatement. Mr Morale & The Big Steppers is an emotionally complicated and honestly honest body of work, as are all of Kendrick's albums.
On this album, Kendrick takes a reflective approach, using it as a therapy piece as an intervention for his behaviour. Or, more specifically, the actions of his alter persona, Mr Morale, the album's main protagonist, and how he and others in his community put up facades as "big steppers" to hide the underlying pain they're tap-dancing around. Kendrick also admits to his "lust addiction," attending therapy, spirituality, familial pain, and shortcomings.

The first leg of the 77 show arena tour began on June 23, 2022, in Milan and will conclude on December 17, 2022, in Auckland. Thousands of Kendrick Lamar supporters from all walks of life crowded the O2 arena. There was a black curtain covering the stage, everyone was waiting to see what the event would bring.
Tanna Leone and baby Keem performed before Kendrick took the stage. Tanna Leone, a 24-year-old American rapper, is the third artist to join PGLang, Kendrick Lamar's and filmmaker Dave Free's collaborative music label. His debut studio album, Sleepy Soldier, was released in April 2022. Although he is best known for a few classic songs such as 'Lucky' and 'With the Villians', his enthusiasm was strong throughout his set and had the audience roaring.

In addition to his other big songs, Baby Keem performed 'trademark USA', 'scapegoats', 'HONEST', and 'Praise God' on stage. The crowd was ecstatic to see Kendrick's younger cousin in the flesh.

Kendrick Lamar is recognised for his incredible wordplay and magnetism in his music, and we saw so much more of the artist on stage, we weren't short of surprises. Each song was performed brilliantly, and the dancers gave their all with no mistakes.

Kendrick's 'United in Grief', the first song on his current album, served as his opening act. He began the song by playing the piano and then rapped each verse. while carrying a ventriloquist's dummy that resembled him he walked up to a microphone stand on the catwalk stage, where he performed 'N95'. the Dummy's lips bobbed up and down while Lamar rapped about society's false perceptions of one another, cancel culture, as well as the flaws in African American achievement being measured in materialistic items.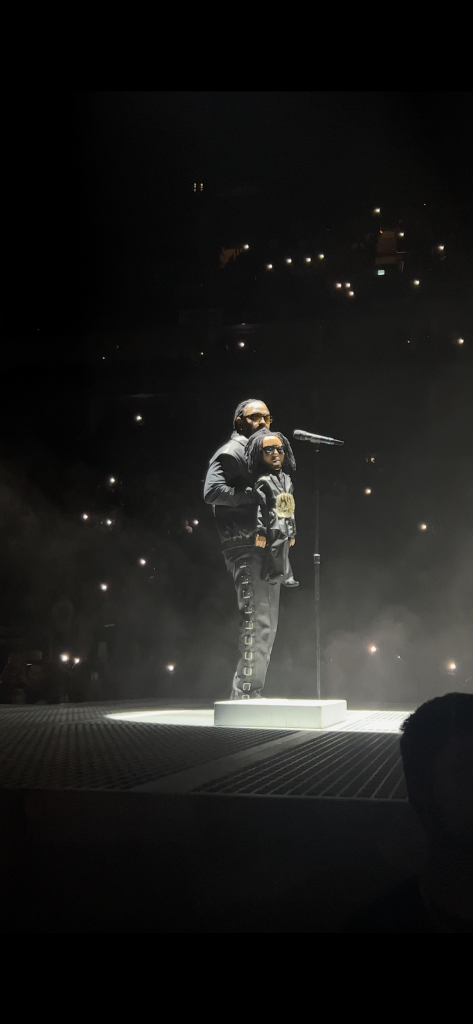 Kendrick Lamar's concert was not short on production and theatrics. With a moving stage that lifted him in the air over the audience as he performed 'silent hill,' which features controversial rapper Kodak Black.

While performing 'Saviour', Kendrick was shown in a transparent box that imprisoned him as he spoke about the pandemic and how covid and people's political perspectives on it affect one another. This stage setup inspired fans to shout "Kendrick in a box" to the tune of KC and The Sunshine Band's 1982 hit Give It Up.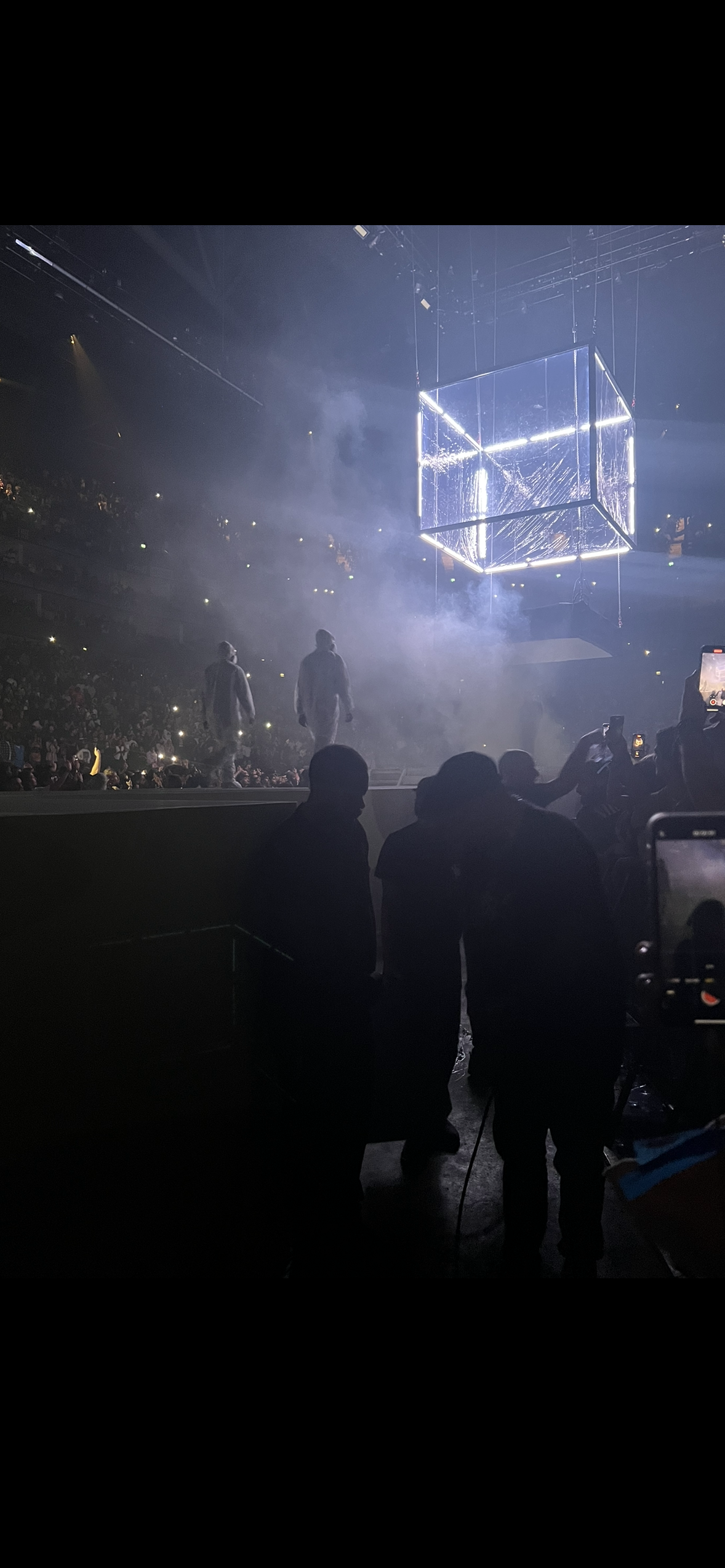 Kendrick was then joined by Baby Keem and Tanna Leone for 'Mr Moral'and 'Family Ties', where the audience rapped along to every verse. But it wouldn't be a Kendrick Lamar event without some nostalgia, so he rapped his most popular songs, 'King Kunta', 'Element', 'M.A.A.D City', 'DNA', and many more from his hit albums DAMN, To pimp a butterfly, and Good Kid m.A.A.d city, which sent the audience into a frenzy.
Ratings out of 10
Stage: 9/10 The stage was elaborate yet simple, you could see Kendrick from every angle, whether you were standing or seated in the arena

Performances: 11/10 every performance act outperformed the other; you could hear everything word for word, with no faults or imperfections.

Costumes and dancers: 8.5/10 The male dancers were dressed in black, while the female dancers were dressed in white. The simplicity did not detract from Kendrick's performance; the movement of the dancers enhanced his performance and conveyed the themes in his music.

Crowd: 9/10 The crowd was unlike any other; every fan's face was filled with enthusiasm and excitement as they rapped all of Kendrick's songs word for word and without missing a beat. The main drawback of the crowd was the pushing as fans tried to get as close to Kendrick as possible.

Overall: 12/10 This album is raw and uncomfortable and conveying it on stage while providing an enjoyable and enlightening experience is why a concert like the Big Stepper Tour is so relevant and exciting. We don't know when Kendrick will be back on our stages, but we'll all be ready for the next tour.
Words: Keana Isaac-Taylor | Subbing: Tania Alasady