From Winston Churchill's anchor tattoo to Beckham's fully-inked arm, body art has been a form of creative expression for hundreds of years. Nowadays, tattoos are becoming mainstream, but is there more than what meets the eye?
These "fashionable ink accessories" have been a part of the British subculture since the Victorian era, when they were incredibly popular amongst sailors. Back then, the visual impact of the basic anchor, usually located on the shoulder wasn't supposed to be attractive, but rather thoughtful. Tattoos had one duty: to tell stories about the sailors' voyages and the places where they served.
Gone are the days when tattoo studios were only found in back alleys on the outskirts of London. Due to its alternative and cultural vibes, the capital of the UK serves as the home of various ace tattoo salons from tiny and clustered parlours to more iconic spots, such as Camden Town. As the number of tattoo studios continues to grow, so does the number of people receiving tattoos. According to a survey by Dalia Research, United Kingdom is one of the most "inked" countries in Europe, as 40% of the population went under the needle at least once.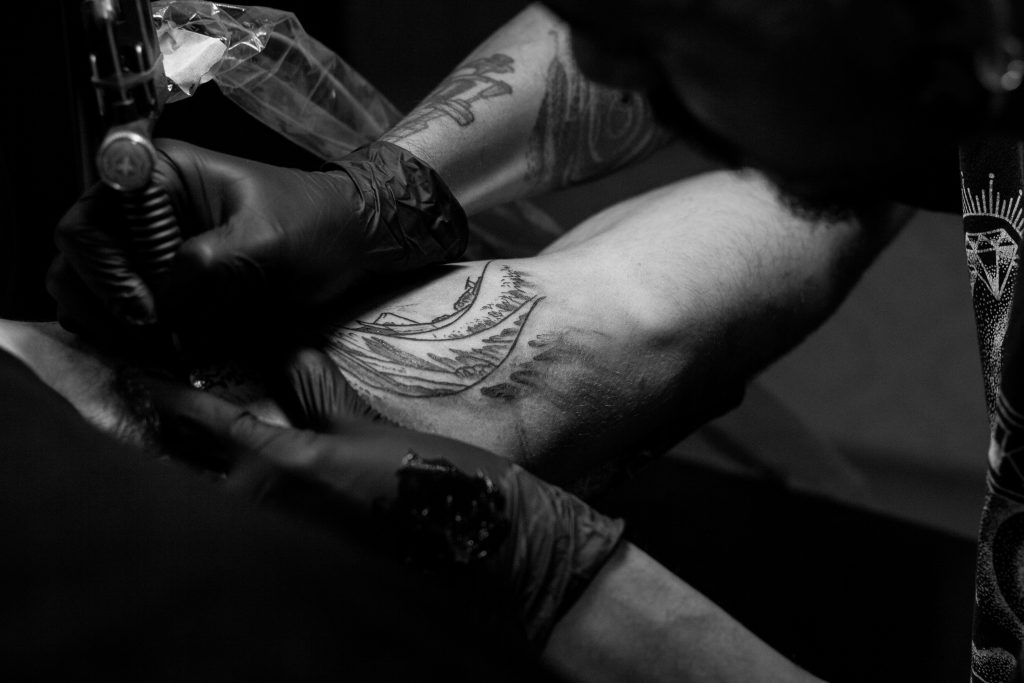 Photo: Courtesy of Matheus Ferrero via Unsplash.
For a more in-depth examination on London's tattoo culture and what the body art implies, Voice of London interviewed Marcus Wall, owner of Evil From The Needle, which is Camden Town's first and longest running tattoo studio and ranked as one of London's top five by Skin and Ink magazine.
[soundcloud url="https://api.soundcloud.com/tracks/541722540″ params="color=#ff5500&auto_play=false&hide_related=false&show_comments=true&show_user=true&show_reposts=false&show_teaser=true&visual=true" width="100%" height="300″ iframe="true" /]
While tattoos may have been the preserve of biker gangs and sailors, you are just as likely to find them on the bodies of doctors and lawyers these days. The labels once attached to inked individuals, like "thief" or "criminal" are long gone. From dreamcatchers to infinity symbols or even your ex's name (sorry, Mom!), tattoos evolved from being considered as a "self-mutilatory behaviour" to a form of long-term body art.  
Inkaholics might look up to Johnny Depp's quote: "My body is my journal and my tattoos are my story". These permanent and personal pieces of art are aesthetically pleasing, but they go further than just being visually attractive. Even if many individuals view inked people as walking refrigerators covered in magnets of quotes, sayings and reminders, tattoos truly are personal statements. Rather than meaning something literal and universal, the art on our bodies is often personal and complicated.
These ink accessories usually represent thoughts and feelings that we have not spoken about or acknowledged even to ourselves, letting us access a hidden world. There is a story behind every ink art, so the visual impact of a tattoo is equal to the person wearing it saying, "I stand for this". Our current society craves individuality and self-expression, but what lies behind this type of body art: rebellion or artistic freedom?
See also: Regret-ink it?
The evolution of tattoo trends, which have moved from tribal designs on the lower back to geometric designs on the sternum, has encouraged self-expression through ink art. However, individuals who get tattooed have various reasons for doing so: attention, affirming their beliefs, interests and hobbies or drunk impulsiveness (explains why a lot of tattoo parlours are open up late). Although getting a tattoo might seem like a narcissistic gesture, it is far from that.
ariana's new tattoo… this moonchild reference OMG I FCKING LOVE IT pic.twitter.com/7GQ3zQRJZC

— julianna (@jiminsgrandes) December 7, 2018
Say hi to my new tattoo 😍 pic.twitter.com/qra0x1MUjY

— Merve (@nmdndr) December 8, 2018 
Some people mark themselves for life to remember and celebrate family members or friends, or ancient sayings with which they identify. For instance, if an individual decides to get the portrait of a loved one tattooed, it might be because he or she wants to commemorate that person and highlight the pain of losing someone special. Others consider body ink an opportunity to personify a difficult period of their life into a symbol.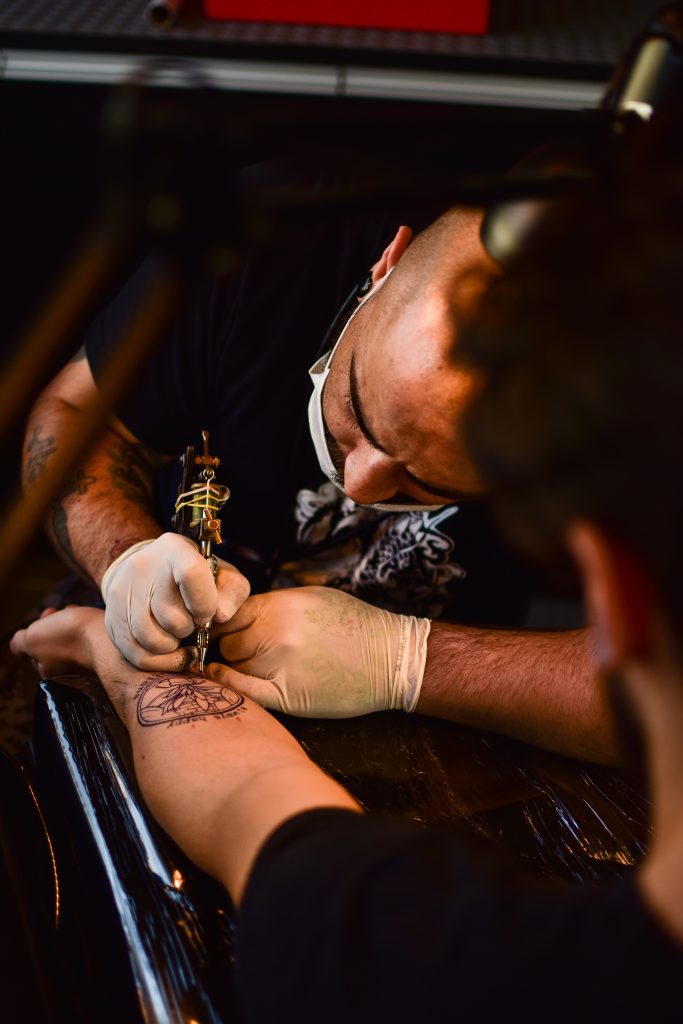 Photo: Courtesy of Julia Giacomini via Unsplash.
Karmen, 22, told Voice of London: "On my 18th birthday I got a quote on my left rib saying 'For those who I love I will sacrifice' because I have always been that type of person who puts anyone on the first place, except myself. This tattoo shows my affection, care and devotion for the people in my life and whenever I might get disappointed by one of them, I don't want to forget how passionate and loving I am. A few years passed now, and I don't regret it, I don't think I ever will."
Individuals who want to get a tattoo or who already have one might be motivated by the current society, where values such as originality, individuality and self-expression are highly promoted. In many cases, tattoos exceed the "body art" status, because the will of wearing a permanent symbol is generated by personal reasons. For instance, self-proclamation manifests through short, yet powerful quotes or strongly individualised designs.
Cella, 20, said to VoL: "Before I left my home country so as to study in the UK, I got a paper plane on my finger. It symbolizes my transition towards becoming a young adult, leaving the 'childhood nest' and embarking into the journey of exploring my own self."
As tattoos acquire a certain duality, thanks to their power to visually display a personal belief, more and more people decide to get one to express themselves. Maybe because body ink has the ability to tell stories, the desire to get a tattoo can get deeper under one's skin more than ink needles ever could.
Getting a tattoo is a quite important event in one's life, so here's a list of the best tattoo parlours in London, according to The Culture Trip.
[googlemaps https://www.google.com/maps/d/u/0/embed?mid=1Ogca_k9Z5LX6BTw7ubNxoTAFmDTBAa15&w=640&h=480]
Featured image: Courtesy of Matheus Ferrero via Unsplash.
Words, Audio and Google Map: Catalina Ioana Oblu | Subbing: Shruti Tangirala