With the world going through a non-indifferent economic crisis (first with Brexit, then Trump and now the Italian referendum) it is no surprise that many stocks have gone down. The art auction business however, seems to tell a different story…
Reporter: Cecilia Peruzzi | Sub-editor: Chloe Chapman
Just a month ago Sotheby's, London's most renowned auction house, made the news for setting a new record at the David Bowie collection auction. The Bowie estate spent months on end collaborating with the auction house to put together a collection of over 350 works, ranging from 16th century Venetian altar pieces to contemporary ceramics and design products.
The auction was divided in three parts with the first one, taking place on the evening of November 10th, having 47 pieces go under the hammer. Key works in the collection included paintings by Marcel Duchamp, Damien Hirst, Frank Auerbach and Jacopo Robusti. The estimated £8.1-£11.7 million revenue was smashed by a total coming in of £24.3 million.
The second part of the auction comprised 208 more pieces, from 20th century British artists, German expressionists and contemporary African creatives. Although its revenues could hardly compare to the ones from the night before, bringing in a total of just £8.5 million, the sale still exceeded expectations, raising 10 times more than predicted revenues.
During a press-conference following the first part of the auction, Oliver Barker, Chairman of Sotheby's Europe, said: "David Bowie's personal art collection captured the imagination of tens of thousands who visited our exhibitions and the hundreds who took part in this evening's sale. Sotheby's is truly honoured to have had the opportunity to share this collection with the world and, in doing so, offer a fresh insight into the creative mind of the one of the greatest cultural figures of our time".
Mr. Barker was contacted for some follow-up questions regarding the David Bowie auction and the what's to come for the art world this following year, however, he was unable to respond in time due to a very busy schedule.
The revenues from the auction sure must have been a surprise for the Sotheby's team, since they experienced a 35% decrease in Net Auction Sales in the first quarter of 2016 comparing to results from the same period the previous year, as revealed by their financial results. While its competitor Christie's is very private about financials, Sotheby's makes them public each quarter, the latest are available here.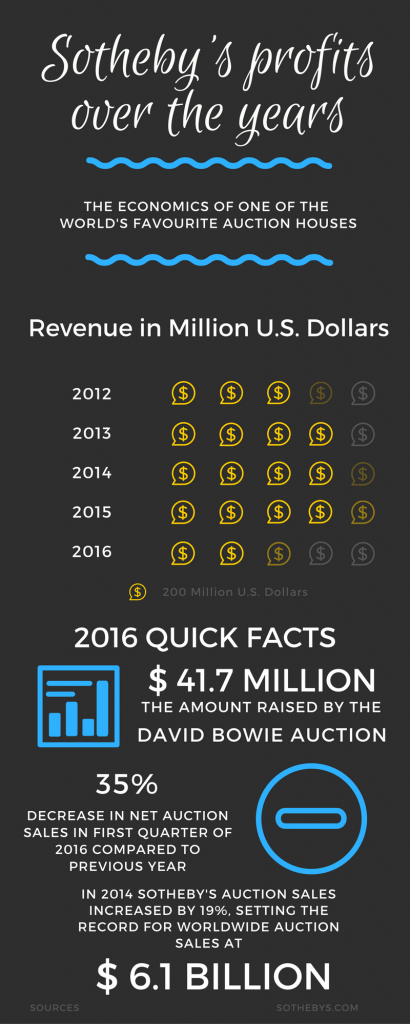 After experiencing a quite successful year in 2014, with auction sales increasing by 19% and setting the record for worldwide auction sales at $6.1 Billion, revenues went down in 2015. Although overall income was higher in 2015 than 2014, as revealed by the infographic above, expenses lowered the final net income considerably. In 2015, Sotheby's London had set the record for one of the most successful auctions ever, raising over £186 million for a collection including works by Monet, Matisse and Picasso.
This year's auctions saw a positive rise in Asian art, with Sotheby's hosting a total of five Asian art auctions in New York alone and achieving a remarkable $104.8 million in total sales. Revenues were also improved by this summer's contemporary art auctions, which generated a combined £68.8 million in sales. This did not come at a fair price though, as Sotheby's had to make staff cuts to reduce their total expenses by $47 million.
Back in August, Sotheby's chief financial officer Mike Goss told the Antiques Trade Gazette: "The comparison of quarterly results can be skewed by changes in the timing of when auctions occur, such as the summer Contemporary sales in London. Looking at the first six months of this year, investors will have a realistic view of the current market, but they will also see our improved auction commission margins, meaningful cost control, and the impact of our ongoing share repurchase program."
Around the same time, ArtTactic, a London-based art advisory, conducted a poll comprising of 235 collectors, dealers, art advisers and auction house specialists, 87% of which revealed their prediction about the market either going flat or down in the next six months. The Bowie auction certainly does not seem to confirm that, but why? The Voice of London talked to an art specialist, Eriberto Bettini, about it: "Although Sotheby's net income might not be as high as expected, we have to realise that we are indeed going through an economic crisis and that auction houses are coming out of it quite nicely all things considered. Especially after the U.S. elections people feel the need to invest and find an alternative to banking".
Bettini also explained how these days people want to be able to see/touch their money. "It is one thing to have it in the bank and another to see it hanging in your living room. Sure, you can see the amount of money you possess through online banking and know it's yours, but somebody could take it away in a second. Why are investors buying gold bars and art pieces? Because those are the things that have actual value. Just think about it, during the days of the Nazis, Hitler did not take away money as much as art pieces. It's something that can be resold no matter where you find yourself in the world, nobody can make it disappear just like that and chances are, it will gain value over time".
It is fundamental to understand why people want to make solid investments nowadays to comprehend the full extent of the art auction world. This phenomenon could almost be described as people wanting "financial security", reason why auction houses have been setting records like never before. When an auction house like Christie's or Sotheby's is commissioned a collection that had previously belonged to a celebrity (David Bowie, Jerry Hall etc) the pieces incredibly increase in value. "It is one thing to say 'that Warhol painting used to hang in a stranger's house' and another one to say 'that Warhol used to hang in David Bowie's living room', it's all about the legacy that these celebrities left behind" comments Bettini.
Art specialists from Sotheby's and Christie's were contacted for further comment, however they were all unable to respond to the questions on the phone.
While we are most certainly young to worry about auction houses' sales, it is worth looking into the topic no matter how old you are. You never know, maybe a painting purchased from an emerging artist in East London for just a few quid could be worth millions one day and, if you're considering venturing into the art world yourself, you need to know at what risk.