Covid-19 has been anything but easy for everyone. Many have been affected by the pandemic across the globe, but some feel that they have been left unsupported through these trying times. Members of the UK's deaf community feel unheard and are reaching out for more support. 
What is it like to have a hearing impairment?
Hearing impairment is mostly a hidden disability, one we cannot see at first glance. Sign language, lip reading and face-to-face interactions are used to be able to understand others.
However, the pandemic has restricted this and left individuals unable to communicate clearly.
For those that aren't familiar with what it's like to have a hearing impairment, here's a short video simulating the different levels of hearing loss.
What are the difficulties being faced?
Speaking to members of the community, they expressed their thoughts on the impacts they have faced. 
''Other people, I hate to say, don't necessarily understand how difficult it can be to communicate when you have a hearing aid and can't understand [or] hear what people are saying." – Anonymous
''It has been [very] difficult for me at work. I rely on lip-reading and for the past nine weeks, I've had to be on a frontline ambulance struggling to communicate. It's very stressful." – D Ni Ghiollagáin, London Ambulance Service NHS Trust
''It's brought massive challenges. For me at work as a teacher […] I felt like I just couldn't do my job. So it prompted me to go to the doctor about my hearing […] So overall I'm actually grateful that Covid has pushed me to look into what's available now." – Anonymous 
The group indicated that the use of masks is what makes life more difficult for them. It's the inability to lip-read that leaves them struggling to understand people and often makes them feel more anxious than usual. This is also the same for individuals with other disabilities. Read more here. 
Roger Wicks of @ActionOnHearing is calling for greater "deaf awareness" during the #coronavirus pandemic.

He says face masks could present "a real barrier" for those with hearing loss – making speech muffled, and preventing lip reading.#COVID19: https://t.co/9oulBXgqBO pic.twitter.com/LKMB60lb8d

— Sky News (@SkyNews) July 15, 2020
The Voice of London reached out to NDCS, the National Deaf Children's Society, to speak to Carla Rose-Hardman, a Family Programmes and Involvement Manager. She explained some of the implications of Covid-19 and what they are doing to help. 
''Face masks have been a huge issue because almost all deaf children and young people rely on lip-reading. Some deaf young people have told us they're less likely to leave the house and are avoiding public transport completely, while parents have told us their deaf children are becoming lonely and withdrawn because they can't understand what people are saying to them." 
NDCS helped 2,274 families between April and September this year and supported them through their helpline and online family information events.
They also provide Family Sign Language classes on Youtube to give them a chance to learn and better their communication.
So what can we do to help?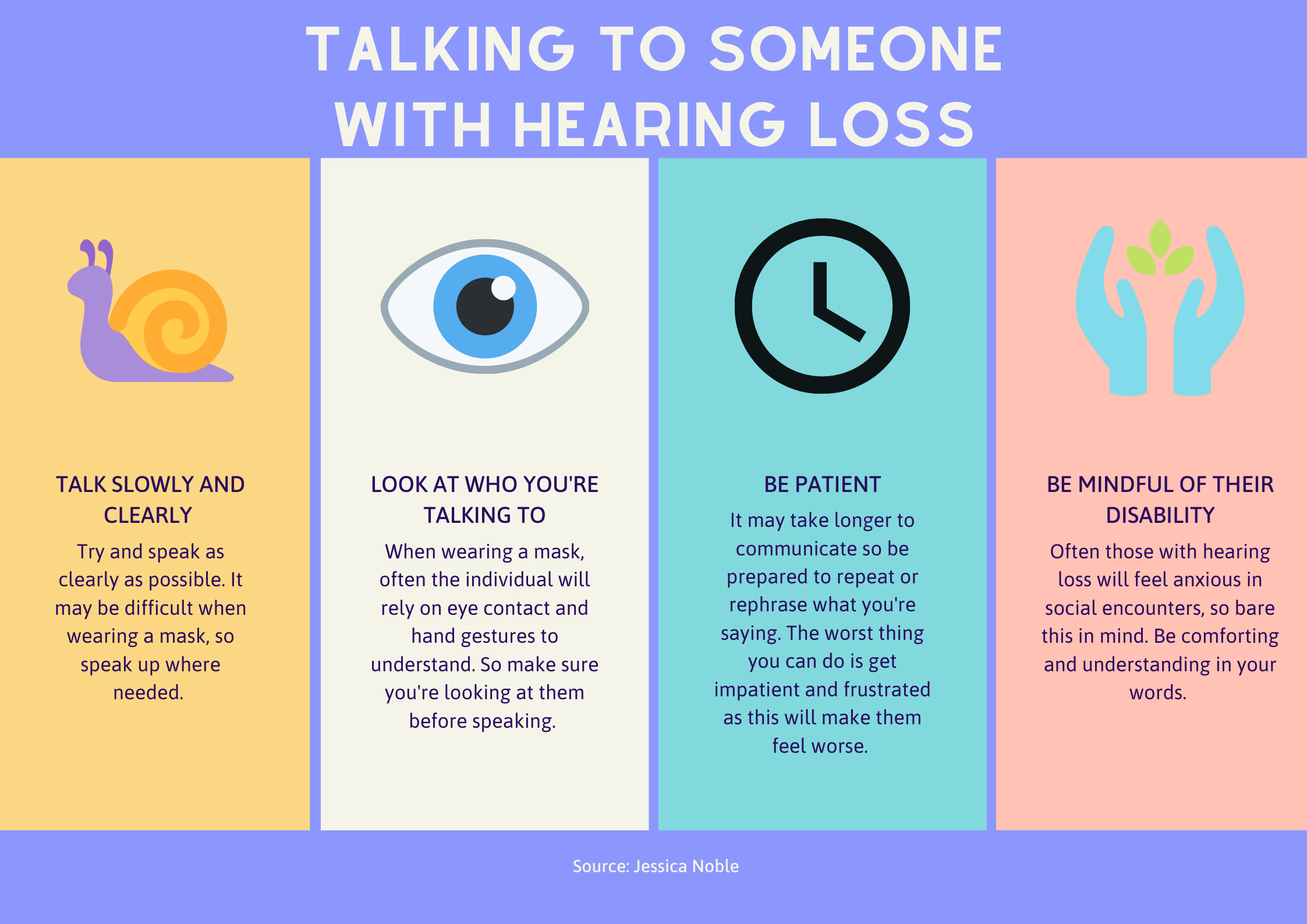 ''Clear face masks can be very useful for deaf children and young people, almost all of whom rely on lip-reading. The Government has purchased clear face masks for healthcare settings, but we'd like to see these made widely available. Many shops and services are already using clear face masks and coverings for instance, and this is brilliant to see. However, clear face masks are not the complete solution and people also need to be deaf aware when they speak to a deaf person." – Carla Rose-Hardman 
Whether adults or children, it's worth keeping the disabled communities in mind. Sunflower lanyards are being used to make people more aware of a person's disabilities and people are now turning to clear visors and masks to make themselves more accessible.
Let's not leave communities, such as the deaf and hearing-impaired suffering. Awareness and patience are all that's needed. 
Words: Jessica Noble | Subbing: Kristina Hristova