Beauty hacks. They come and go.
We've had everything under the sun from curling hair with plastic straws, weird eyebrow trends and a heck of a lot of unconventional nail art. 
You name it someone has tried it. But as the gimmicks die out, and the obsession of the newest makeup product slowly decreases, it seems this years focus is on skincare. 
As Yelp celebrate 15 years, they backtrack to 2004, and look at all the trends that have come and gone, year by year. Keratin treatment which peaked in 2001 have declined since, along with the Brazilian wax and lash extensions.
Facials are so in right now according to Yelp's report on the biggest beauty trend of 2019. The award goes to hydrafacials, the treatment currently taking the beauty industry by storm and being raved about by a number of celebrities and beauty bloggers.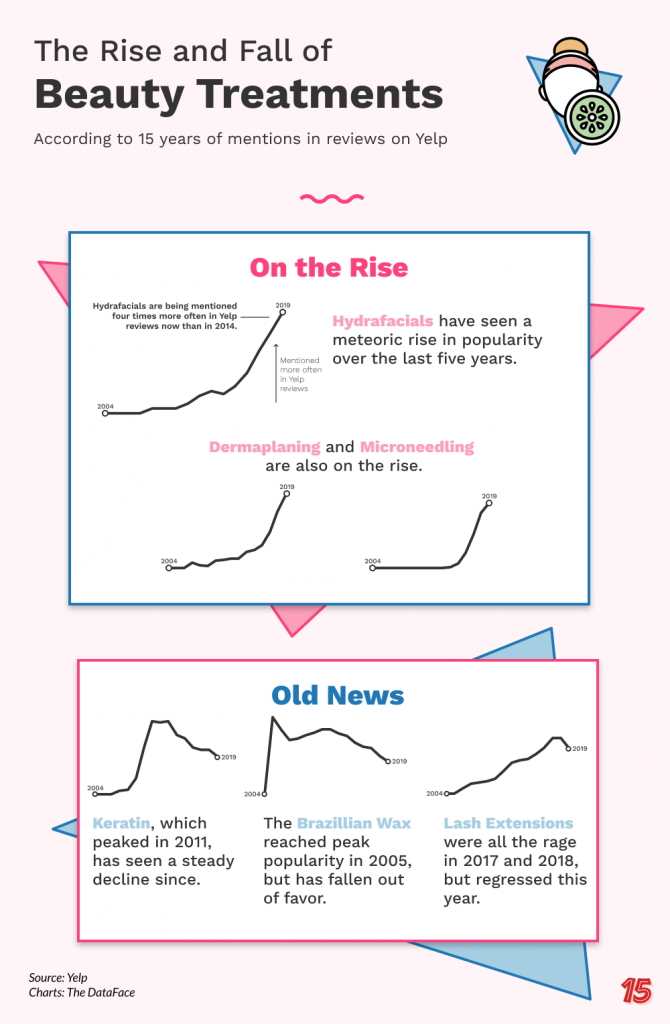 But what exactly is a hydrafacial you might wonder? The term shortened from a hydradermabrasion basically does it all. 
It uses technology which removes impurities and dead skin cells all whilst hydrating the skin. Some of the benefits include smoother skin, shrinking pores and increase of blood flow leaving the skin looking plumed and healthy.
Following a six step process which detoxes, hydrates and brightens it's supposed to leave you with glowing skin after just one session. 
The six steps of HydraFacial (according to sk:n)
Step 1 – Detox
A specially formulated lymphatic drainage technique helps increase circulation, eliminating toxins.
Step 2 – Cleansing & Exfoliation
Dead skin cells and impurities are gently lifted for a deep-cleaning result.
Step 3 – Brightening Agent
A gentle glycolic and salicylic solution helps loosen debris from your pores, brightening your skin.
Step 4 – Extraction
Blackheads and impurities in congested areas are extracted using honey extract and salicylic acid.
Step 5 – Hydration
A combination of hyaluronic acid, antioxidants and peptides replenish, plump up and hydrate your skin.
Step 6 – Rejuvenation
LED light is used to stimulate collagen and also reduces redness, leaving your skin glowing.
Someone had to play the guinea pig and test it out for those of you who are still curious, and I saved you guys the hassle.
The price varies depending on the location, length of time and the professional. I paid £80 yet the price can go up to £150.
Honestly, I can understand the hype around it! I left feeling relaxed and unsurprisingly, hydrated. For most facials, only after a course of treatments you start seeing any noticeable changes but there was a visible glow once I was done. The session lasted one hour, but there are 30 minute sessions if you're looking for a quick hydration fix.
If you're a facial virgin like myself, it's the perfect first time facial. No pain whatsoever, the deep cleanse prepares your skin for your at home routine. 
The perfect match for those with fairly dry skin, it might be just what you're looking for. It's a simply refreshing and relaxing process, and has a little bit of everything combined. The facial can be customised with add ons depending on your skin type.
Tara Lewis, Yelp trend expert says "At Yelp, we're seeing that people are going for beauty treatments that are reflective of a more natural look—ditching the fake tans and permanent makeup."
Below is a list of Yelp's popular beauty trends from recent years:
2017 – Lash Extension
2017 – Eyebrow Dye / Tint
2017 – Chemical Peel
2017 – Tattoo Removal
2018 – Sugaring
2018 – Teeth Whitening
2019 – Dermaplaning
2019 – Coolsculpting
2019 – Laser Facial
2019 – Fillers
2019 – Emsculpt
2019 – Hydrafacial
2019 – Ultherapy
2019 – Kybella
2019 – Collagen
2019 – Nail Art
2019 – Vaginal Steaming
2019 – Lash Lift
2019 – Microneedling
Now we're only left to wonder what will be the big beauty trend of 2020 that we'll all be sucked into..
Information sourced from:
https://blog.yelp.com/2019/09/yelp-celebrates-15-years
https://www.sknclinics.co.uk/treatments-and-pricing/hydrafacial
https://blog.yelp.com/2019/09/yelp-celebrates-15-years 
Photo by alan caishan on Unsplash 
Words by Amara Chan