Fitness, fitness and again fitness is just a word, but the meaning of it is huge. Everyone perceives it in their own way and understanding. In order to look good by exercising, doing it by yourself sometimes isn't enough, that's why getting a personal trainer is a good idea. 
Mossab, a young man, having a degree in Finance and Management at the University of Westminster decided to follow his dream to become a personal fitness trainer.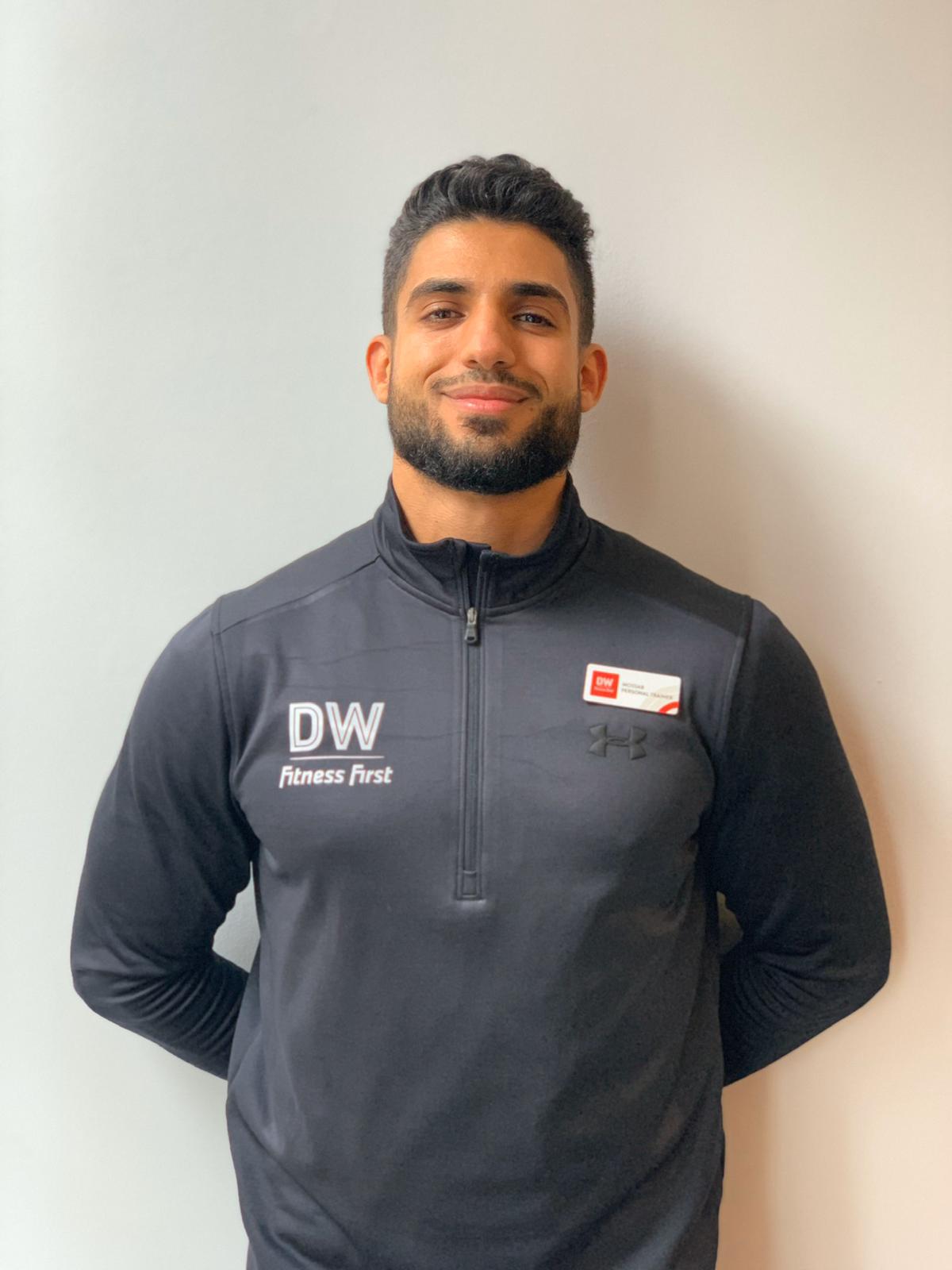 Tell us more about yourself? What is your job about?
My name is Mossab, and I am a personal trainer based in Baker Street. I was down for many jobs like marketing, finance and sales. It is very different from what I am doing now. I realised that I couldn't sell because it is something that I never had a passion about and the most important thing in every career is the zeal. 
This was the only thought when I decided to go into my fitness career because this is what I was always interested in. I played volleyball as well as basketball. Meantime I was training my friends and they advised me that if this is what I like I should just go and help others. It never crossed my mind about doing this until last year and I thought yes, why not if this is what I really want to do.

When thinking about this career what were the most important points in deciding to make the decision?
As I said before, it's the passion, which I really had and wanted to push forward. Also doing something what I love for a living, trying to be the best personal trainer so I can give people what they ask and looking for and making sure that I am comfortable with my job, that I am happy to go on with it for the rest of my life.

Have you taken part in any events or are going to take place in any?
A lot of people asked me about bodybuilding and I am doing a competition, but in terms of the events, I am not really planning to do any. For myself, I am looking to run a marathon and potentially the next London marathon. I am not saying that is confirmed yet, but I am trying to get a connection with someone to get a place. If this is not going to be confirmed then I will do a half marathon, but I am looking into doing a marathon anyway as my next fitness target.
https://www.instagram.com/p/B03Sb48FyGs/?utm_source=ig_web_copy_link
As a personal trainer, what are the 3 most important pieces of advice you could give to those who have just decided to get into fitness world?
Number 1 is all about personality, it doesn't necessarily mean that you need to give the best once you have just started, it's done step by step and you need to make sure that the energy you bring down is suitable for yourself in order to enjoy the process and being a charming person. 
Secondly, the energy involved in the process, being able to show to people how to train correctly as well as explaining effectively, giving them the value, they want and to reach the results they are looking for while training with me. 
The third one is about sorting out how it will work. The fitness process is a commitment, and people should understand that they would be doing different hours to different jobs. Sometimes I am in a gym from 6 a.m. to 10 p.m. It is important at the beginning when you start building your business, the people should realise that it will take longer in order to reach the target. My job is to motivate them and to be supportive as well as being there when they need me.

Do you have an influencer or someone you take example from?
Yes, my dad is my influencer, both of them, my mother and father. They both work very hard and this is an example for me which I am trying to follow. I do have other fitness trainers who motivate me, we are trying to push each other in the gym and from this I take good knowledge and advice from them.

What is the most common goal and target people ask you to reach when they come to your sessions?  
In the first place is all about fat loss and muscles, but it depends. Some of them just want to improve their appearance and ask me to help with this.

What is the first thing you pay attention to when starting to train individually?
Before I start training, in order to avoid any injuries I check the mobility and the fitness level depending on the movements I ask them to do. When they are doing the exercises, I pay attention if it's efficient enough as well as checking the results later. 
https://www.instagram.com/p/B0OanLilSJR/?utm_source=ig_web_copy_link
When it's time to encourage people what you do or say?
Sometimes, I just count reps, and this is enough for them on a psychological level. In addition, I find the right words and support the person. I encourage them not to give up but to follow their path and dream.
The quote I live by is, "A life journey through fitness".
What are the most common questions people ask you when you start working with them?
First thing they do is just look at their belly and ask when it will be gone and how much time is needed.

What is the first rule or thought you are trying to convey to a person?
First, I tell them that it all comes from a mindset and that hours, weeks and months are needed in order to become better and better as the time passes. Also, try not to skip classes, even if you feel you don't want to come just do some exercises at home or come once a week and do the real job there.
https://www.instagram.com/p/Bz7v4q4lZHk/?utm_source=ig_web_copy_link
The Christmas preparations are about to start soon. In this period most of us forget about diet or fitness. What do you advise in order to not put so much weight on during this period?
I don't really recommend strict diets because it's really hard to follow. To my clients I am always saying that if you really want to eat chocolate then eat it. If you don't give to the body what it is asking for, you are going to do worse and put weight on rather than loose it. The only recommendation is to look at the percentage of calories you are eating per day and try not to go beyond them.
https://www.instagram.com/p/B1zRKFtFsDe/?utm_source=ig_web_copy_link
Is there something special that you love and value within your work?
Yes, I have two answers for that. First, seeing the change of people and how they start feeling good about themselves. Secondly, I just love and enjoy looking at them and see how their body changes, as well as mind, and knowing that I have helped them. This gives me a sense to feel good. I love and value both training and helping people.
https://www.instagram.com/p/BzOkF4Al60l/?utm_source=ig_web_copy_link
Are there any comments or questions you would like to add?
Everyone has different goals and we are not all the same, however if you maintain a healthy lifestyle you will see that the quality of your life is improving every day.
In order to maintain a healthy lifestyle, you need motivation, passion and to believe in yourself more than anyone else could; once you change your mind everything impossible becomes possible.
Words: Xenia Puiu
Photos: Xenia Puiu, Mossab