Kylie Jenner has  done it once again! She will be releasing another edition to her fast growing makeup collection. This is the first time she has released 'Holiday edition' makeup for the Christmas period. It will be released on Monday 21st of November 1pm pst time.
Reporter: Kat L'Aiguille | Sub-editor: Zynab Sandhu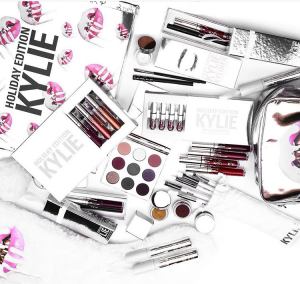 Kylie's Snapchat revealed these images of her famous lip kits, more glosses, Kyshadows, Kreme Shadows, Kyliner and more…
This was the first image shown before the products were revealed.The stocking is up for purchase  and the makeup bag is also a new edition.
This is 'Naughty' Gloss with a swatch underneath.
The colour of the arm  swatches are 'Merry' and 'Vixen' which are the glosses shown in the picture above. Kylie states on Snapchat that these glosses are a different formula and more pigmented. As you can see the glosses are more 'rich in colour'.
Mini glosses; left to right, Cupid, Angel, Blitzen, Noel
These are exclusive Kyshadow palettes. The packaging contains a mirror inside which her other palettes do not have.
These are a couple of colours from the palette. Far left Sugar Cookie, Middle, Frosty and far right Chestnut
Kylie has also released Kreme shadows, the picture above is showing, far left Yellow Gold, Middle, Golden Plum and far right Camo.