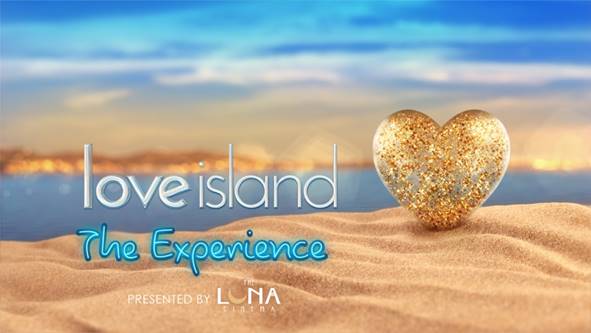 ITV and The Luna Cinema, the UK's leading open-air cinema company, today announce a partnership to present a brand-new event, Love Island The Experience, set to run on Brighton Beach and in Liverpool this summer.
Love Island The Experience will be delivered by The Luna Cinema, and will take place from 19th July for eleven nights at Madeira Drive on Brighton Beach and from 23rd July for seven nights at Chavasse Park, Liverpool One.  Both sites will be transformed into a fully Love Island branded event space, dressed to mirror the villa setting in the show, and boasting the UK's highest definition outdoor LED screens to show a live episode every night.
Audiences at Love Island The Experience can look forward to the ultimate environment for fans to immerse themselves in the massively popular ITV2 show, which centres around a group of contestants – or 'Islanders' – looking for love whilst living in isolation in a villa in Mallorca.  At the event, guests can experience unique sharable photo opportunities in the most iconic settings from the show, such as the fire pit, bedroom, and the Beach Hut diary room. There will be a walk of fame where audience members can pose with their favourite Islanders, as well as a giant version of the ubiquitous Love Island water bottle. Fantastic food will be on offer, as well as a themed Love Island cocktail bar. The event will boast exclusive guest appearances from departing Islanders and each live episode will be followed by an after-party with a specially curated playlist.
Following Love Island The Experience, the site on Brighton Beach will be transformed into the Luna Beach Cinema for a run of outdoor cinema screenings on the beach until 18th August.
James Penfold, Controller of Partnerships at ITV said "Love Island continues to grow in popularity year on year and we're delighted to be working with The Luna Cinema to create a brand-new event for fans this summer. Love Island The Experience will offer audiences the chance to engage with the show in a whole new way, with sharable photo backdrops, guest appearances and of course live screenings on a giant screen, all coming to two fantastic locations in Brighton and Liverpool."
George Wood, founder of The Luna Cinema, said: "We are thrilled to be working with ITV to bring Love Island The Experience to Brighton and Liverpool this summer. Love Island has amassed an enormous cult following in recent years, and so we feel makes the perfect subject for a live event experience, where fans of the show can gather to not only enjoy the live episodes surrounded by like-minded people, but also get unique photo ops,  sharable moments and really immerse themselves in the world of the villa. We cannot wait to bring this world to life and to bring a slice of Mallorca to two fantastic locations – in the heart of Liverpool city centre and against the iconic backdrop of Brighton Pier!"
BRIGHTON BEACH
https://loveislandtheexperience.seetickets.com/venue/brighton-beach/3163
Off Peak Ticketing (excl. Fridays and Saturdays)
General Admission:
Price:  £14.50  inc booking fees
Premium Admission (includes use of a luxury deckchair in prime position in the arena, Love Island Premium lanyard, priority access to queued photo ops):
Price: £24.50  inc booking fees
VIP Beach Hut Admission (allows four people access to the beach hut and includes a fridge of drinks and butler service, as well as luxury seating on your own veranda)
Price £150.00 inc booking fees
Peak Ticketing (Fridays and Saturdays)
General Admission:
Price:  £19.50  inc booking fees
Premium Admission (includes use of a luxury deckchair in prime position in the arena, Love Island Premium lanyard, priority access to queued photo ops):
Price: £29.50  inc booking fees
VIP Beach Hut Admission (allows four people access to the hut and includes a fridge of drinks and butler service, as well as luxury seating on your own veranda)
Price £175.00   inc booking fees
LIVERPOOL ONE
https://loveislandtheexperience.seetickets.com/venue/chavasse-park-at-liverpool-one/18374
Off Peak Ticketing (excl. Fridays and Saturdays)
General Admission:
Price: £14.50  inc booking fees
Peak Ticketing (Fridays and Saturdays)
General Admission:
Price:   £19.50   inc booking fees