God of War wins Game of the Year over expected winner Red Dead Redemption 2, but are the fans happy with the reboots victory?
This year has seen many long-awaited games finally being released, from the next generation, standalone Spider-Man game to the hugely hyped and awaited Rockstar prequel Red Dead Redemption 2.
So many anticipated and great games were celebrated yesterday in Los Angeles at The Game Awards.
One of the most talked about, streaming and memed games of the year, Fortnite, got two awards for Best Multiplayer Game and Best Ongoing Game.
Red Dead Redemption 2 did get three awards. One for its Score, another for its audio design and a final award for its narrative.
However, the game that won the big award of the night, was God of War, created by Sony's Santa Monica Studio.
God of War at its release date was the fastest selling PlayStation 4 exclusive, selling an incredible 3.1 million units in just three days. Just to give you an idea of how impressive this is, PlayStation 3's The Last of Us, arguably one of the consoles biggest exclusives sold 3.4 million units, but in three weeks, not three days.
Other big games, that were up against God of War was another PlayStation exclusive Spider-Man and Rockstar games giant 2018 release, Red Dead Redemption 2. Spider-Man, released on 7th September, has done well both critically and creditably, overtaking God of War as the fastest selling PlayStation 4 exclusive, Spider-Man sold 3.3 million copies in is first three days.
Similarly, Red Dead Redemption 2 broke many records, selling 17 million copies in just under two weeks, which is astonishing. With this game selling so many copies and being raved about by fans and critics alike, it was a massive shock to many that the Western prequel did not take the big price in LA last night.
However, many fans are showing their love and appreciation to God of War and praising it for taking the biggest gaming price of the year.
One fan thought that God of War "isn't just the best game of 2018" but it's also "one of the most defining creations of this decade."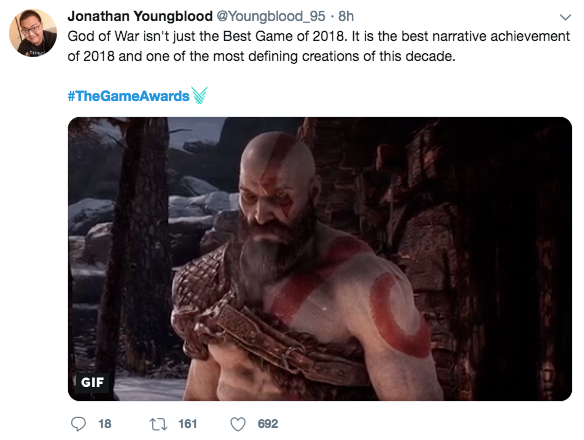 Another fan was happy with God of War being crowned game of the year, calling it "a huge step forward for the series".

Youtube gamer Sp00nerism, also gave God of War all the love.

However, some fans did back Red Dead Redemption 2, saying that God of War won because RDR2 was not game of the year but "game of the generation".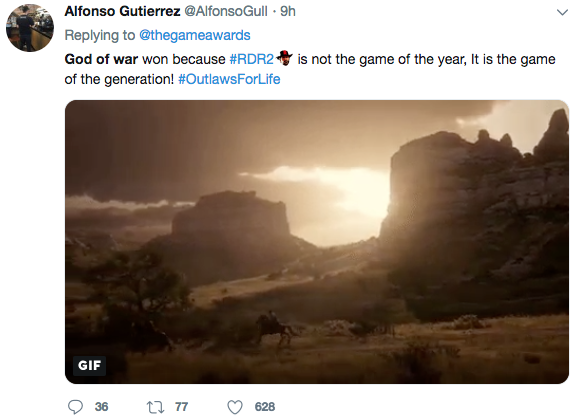 However, these comments have fallen on the deaf ears of many God of War fanatics, who couldn't help but joke about the so sure Red Dead fans.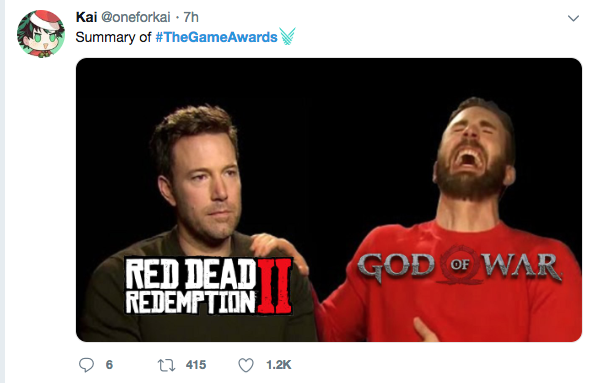 Words: Jake Woods | Subbing: Matilde Moro