Six-time ATP Tour Finals winner Roger Federer beat Kevin Anderson to reach the ATP Tour Finals semi-finals for the 15th time.
Federer's 6-4, 6-3 win placed him top of his group, which boosted his chances of avoiding Novak Djokovic in the semi-finals.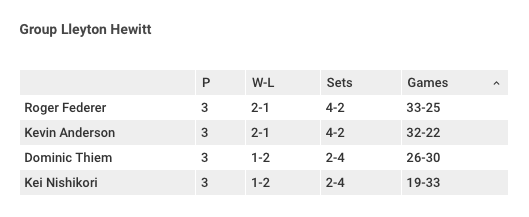 After losing his first match against Kei Nishikori, Federer managed to snatch two consecutive wins against Dominic Thiem on Saturday and Kevin Anderson yesterday at the O2 Arena, London.
Roger #Federer, 37 years old. #ATPFinals (GIF @tennistv) pic.twitter.com/Wq5ucCcWuW

— We Are Tennis (@WeAreTennis) November 14, 2018
World number eight, Kevin Anderson also qualifies for the semi-finals after winning his first two group matches against Nishikori and Thiem. They will find out their opponents following the conclusion of the second group on Friday evening.
In a post-match press conference, Federer said that losing his first match gave him the confidence to win his next two. "With my back against the wall, maybe it's easier for me to play," said the six-time champion. "I love playing in London and I had to remind myself what a privilege it is. I hope I showed it."
However ahead of this season's semifinals and final, there has been ample discussion about possibly moving the next ATP finals away from London. While Federer has said he would be keen on the end-of-season showdown staying at the O2 Arena, ATP bosses have opened up the prospect of moving away from the capital.
Words: Kristiyan Stefanov | Subbing: Matthew Smith