NB This post may contain images and videos that are inappropriate for some audience. Please make sure you understand it before proceeding.
Three different adaptations of Junji Ito's manga will debut in 2023: Junji Ito Maniac: Japanese Tales of the Macabre from Netflix, Uzumaki from Adult Swim and Bloody Smart from Taiwan, China.
You may not be a horror fan, but odds are you've seen his art on the internet. Japanese horror manga artist Junji Ito, who has an incredible imagination, brings Lovecraftian horror to a much wider audience. His early education, in anatomy in medical school, has given him the skill to portray his creativity.
Since Junji Ito Collection (2018), there has been a silent period regarding adaptations of Ito's manga works. Although, the three new episodes, coming in 2023, are due to make up for it.
Whether you're already an avid fan of Ito or an onlooker curious about the world of this talented manga artist, it's a time not to be missed.
Kick off the new year with a creepy Netflix series
The Netflix series Junji Ito Maniac: Japanese Tales of the Macabre will be streaming on Netflix exclusively from 19 January 2023.
According to Netflix, the anime series features a selection of 20 horror masterpieces filled with Ito's original worldview and fascinating characters drawn in his stunning style, including highly popular characters Tomie and Souichi. This will immerse viewers in Ito's maniacal charm.
Just today, Netflix dropped another brand-new clip revealing more about Tomie.
"His short stories are mostly narratives with a suspenseful structure, depicting anomalies in everyday events." Yu Taniguchi, 24, has been a loyal reader of Ito since she was a child.
"He treats the human body as mechanical parts, combining them with something messy and yet in the process conforming to a certain human logic. Thus he creates a kind of uncanny valley effect that makes you recoil and fear while at the same time you can't help but look forward to it." Taniguchi said. "I wonder if the series will bring back the excitement of my childhood nightmares."
What adaptation style is appropriate?
While Ito's fame has generated much anticipation for Netflix, the trailer has caused some fans to question the quality of the series, due to the pop colours and music – that don't quite fit with the manga's creepy atmosphere.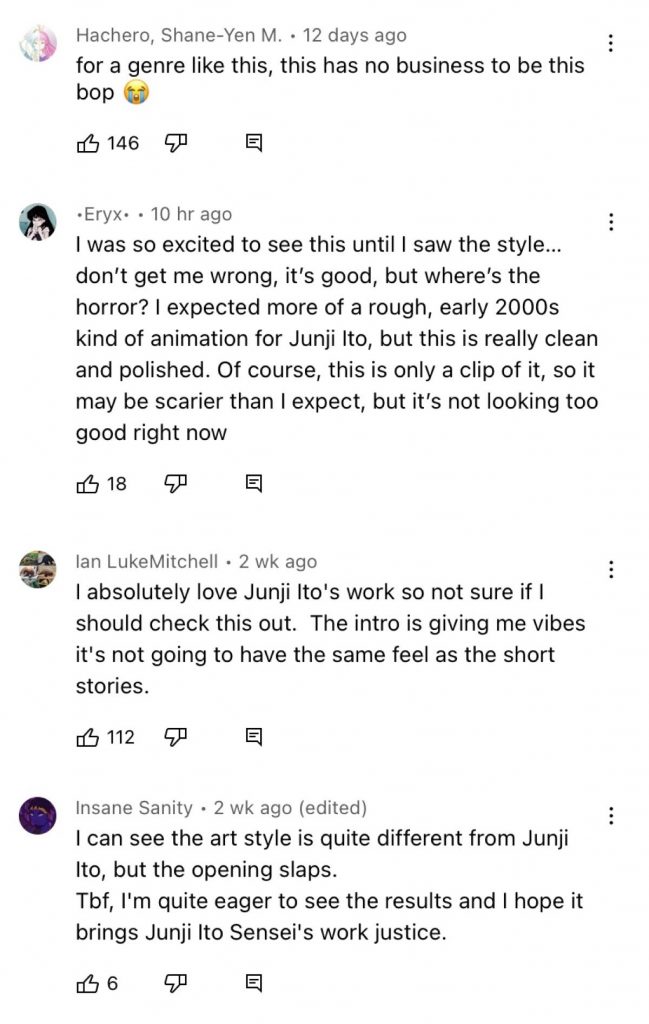 In contrast to it, Uzumaki, adapted by Adult Swim, continues the meticulous black-and-white manga style of Ito.
Uzumaki story takes place in a cursed town. There is a bizarre giant spiral there and all the weird incidents are caused by it. Faced with a series of supernatural events, the town's order is about to spiral out of control. You can enjoy Ito's imagination at the highest level in the series.
The Adult Swim website says Uzumaki will be involved in the October 2023 slot. They started producing the anime in 2020, but postponed it several times due to the pandemic. Let's hope that it will be ready to go live as promised.
If you would like to watch it in a form other than anime…
The live-action series Bloody Smart, produced by Taiwan director Junyi Xie, is based on a number of Ito's short manga. The episodes have been wrapped and are in post-production, with a release planned for 2023.
The Bloody Smart team has uploaded some stills. Their high demand for character recreations and refinement of the script is noteworthy.
Wang Jiahui, styling director of Bloody Smart, said in an official clip:
"One of the more unusual parts of Ito's painting style is that there are a lot of geometric lines and shapes. We made a gauge of these elements and tried to recreate these features as much as possible."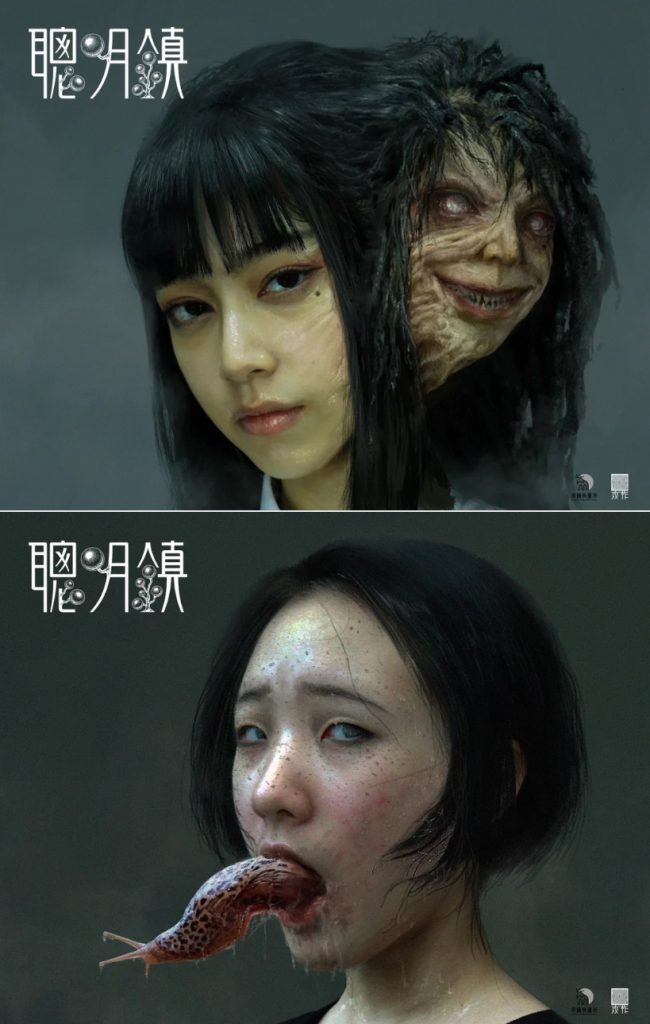 Pop style anime, fine black-and-white lines or elaborate live-action styling. Which one do you like best? Come and take part in the Twitter poll on Voice Of London UK.
If you're interested, find out more about Junji Ito's manga here.
Words: Rui Liang |Subbing: Shakira Bruce-Abubakar