A melting pot of cultures with more than 300 languages spoken and 200 different countries represented, a population of nearly nine million inhabitants, London is a city of everyone, for everyone. Or so we'd like to think. 
A recent report conducted by Equality and Human Rights Commission (EHRC) looked at the state of equality and human rights in Britain analysing multiple areas such as education, work, health and living standards.
Voice of London made a summary below with the key findings: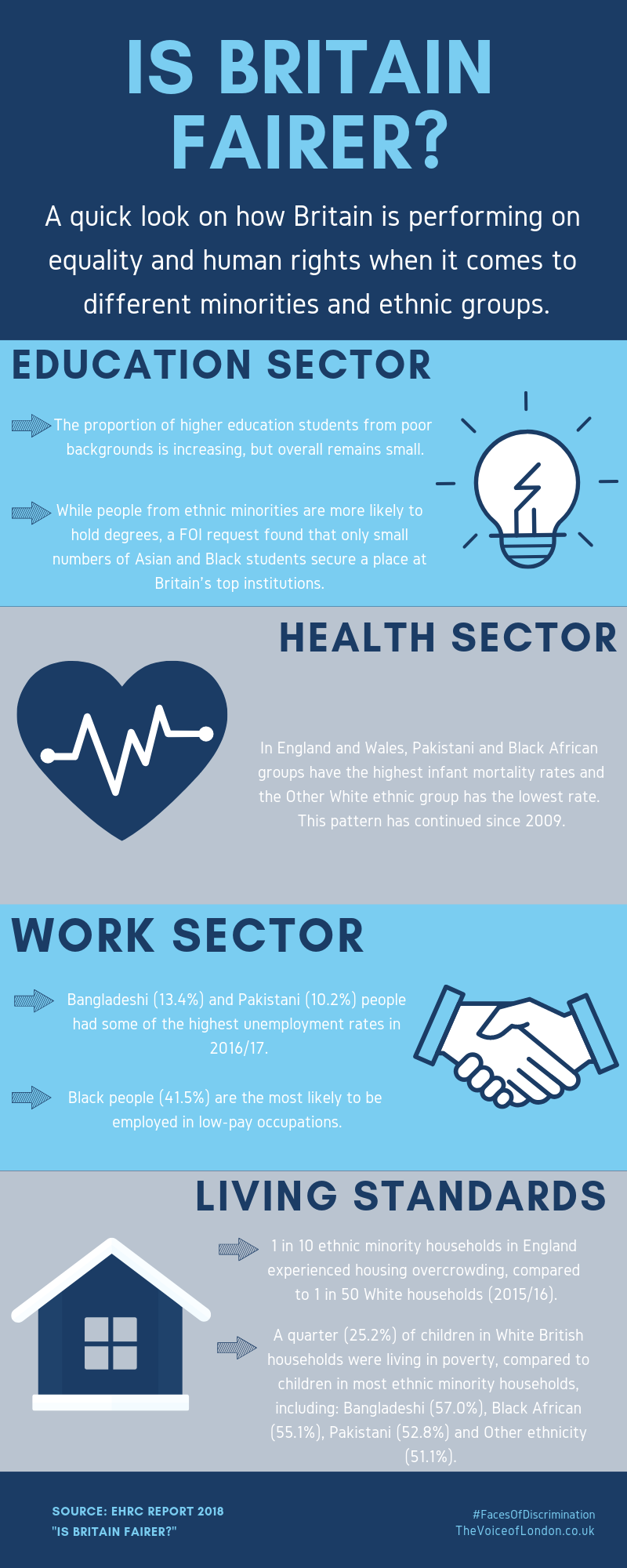 There are constant efforts of bringing racial inequality to the lowest stage possible, however, at the moment, data show a disappointing reality that Black, Asian and minority ethnic citizens across the UK have to face every day.
This is the reason why we came up with the idea of creating a new podcast, Faces of Discrimination. We tackle ongoing issues such as discrimination, harassment or bullying in an attempt to raise awareness and champion equality, diversity and inclusion.
We need to make people understand that just because discrimination is not always happening in a direct way, this doesn't mean it is less offensive.
Related post: Faces of Discrimination – Episode 1 – Gender Discrimination  
In the second episode of the series we are talking to Dr Elwina Timehin, Consultant Audiovestibular Physician at St George's Hospital in London, Jade Wolf, radio presenter at Shoreditch Radio and blogger at AnIdolMind.com and Claire Chung, journalism student at the University of Westminster.
What do they all have in common? Stories on how to cope with prejudice and bigotry, whether quotas are efficient in boosting workplace diversity and so much more.
If you've ever encountered any type of discrimination, bullying and harassment and you'd like to speak up and share your story, please get in touch at VoiceOfLondonUK@gmail.com and together we can make it happen.
[soundcloud url="https://api.soundcloud.com/tracks/530971623″ params="color=#ff5500&auto_play=false&hide_related=false&show_comments=true&show_user=true&show_reposts=false&show_teaser=true&visual=true" width="100%" height="300″ iframe="true" /]
Words, audio and infographic by Teodora Agarici | Subbing by Maria Campuzano
Photo credit: Firentis on Pixabay