"I don't know what real skin looks like anymore" Chrissy Teigen spoke for a nation when she tweeted in response to the rise of face editing app Facetune. "People of social media: IT'S FACETUNE, you're beautiful don't compare yourself to others ok" she continued.  
When The British Association of Aesthetic Plastic Surgeons (BAAPS) revealed the results of their 2017 audit, they made the claim that facial surgeries are falling in response to editing apps.
They're not wrong, editing app giant Facetune has been downloaded over 20 million times according to The Guardian. Since social media has become the norm, people are wanting to look the best that they possibly can online, and apps such as Facetune and Perfect 365 allow this to happen. With the chance to shrink your face, edit your jawline, shrink your nose and grow your lips these apps can have you looking like a Kardashian sister in a matter of seconds.
Almost everyone is editing their pictures whether they're admitting it or not, recently Cosmopolitan reported that Kim Kardashian has even been accused of facetuning her 5-year-old daughter, North (something sources close to Kim strongly deny). When girls are exposed to the 'perfect' image from such a young age, is it really a surprise that they turn to these apps to help them achieve the unachievable levels of perfection craved by society?
We spoke to a student, who wishes to stay anonymous, and she had this to say about feeling pressured by society into editing her pictures: "It's not something I like to admit, but I always use Facetune to make my skin clearer in pictures. I always try to put pictures up without using it but I literally just don't have the confidence to do so! It's such a shame because so many people do this and don't need to at all, just all trying to keep up with a certain image and I'm so guilty of it."
We also spoke to another woman who wished to stay anonymous and she said this: "I'd never used Facetune before and thought it would be funny to mess around with my face and see how different I would look with a smaller nose (I hate my nose). I ended up spending about an hour editing different photos – making my nose smaller, my body thinner and generally just giving my whole face a more structured look. I looked in the mirror afterward and was really disappointed in the way I looked. I deleted the app and have never edited a picture like that again. It was shit for my self-esteem and made me hate my nose even more! It's hard to love yourself in a society where everyone edits to the point of 'perfection'."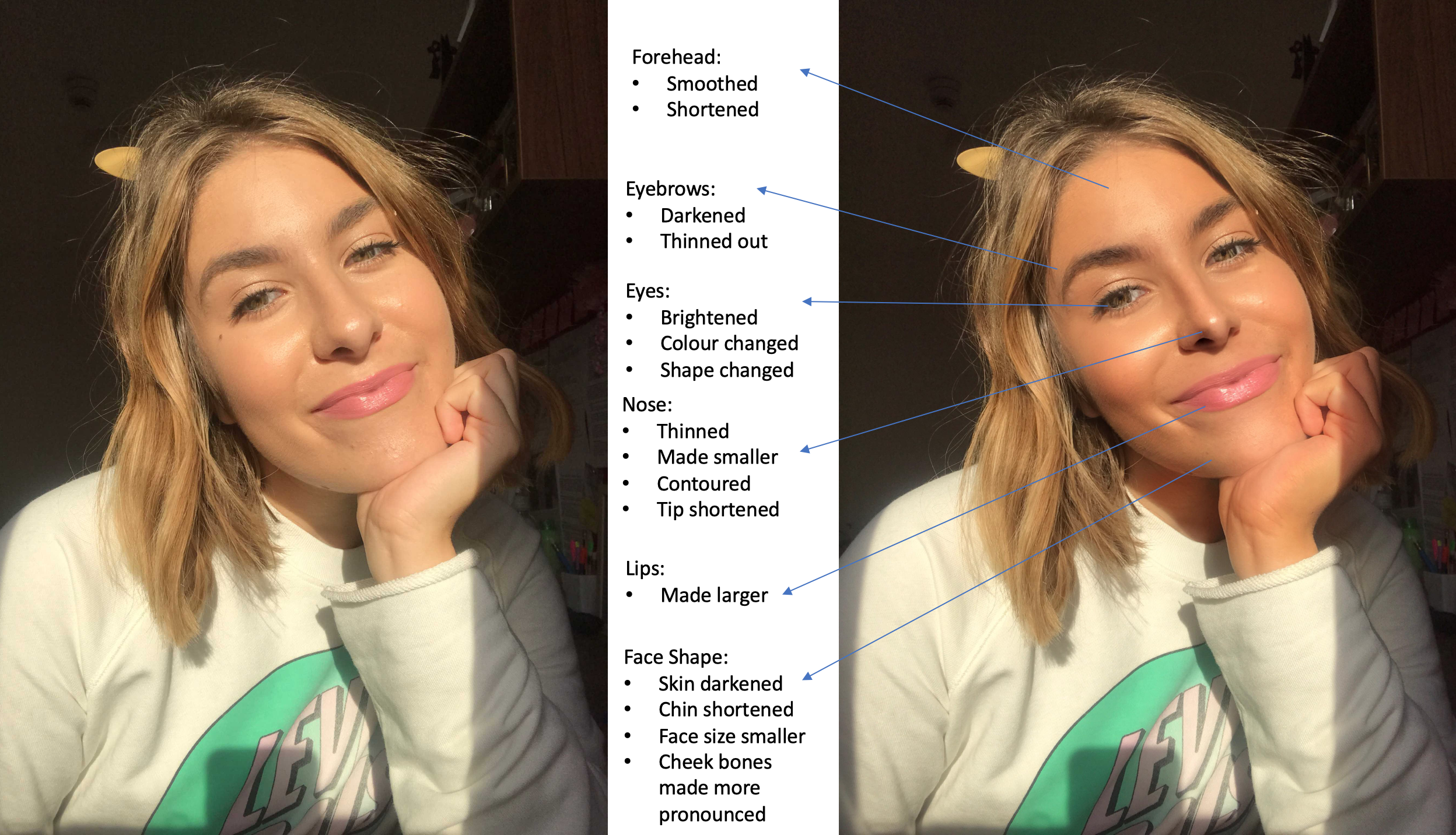 Photo edited using Facetune 2
It's not just women who are obsessing over the way that they look either. The increase in men facetuning their pictures is becoming a serious problem, especially through online dating which can result in the dangerous practice of 'catfishing'.
The Voice of London spoke to Ollie Pearce, a male fashion model who runs his own male lifestyle company, who said this: "I'm a high fashion male model I run my own company which specialises  in helping men with their fashion and dating lives and, in particular, their online dating profiles. Because my modelling line of work I've learned how to take good quality pictures which attract attention."
Ollie admits that many of the men he works with use face editing apps to enhance their pictures: "Many of my clients have relied on apps like Facetune in the past which  can help initially to get matches but when they meet their date they  look completely different! It's misleading and unethical in my opinion. It's much better to hire a professional photographer who knows how to position you, make good use of light and teach you how to pose."
"Facetune is encouraging people to portray themselves as someone who they aren't. Faking it essentially. My philosophy is to present the best version of your true self."
Words & Video: Ruby Naldrett | Subbing: Katherine Cenaj
Related posts: