Extinction Rebellion are painting London with red handprints to mark their final day of protests in their October International Rebellion. Groups will be joining forces from noon in the capital with plans to march through major points in the city.
The Red-Handed Rebellion begins at Whitehall Gardens with the march heading towards Westminster. Along the way, protesters plan to stop off at six government departments and deliver specific demands to each one. These demands were decided by a series of Citizens' Assemblies during Extinction Rebellion's Autumn Uprising. 
Extinction Rebellion to stage 'red handed' protest in central London. https://t.co/FD7WsoCQKt pic.twitter.com/Ix89mBI1gC

— ITV London (@itvlondon) October 18, 2019
The groups will use washable chalk spray along the march's path with the silhouette of their red handprints. The red hands symbolise taking responsibility for their actions. Through their Facebook events page the group said: "We all have blood on our hands." 
The protests are expected to end with their 'Rebellion Harvest' where speeches will be made with a reflection of the previous week's protests and the more than 3,000 arrests over the past 12 days. 
The group said in their daily newsletter about the events: "We are gathering to reflect the raw journey we have been through and to take a further step towards our vision of true reconciliation.
"We come together in humility and honesty, to share our achievements and also acknowledge what we need to learn from, and where we wish to go next." 
Watch our Facebook Live below with Ashleigh Swan interviewing protesters
https://www.facebook.com/voiceoflondonuk/videos/1011783055827172/?notif_id=1571395316749406&notif_t=live_video_explicit
Come back for updates throughout the day and stay tuned on the Voice of London Facebook and Twitter pages. 
Caught red handed
Protestors outside the Imperial War Museum on Lambeth Road continued demonstrating for Extinction Rebellion's final hurrah this month. Red hand prints were seen on the ground outside the building and protestors had their hands covered in paint.
A statement from XR said: "The silhouettes signify that we are holding our hands up high in open rebellion against the UK Government. We are accountable for our actions and are willing to be caught red handed."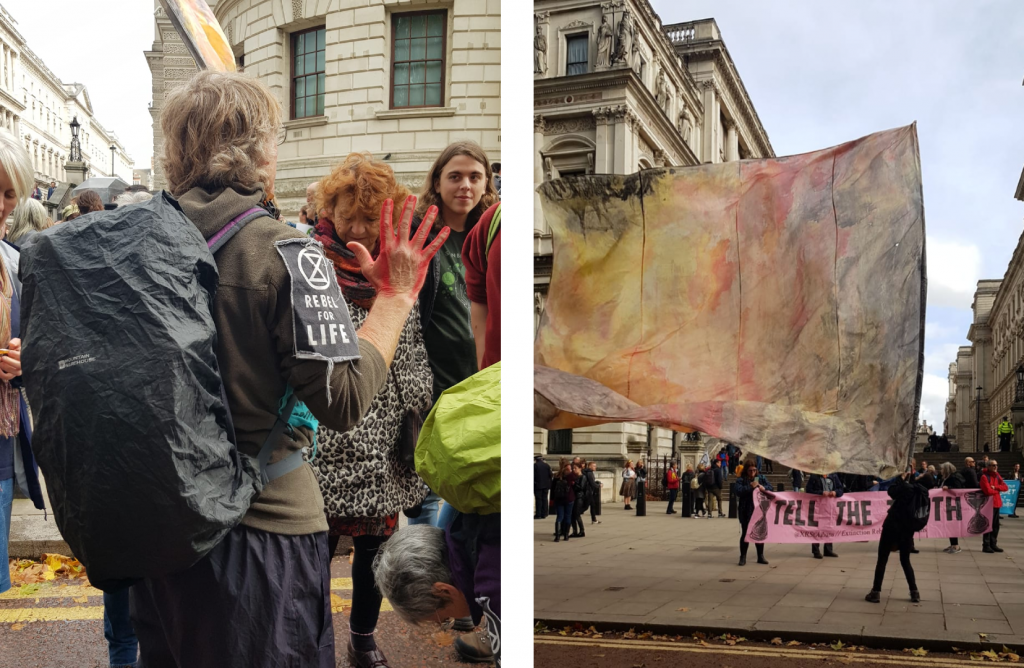 Image Credit: Hannah Wilson | Protesters gathered outside The Imperial War Muesum in central London with large flags and banners
Words: Hannah Wilson | Subbing: Michelle Del Rey | Featured image credit: Ivana Finch