Megan Jones felt strange, almost surreal. She was returning to The Lensbury, England sevens' training base in Teddington, London, for the first time since March. She made note of the two images decorating the walls depicting past victories, happier times.
Jones had not played alongside her sevens teammates since February, when they faced off against other international sides in Sydney, Australia for the then-latest leg of the World Rugby Sevens tournament. Back then, the Sevens were gearing up for an action-packed few months, highlighted by Tokyo 2020.
Fast forward to now and a very different picture transpires. Both the men's and women's sides have no further matches scheduled and no training dates in their diaries. There is just one day circled on the calendar: 23 July 2021, the opening ceremony of this summer's Olympic Games and the next time they can be sure they'll play together again.
– Exclusive: England rugby star Alex Matthews on Tokyo 2020
– Lockdown impacted everyone, but women's sport paid a higher price
The coronavirus pandemic has caused chaos and turmoil in British sport this year. But, for the most part, it was able to continue: The Premier League has limped on behind closed doors. Wimbledon and the Open Championship were cancelled, although affected players were able to play other tournaments. Normality was hard to find, but the show went on.
The Olympics has been postponed until July 2021, and Team GB has been almost entirely unaffected. From track and field to swimming, British athletes are striding on. Expect for one programme: Rugby sevens.
The Rugby Football Union (RFU), England rugby's governing body, has had to deal with alarming cuts caused in part by the pandemic. In August, it cut the budget for its men's and women's seven-a-side rugby teams. Not just a partial cut, either; the entire professional programme was axed. All Sevens staff and players were made redundant.
The two teams are now crowdfunding to help to provide funding for equipment costs, training, match practice and playing staff, as well as travel to pre-Olympic camps and competitions. They're also seeking corporate sponsorship.
WE ARE LIVE! This is our crowdfunding @PledgeSports page, if you can please donate and help us on our #RoadToTokyo .We have been overwhelmed by the support we have been shown already! #SaveOurSevens #SaveEnglandSevens #crowdfunding

— Englandrugbysevens (@Engrugby7s) September 15, 2020
https://www.instagram.com/p/CFKIeEgg4V4/?utm_source=ig_web_copy_link
Shortly after they were informed of their redundancy, players of both sides had to collect their belongings from the Lensbury.
"We went back after we were told we had to clear it out," Jones, 24, tells the Voice of London. "No one was there. It was only you because we had time slots that we had to go in. 
"We had a 20-minute time slot to go and grab our bits and then leave, maybe even say hello to whoever passed by."
Pictures decorated the walls at the sevens' training base, but for Jones, two images stood out: They show each of the sides qualifying for last summer's Games in July 2019, when but a handful of people knew what a coronavirus was, least of all predict for it to bring the country and our lives to a standstill.
"It was really strange, almost surreal. You think you're going to end up back there, but I don't think we're going to be back to Lensbury."
Seeing the images of the two sides qualifying for the Olympics stirred mixed feelings of anger and sadness in Jones. "It was just a bit like 'we've done all that, for what?' To be told you can't fulfil your dream now," she adds. "You have to wait and be put into the fate of someone else's hands."
Crowdfunding for a chance
The majority of players from both squads joined a Zoom call on 3 August to hear their fate. The players and staff had been told earlier in the summer to expect some sort of extensive budget cut. But cutting the programme altogether? That was a bit of a shock.
"We had six months build-up of not much positive news for anybody," Amy Hardy Wilson, 29, who was part of the women's Sevens side that finished fourth in Rio 2016, says. "But when the words came out and it was a reality, it was hard to process at first that suddenly we weren't going to have a job at the end of it."
The sides have raised just £16,500 of their £85,000 crowdfunding target — around 19 per cent of their goal — since their page funding page was launched on 15 September, with the hope to secure around £2 million in total.
It has not been decided how the money that is raised will be spent, but it will likely be the players themselves that have the deciding vote.
We Are Sevens #RoadToTokyo#EnglandRugbySevens#SaveOurSevens pic.twitter.com/nIGmMyZfnN

— Englandrugbysevens (@Engrugby7s) September 18, 2020
The country's rugby sevens programme is not funded by UK Sport, the organisation responsible for financially supporting Team GB's Olympic and Paralympic programmes. Rather, it is supported, mostly, by the RFU, which has been haemorrhaging money in 2020 — notably, a short-term revenue loss of £107 million as Twickenham Stadium stood dormant for months — as an already tough year on its books became that much tougher.
The vast majority of Team GB's Olympic programmes in the lead up to Tokyo 2020 have been financially unaffected by the coronavirus. UK sport's funding, which is made up of a mix of government and UK lottery income, was already set for the current Olympic cycle. The sevens sides stand as a sad and unfortunate outlier.
In Team GB, crowdfunding for an Olympic Games is rare. Only a handful of British athletes require public financial support, with those that do almost always individuals and usually in sports on the fringes of the country's mainstream.
But for two whole programmes to need to crowdfund, particularly in a sport as popular as rugby, is unprecedented. When it announced that the sevens programme had been cut, an RFU spokesperson told the Telegraph that it has reached out to UK Sport for support and had contacted World Rugby regarding the future of the World Rugby Sevens tournament.
As yet, that support has not been forthcoming.
"The whole point of putting up a page and making it public so we could voice our opinions and show the world that we do care," Jones says. "It was blase, like the Sevens aren't doing it anymore. A lot of lives were ruined and maybe that wasn't seen as much."
Wilson adds: "The biggest thing to get your head around is that they left us with absolutely nothing given that there is still an Olympics to prepare for.
"As athletes, we're still training for the Olympics in our heads. That's still our goal. We're not just going to give up on our dreams overnight."
Looking elsewhere
Make no mistake about it: Both Team GB sides have a chance of winning a medal in Tokyo next summer. But you would be forgiven for thinking those chances now seem slimmer.
Rio 2016 had been a mixed bag. The men's side won silver, losing the gold-medal match 43-7 against Fiji. The women's team topped their pool stage with ease — they scored 93 points in three games and conceded just three — but came unstuck in the knockout rounds.
A defeat in the semi-final match to New Zealand was followed by a devastating 33-10 loss to Canada in the bronze-medal match, leaving them in fourth place without any silverware.
Wilson watches all of her games back. But she is yet to replay the loss to Canada — "I wouldn't run away from it if someone put it on in front of me," she says — but it's like other game. Tough memories.
All of that nearly success has left the squads wanting more, namely the precious gold medals that have eluded them.
Both the men's and women's sides followed Rio by winning bronze at the 2018 Commonwealth Games in Australia. The carrot of success in Japan seemed increasingly has always seemed well within their reach.
On our @PledgeSports page we have some amazing opportunities available for those willing to donate generously… pic.twitter.com/Vg3EDn8DOL

— Englandrugbysevens (@Engrugby7s) September 19, 2020
But focus on Tokyo 2020 has had to be put to one side. All but four members of the men's side have fallen out of professional rugby, unable to find a side to take them on. Alex Davis has taken up a part-time gardening gig. Phil Burgess has assumed a role as director of rugby at Cranleigh School in Surrey. Will Edwards is a chemistry teacher and tutor. Dan Bibby has become a stay-at-home dad. That list goes on.
The women's side has had more luck, in a way. English women's club rugby is yet to be professionalised, meaning that the players have been able to pick up contracts at Tyrrells Premier 15s sides, but have also had to find other ways of making money: Wilson has been transforming the living room of her London flat into a studio four times-a-week as a virtual fitness instructor on top of playing for London Wasps.
Jones has begun offering one-on-one rugby sessions while her partner, Celia Quansah, who is also an England sevens star, has been training to be a personal trainer alongside giving disability support. Both Jones and Quansah play for Wasps, too.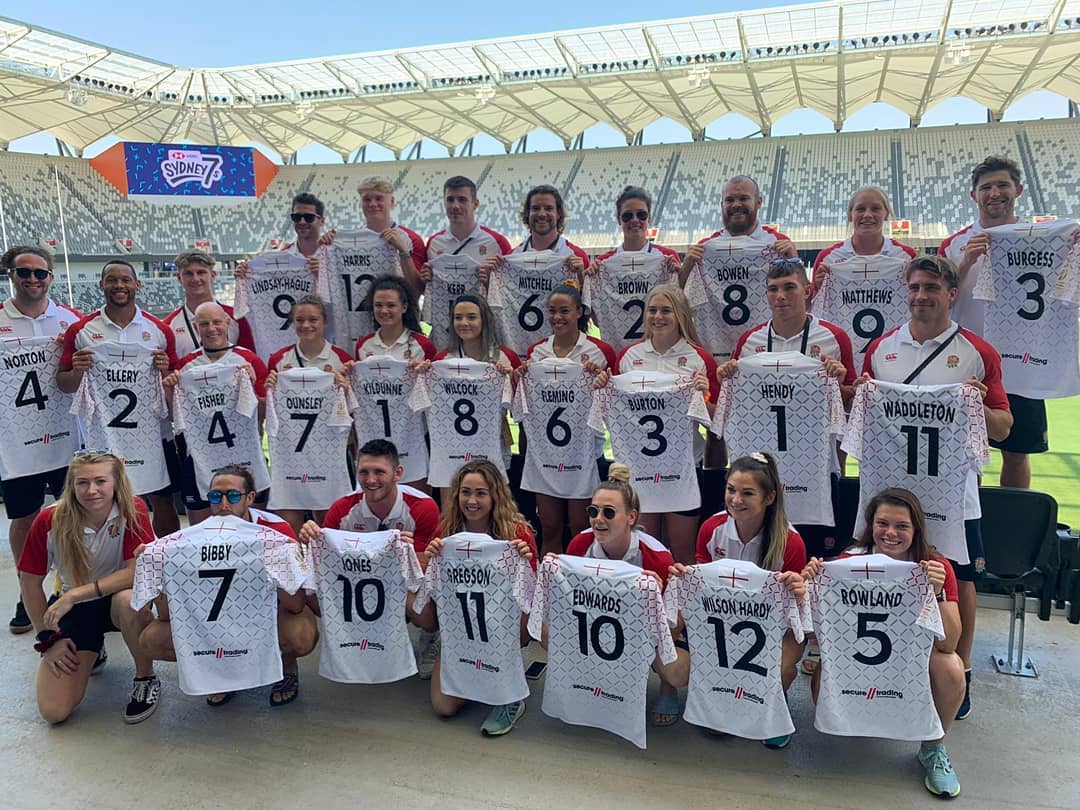 Four of the women's side, including Jones and Alex Matthews, have since represented England's XVs rugby union team the Red Roses, who are now the No.1-ranked side in the world.
"You have a lot of downtime when you're an athlete, but now we have to make ends meet, mortgages to pay," Wilson says. "A lot of the boys have families. They have to make sure they're all looked after.
"It's a hard time because as much as I'd like us to put all our focus into getting back on the circuit and getting our funding situation going, we do have to realise we have to earn some money."
While Team GB's sevens side have been crowdfunding for their programme, many of their Olympic rivals have been training as a team, their budgets unaffected.
'Gratitude and fire'
Team GB will send both sevens sides to Tokyo, despite the funding cut to the programme. That much is certain. How they will look, and what players will be present is unclear — Scottish and Welsh players are added to the final Olympic rosters.
The obstacles in the way of the British rugby players trying to reach gold will be the greatest test of their careers. When they reach Japan's capital, the opportunity will be that much sweeter.
"It's going to be a lot of gratitude — and fire," Jones says. "Fire in people's bellies. 'I'm going to prove you wrong.'
"We're probably going to be underdogs because we're not going to have much time to train, not that many countries will. But for us, it is going to be a lot more difficult because a lot of countries have had their backing from their governing body. So I think it's going to be a big chance we can show the world what we're about if we medal.
"I think there is going to be a lot of fire in people's bellies to prove a point. You can't coach that. That's pure feeling. That adversity can override a lot of things if controlled properly."
When Tokyo 2021 finally gets underway, after pandemic postponement, budget cuts and a severe amount of logistical planning, every athlete competing will surely feel a unique sense of appreciation for where they are.
But for Team GB's rugby sevens, that feeling will be magnified.  They will remember cleaning out their lockers. They will be all too aware of the mental toughness that was required for them to stand where they are. And both sides, brought closer together in ways they could not have expected, will be striving to show the value of their work.
The two images on the wall of The Lensbury training complex do not show the end of their Olympic journey. They showed the beginning.
Words: Connor O'Halloran | Subbing: Arwa Nadeem