Sadiq Khan wants to implement bottle refill stations across the capital to tackle plastic waste. We looked into how much plastic is in fact wasted each year and what difference the new refill-your-bottle-options could make.
Mayor Sadiq Khan wants to roll out a new network of water fountains and bottle-refill stations across London to reduce the number of wasted single-use plastic bottles and cups in the capital, the Guardian reported yesterday.
On Twitter, the news was gladly received.
One million plastic bottles are bought worldwide every minute. To help tackle the issues of plastic waste London's mayor @SadiqKhan is looking to roll out a network of water fountains and bottle-refill stations across the city https://t.co/Zj3WwMe8zy

— JLLUK Sustainability (@JLLupstream) December 4, 2017
The plan of placing refill stations in parks and other public spaces, such as town centres and shopping malls, is an effort to work towards the Mayor's campaign pledge to increase recycling in London to 65% of the total waste produced by 2030.
Currently, only around 32% of households in London recycle, which compares rather miserably to the national average of 44.3%, the latest report by the Department for Environment Food & Rural Affairs shows.
The same report also shows how much of the overall 202.8 million tonnes of materials wasted in 2014 was plastic.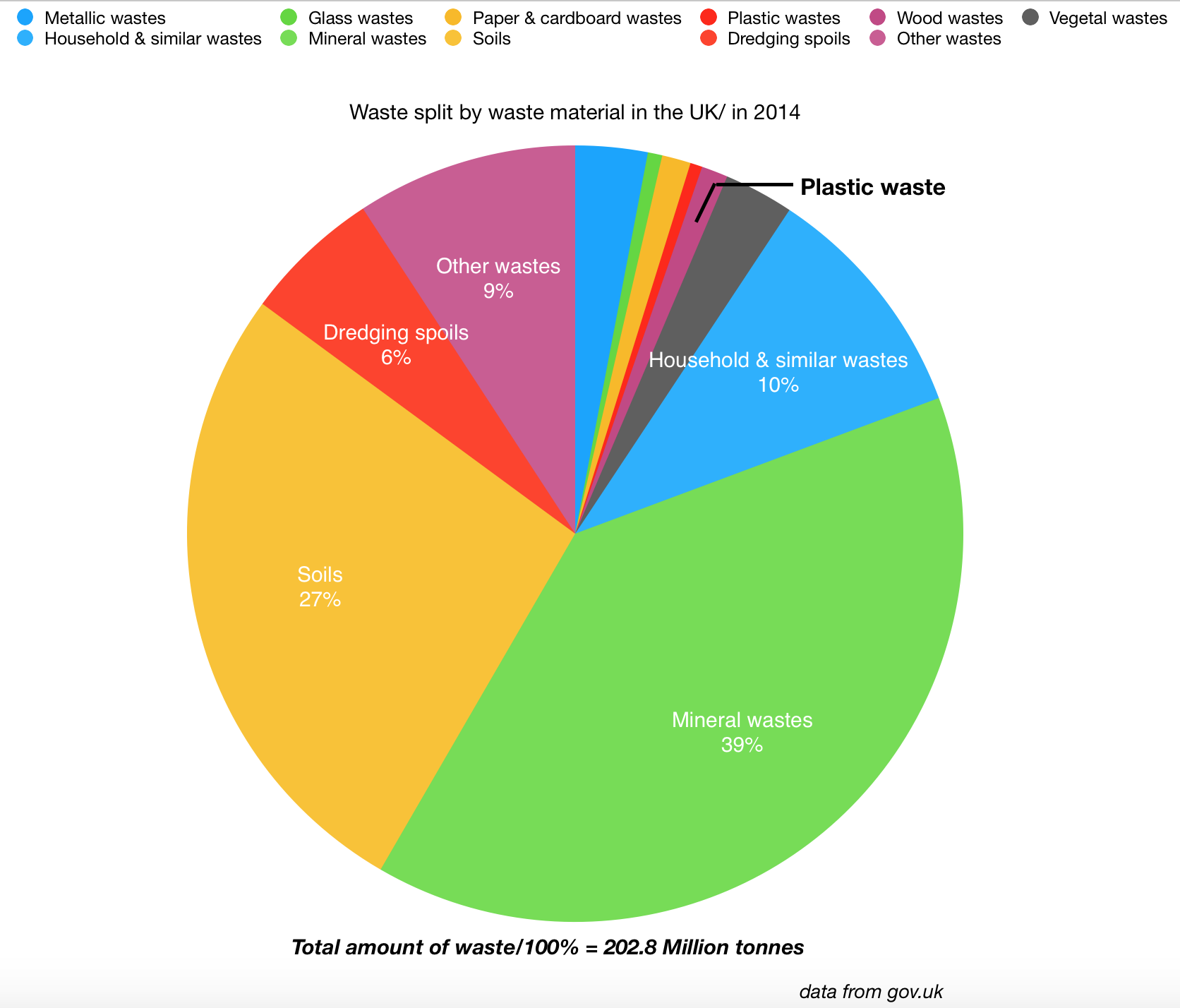 Infographic: Lotta Behrens
The mere fact that plastic waste takes up 0.5% of UK's overall waste, admittedly, does not sound like much. But the importance of getting these 0.5% down to 0% becomes more clear when we look at the numbers rather than the part it plays in the overall total: 1.1 million tonnes of plastic are wasted each year in the UK.
If that number still sounds too abstract, we collected three facts that might put things in perspective:
One recycled plastic bottle would save enough energy to power a light bulb for three hours
20 times more plastic is made and used today than it was 50 years ago
It takes around five plastic bottles to make an extra-large t-shirt or filling for a ski jacket
On the bright side, while the amount of overall wasted material has risen between the years of 2012 and 2014, the amount of wasted plastic has already decreased in the UK since 2012.
So, when it comes to plastic, we seem to be improving. And public refill-stations certainly have great potential to boost the recent progress. A survey conducted earlier this year revealed that 59% of individuals questioned said they would be more likely to reuse a water bottle if they could easily fill it in shops.
Want to know more about the topic? London, don't get wasted is a new website launched by the Voice of London that has its focus entirely on how well, or badly, we Londoners treat our environment.
Words: Lotta Behrens | Subbing: Silvia Tadiello